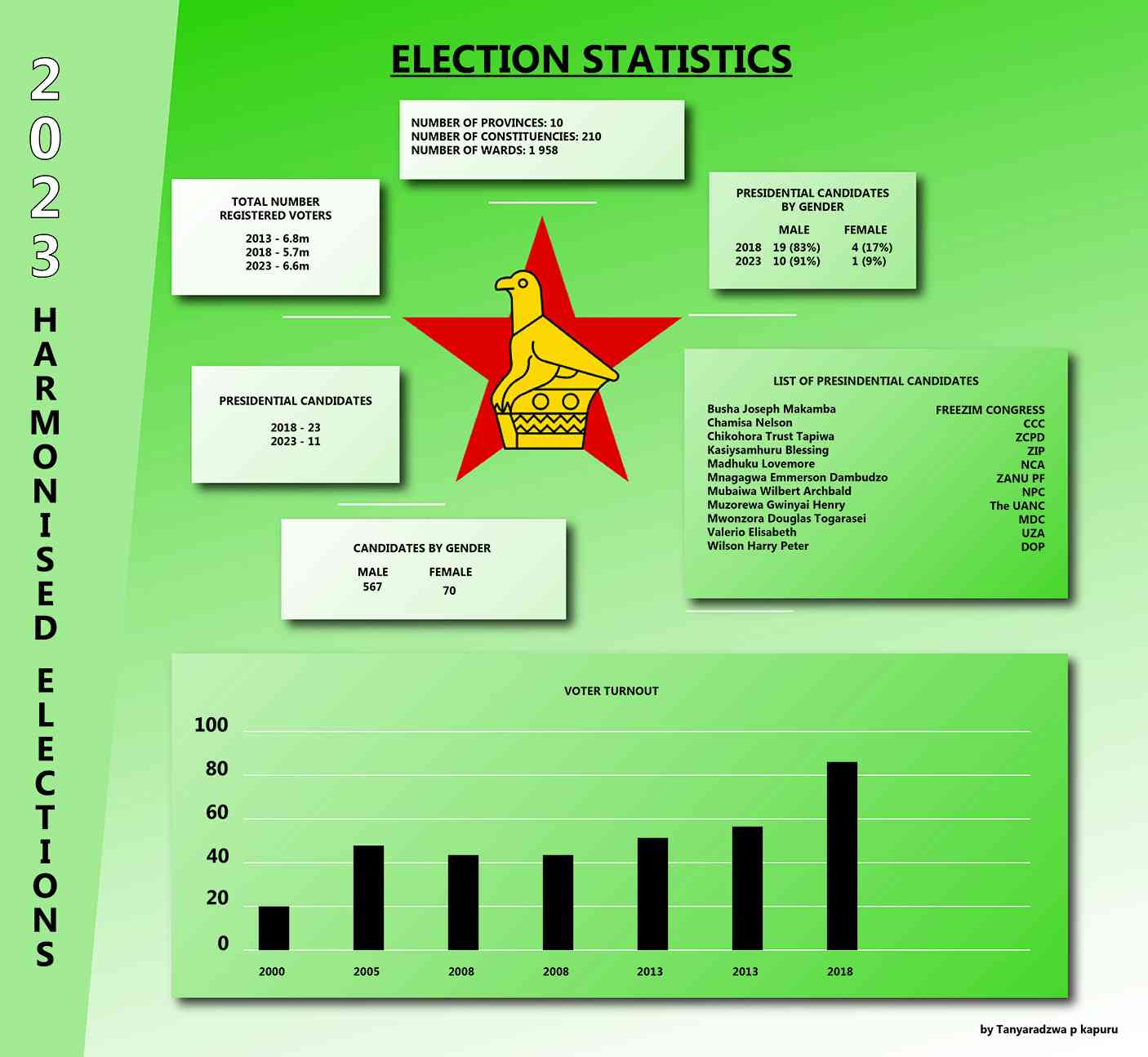 REGIONAL blocs and international organisations have cast doubt over Zimbabwe's commitment to hold free and fair elections, citing human rights violations and what they described as a shrinking democratic space.
Frontrunners in the polls set for Wednesday next week include the incumbent, President Emmerson Mnangagwa and his closest rival, Nelson Chamisa.
Chamisa leads the opposition Citizens Coalition for Change (CCC), but fronted the MDC Alliance in the 2018 elections, before a combination of official trickery, armed police and soldiers took the name away from him, and forced him out of the Morgan Richard Tsvangirai House, formerly Harvest House, which had served as the bastion of opposition politics in the country since 1999.
He has already complained about an uneven playing field.
Mnangagwa's narrow victory in the 2018 election had to be confirmed by the courts after a bruising campaign that left the country polarised.
According to analysts, the fissures have widened in the run-up to next week's polls after Chamisa refused to acknowledge Mnangagwa's legitimacy.
Mnangagwa has preached peace in church gatherings and at his star rallies countrywide.
But in a statement to the Zimbabwe Independent yesterday, Amnesty International (AI) said it was worried about "brutal crackdowns on human rights".
It said credibility of the polls had been compromised by the "criminalisation" of state critics.
"What we have seen in Zimbabwe over the past five years amounts to a brutal crackdown on human rights, especially the rights to freedom of expression, peaceful assembly and association," Khanyo Farisè, AI's deputy director for Southern Africa, said. "Respect for socio-economic rights has also declined dramatically, leaving many people in abject poverty with no means to put food on the table.
"Zimbabwean authorities have revealed their brazen contempt for basic freedoms and shown that there is no space for dissent in the so-called 'second republic'.
"The police have also repeatedly resorted to excessive use of force to suppress human rights, including the right to peaceful assembly."
She said Zimbabwe had "demonstrated little or no respect for human rights and has repeatedly flouted the rule of law".
"As political campaigning enters full swing, the authorities must ensure that people are able to freely exercise their rights to freedom of expression, association and peaceful assembly," Farisè said
"Authorities must respect, protect, promote and fulfil the human rights of everyone before, during and after the election."
The American State Department assistant secretary Molly Phee said in a recent interview that while Mnangagwa had promised free and fair elections, doubts over his commitment was increasing as the polls drew closer.
"The President of Zimbabwe has repeatedly said he wants his country to hold free and fair elections," Phee said. "We believe that would be the best path to promote peace and prosperity in Zimbabwe.
"Unfortunately, we have seen a pattern over recent months that suggest that a free and fair election is in doubt," she added citing the recently gazetted Patriot Act, which she said imposed restrictions on basic political freedoms.
"Those are the types of actions that concern us. We have also seen opposition political parties and citizens actively harassed and prevented from exercising their political freedoms that should be guaranteed by those regimes that I have described, the regimes under the Zimbabwean constitution, and as expressed by the African Union and the United Nations.
"So, we are concerned that the election won't achieve the standard highlighted by the President."
This week, Nevers Mumba, head of mission for the Southern African Development Community (Sadc) observer mission piled pressure on Zimbabwe to hold credible elections to guarantee peace and stability.
"We consider a free and fair election as a tool of peace and stability of any country," Mumba told online TV station HStv upon arrival in Harare this week.
"If you do not have a fair election, you are going to be subjected to insecurity for quite a while. We are dedicating ourselves to ensure we are part of that process to allow Zimbabweans to make a choice of their own."
The European Union Observer Mission (EUOM) said it will only make its observation public after the polls.
"The EU EOM is here to observe and will not interfere in the elections. These are the elections of the Zimbabwean people. Further, EU observers are bound to a strict code of conduct and will always remain neutral," Fabio Castaldo chief observer for the EUOM, told the Independent.
"Since our arrival in early July, the EU EOM has met key participants in these elections in all 10 provinces to learn first-hand from the government, candidates and political parties, civil society and the media about the ongoing process for the 23 August harmonised elections."
Related Topics