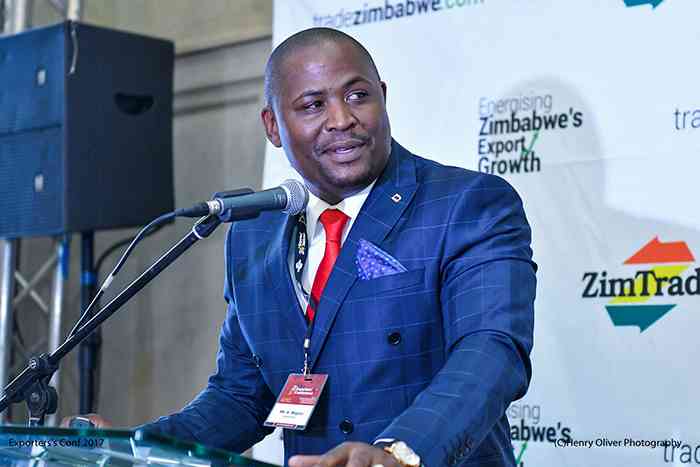 ZIMTRADE, the nation's export promotion agency, says there has been a steady increase in exports of value-added products. Statistics show that exports of manufactured products increased by 14,7% between January and May 2023 compared to the same period last year. ZimTrade chief executive officer Allan Majuru (AM) this week told our business editor Mthandazo Nyoni (MN) that the country should continue focusing on retooling the manufacturing industry in order to increase export in value-added products. This, according to him, could assist the country benefit from participating in the African Continental Free Trade Area through regional value chains. Find below excerpts of the interview:
MN: What strategies have ZimTrade been deploying to boost exports?
AM: Our mandate is to energise exports. We have been doing that through our value-added services, which include provision of market intelligence, capacity development, export promotion and advocacy.
ZimTrade has a mandate to energise Zimbabwe's exports, and this mandate has been achieved by our export development, export promotion, advocacy and market information functions. These activities, coupled with the support of other government institutions aiming to grow the visibility of Zimbabwean products and services saw us achieving key milestones as a country, like the US$6 billion in 2021, which was the highest ever recorded figure.
Our interventions to local companies and communities have yielded positive results for established exporters, as well as potential exporters. For example, we have established export clusters designed to integrate previously marginalised communities into mainstream export business.
MN: Does this include companies in the agricultural sector?
AM: As the majority of our farmers are smallholder farmers, our focus is to empower them with knowledge and skills to farm products that have an opportunity in export markets, as well as organise them so that they can consolidate and meet growing demand for Zimbabwean horticultural produce and agro-processed products in regional and global markets. We have also been implementing youth and women focused activities designed to inculcate an export culture among youths. We have seen lives changed and businesses transformed through the Eagles' Nest and Next She Exporter programme. We remain confident that sustained interventions around these areas will go a long way in boosting exports.
MN: What more strategies have you been using?
AM: Further to the capacity development activities, we have also increased our participation in regional and international trade fairs.
Every year we facilitate multiple trade fair events for local companies where they engage with leading distributors in export markets. We have also made deliberate efforts to ensure that women and youth-led SMEs take part in these trade fairs.
MN: Commodities like gold make up the majority of Zimbabwe's exports. How can this be changed?
AM: It is true that minerals make up the bulk of our exports. But there are particular sectors that we could leverage on to increase our exports. Growing exports of value-added products and horticultural produce remain the ultimate goal for us. We have already established the low hanging fruits that will make it easy to realise this goal and these include processed foods, horticulture, agriculture inputs and implements, protective clothing, building and construction, timber, furniture, and services sectors. These are just examples, but across all sectors, we have potential to boost exports of value-added products and services.
MN: Tell us more about these.
AM: Zimbabwe is an agriculture based economy. We can leverage on high demand products for good export yield. The fresh foods and horticulture sectors have great potential since we are currently living in a health-conscious environment. We have a non-genetically modified organism policy, making it easy for our produce to compete well in export markets. Zimbabwe already has good soils and ability to produce these organic fresh foods for the export markets.
The target going forward is to ensure we increase the capacity of our farmers so that they can tap into emerging markets with ease.
MN: Is there room for other innovations?
AM: Related to agriculture are processed foods, where our products have created a strong reputation in export markets due to their high quality and better taste. During the recently held Zambia Agricultural and Commercial Show, general comments from leading distributors was that Zimbabwean processed foods are preferred in the market compared to competition. We are leveraging on the success recorded so far to introduce more products into export markets. We can also look at leather and leather products. We are known to produce good quality leather and value-added products like leather bags. Other fashion accessories have a high demand in export markets.
MN: What percentage of the nation's total exports are value-added exports?
AM: Value -addition is a good way for local companies to maximise profits. They are also good for the country's export earnings. According to the National Development Strategy (NDS1), Zimbabwe aims to increase the contribution of value-added exports to 20% by 2025.
There has been a steady increase in exports of value-added products. Figures show that exports of manufactured or valued-added products increased by 14,7% from US$139,9 million in January to May 2022 period to US$160,5 million in January to May 2023. With the NDS1 in place, there are a lot of efforts being made to retool our industries, improve value chains and increase production of value-added products. As ZimTrade, we have put in place different initiatives to capacitate local companies. For example, our partnerships with international expert organisations have helped local companies to improve their value chain systems and become competitive on the export market.
MN: Zimbabwe has joined the African Continental Free Trade Area (AfCFTA). Do you believe that our goods will be able to compete regionally or internationally?
AM: As Zimbabwe, we are delighted to be part of the first ever Africa free trade agreement that seeks to increase intra Africa trade.
The continent-wide trade fair, whose broad goal is to boost trade among African countries, is expected to benefit Zimbabwe's exporters by unlocking business partnerships with buyers from across the continent. Zimbabwe is already admired for its high quality products in regional and neighbouring countries. As ZimTrade, we are working to increase the country's export footprint in the continent. From last year to date, we have done market scans in new African markets like Ghana, Senegal, Nigeria and Equatorial
Guinea to see what potential lies for Zimbabwean companies. These scans have shown that we have the capacity to compete. If we continue to boost our production capacity, we will be able to satisfy demand across the continent.
MN: What should the government and private sector do to make sure that companies are ready for AfCFTA?
AM: The focus should fall on retooling our manufacturing industry to increase our exports of value-added products. Through AfCFTA, Zimbabwe can benefit from participating in regional value chains. With access to Africa's vast raw materials, there is an opportunity to gain them in a cost-effective way. With successful retooling of the manufacturing sector, Zimbabwe has a lot to gain by value adding these raw materials and exporting them. Value-added products attract a premium in the export markets and the economy stands to gain more by exporting value-added goods. There is also a need to continue fruitful co-operation between government and the private sector regarding the improvement of export policies.
MN: This year, several Zimbabwean businesses have participated in business fora, expos and trade missions organised by ZimTrade. Tell us about the value of the deals signed.
AM: Between January and July, local companies have managed to generate business worth around US$33 million during export promotion events. These events include trade fairs, inward buyer missions and outward seller missions. As ZimTrade, our role is to facilitate the ease of doing export business and lobby for favourable business policies between the private sector and government.
Over the past few years, we have identified areas for improvement, including the need to streamline processes so that the export business is not cumbersome for exporters. We have been engaging relevant authorities if businesses note challenges. Some have already been resolved, while efforts to resolve other areas like permits are ongoing.
Related Topics