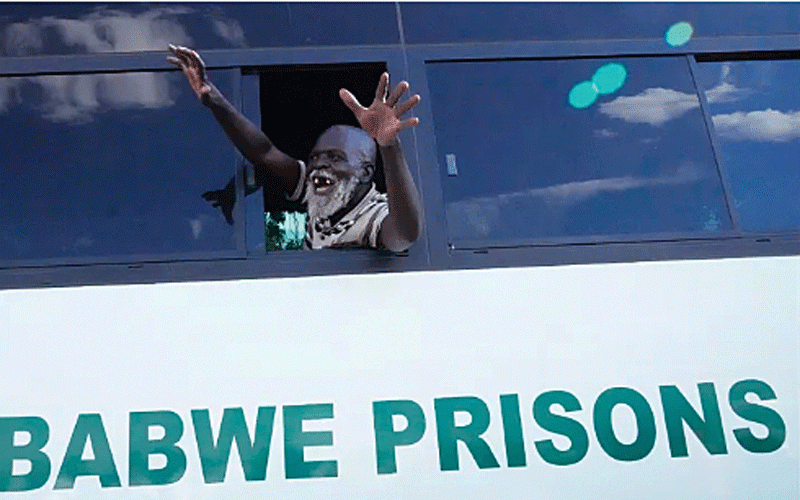 EMELKA (not real name) was only 11 years old when a 59-year-old villager forced himself on her. The villager repeated the attack several times, threatening to kill the young girl using witchcraft if she dared reveal the assault to anyone.
The issue only came to light when the girl fell sick and an observant nurse noticed that she had contracted a sexually transmitted infection.
The man was arrested and sentenced to 12 years in prison. However, he was among those released last week after a presidential amnesty.
"I am appalled and devastated by President (Emmerson) Mnangagwa's decision to grant amnesty to rapists. My daughter, who was brutally assaulted, fought tirelessly for justice and now it feels like her struggle was in vain," Elmelka's mother told NewsDay Weekender.
"This amnesty sends a message that the pain and trauma endured by victims is insignificant. It is a betrayal of our trust in the justice system and a blow to all the survivors who summoned the courage to come forward. I fear for the safety of women in our society, as this decision only encourages more violence and leaves us without recourse."
Under the Presidential pardon, rapists who are over 65 years and had served two-thirds of their prison terms were released last week.
The amnesty for convicted rapists has ignited a fierce debate on women's safety and the efficacy of the justice system.
Victims of rape said it was disheartening to see convicted rapists 'boasting' on camera about their offences after being released from jail.
Activists and legal experts argue that releasing perpetrators of such crimes undermine efforts to combat gender-based violence and to protect victims.
"As a survivor of rape, I am devastated by President Mnangagwa's decision to grant amnesty to rapists. It feels like betrayal to know that the person who violated me may be set free without serving their full sentence," said Vimbiso (not her real name), a 33-year-old rape survivor said.
"This decision dismisses the pain and trauma endured by survivors like me. It sends a message that our suffering doesn't matter, and that justice can be easily disregarded.
"It took courage for me to come forward and seek justice, and now I feel defeated. Amnesty on rapists perpetuates a cycle of violence and leaves us vulnerable. I implore the government to reconsider this decision and prioritise the safety and mental well-being of survivors. We deserve justice and support, not the fear that our perpetrators will go unpunished."
Critics of the decision to offer amnesty to criminals have also raised concerns about the potential for re-offending among the released ex-convicts.
Social commentator Pardon Taodzera said lack of comprehensive rehabilitation programmes and support systems for offenders could result in a higher risk to public safety.
He said the responsibility of reintegrating these individuals back into society falls not only on the government, but also on communities that are ill-equipped to handle the complex needs of rehabilitated rapists.
"The decision to grant amnesty to rapists by Mnangagwa raises serious concerns about the government's commitment to addressing gender-based violence. While prison overcrowding is undoubtedly a pressing issue, it should never come at the expense of survivors' rights and safety," Taodzera said.
"This decision undermines the efforts of activists, organisations, and individuals who have tirelessly worked towards creating a society free from violence and discrimination. It sends a message that the state is prioritising the convenience of the justice system over the well-being of survivors and the deterrence of future crimes.
"It is crucial for the government to consider alternative measures that do not compromise the principles of justice, such as implementing comprehensive rehabilitation programs and improving the efficiency of the judicial process. Failure to do so not only erodes public trust but also perpetuates a culture of impunity that further endangers the lives of women and girls."
Legal expert Admire Huniuswa questioned the constitutionality of the amnesty, which he said could be in violation of international human rights norms and domestic laws that guarantee protection against gender-based violence. The move, he said, disregards the rights of victims and fails to address the root causes of sexual violence in society.
"The amnesty to rapists raises significant legal concerns and questions the adherence to international human rights standards. While the issue of prison overcrowding is a legitimate concern, it is crucial to prioritise the rights and safety of survivors and ensure that justice is served. Granting amnesty to rapists undermines the principle of accountability and sends a detrimental message to both survivors and potential offenders," Huniuswa said.
"It is essential to explore alternative solutions, such as improving the efficiency of the justice system, implementing restorative justice programmes, and providing comprehensive support to survivors. Moreover, this decision may be in violation of domestic laws and international human rights instruments that guarantee protection against gender-based violence. It is imperative for legal experts and human rights organisations to challenge the constitutionality of this amnesty and advocate for a justice system that upholds the rights and safety of all individuals, particularly survivors of sexual violence."
The Citizens Coalition for Change (CCC) in a statement on Wednesday said it was "grossly irrational to release dangerous, unrehabilitated offenders back into society" before informing or preparing rape victims.
"Unleashing an unrehabilitated rapist who has not served his sentence back into his community unchecked, and with no safeguards to protect victims endangers women and girls and can never be reasonably justifiable in a democratic society," CCC spokesperson Fadzayi Mahere said in a statement.
Follow us on Twitter @NewsDayZimbabwe
Related Topics