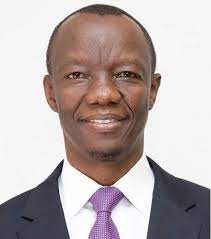 BEVERAGES behemoth, Delta Corporation Limited is using foreign currency generated inwardly to fund its capital projects, according to chief executive officer Matlhogonolo Valela.
Valela told businessdigest in a recent interview that interventions by fiscal and monetary authorities to save the local currency from collapse saw the firm's foreign currency generation rising to 70% of total revenue.
"Forex is a challenge. It was a challenge until the liberalisation of forex trading or dual currency," Valela.
"Today, we generate almost 70% of our sales in forex. It, therefore, enables us to boldly go out and spend money where we think it is critical and where we think it is value creative. Before the liberalisation of currency trade, we were stuck and could not invest," the Delta CEO noted.
"You heard the President (Emmerson Mnangagwa) talking about how we committed US$250 million, but invested US$170 million (since 2017) because the first two years of that commitment we could not get forex, so we only spent US$170 million in the last three years of that commitment."
He said now that the firm was able to generate forex, it could balance its United States dollar needs with its Zimbabwe dollar requirements to fund projects. Mnangagwa last month commissioned Delta's new plants that cost the firm US$70 million. The plants manufacture soft drinks, lager- and sorghum-based beverages.
"The context of last year is that there were no (US dollar) deposits so banks could not lend what they didn't have. Now that we are in dual currency properly, and the banks have built a little bit of reserves, I see that they are lending to others," Valela said.
"But, for us, what is important is that when we generate the cash, we put it where it matters and invest. Most of what you are seeing (Delta assets) today has been invested from our own cash generation, not from borrowings.
"Our focus is that if we can invest about 30% to 40% of our EBITDA (earnings before interest, taxes, depreciation and amortisation) in the plant, and plan it carefully, we do not need to borrow necessarily."
However, Valela said where there would be need to fast-track projects, the firm might borrow from banks.
"We have not been as lucky to get that much capital from banks in the past. We have, however, had some assistance from the Reserve Bank of Zimbabwe with letters of credit," he said.
According to Valela, the main source of foreign currency for the company is coming from the informal sector, which monetary authorities have in the past estimated to be holding over US$2 billion.
"I think because we have largely been dollarised in our business, we see more people coming with US dollars because they do not have RTGS (local currency) to settle their obligations," he said.
Valela said from a business point of view, it was important for people to hold Zimbabwe dollars because they spend them fast. The domestic market does not generally trust the Zimbabwe dollar, and once they hold them, consumers and corporations are desperate to quickly spend them to avoid value loss.
"We think we need both currencies; we think that the velocity of trade, transactions is faster when people are holding the Zimbabwe dollar because they also want to spend it quickly," Valela said.
"So, in some ways, the Zimbabwe dollar has driven transactions, but we are happy that our transactions are largely now US dollars."
Related Topics