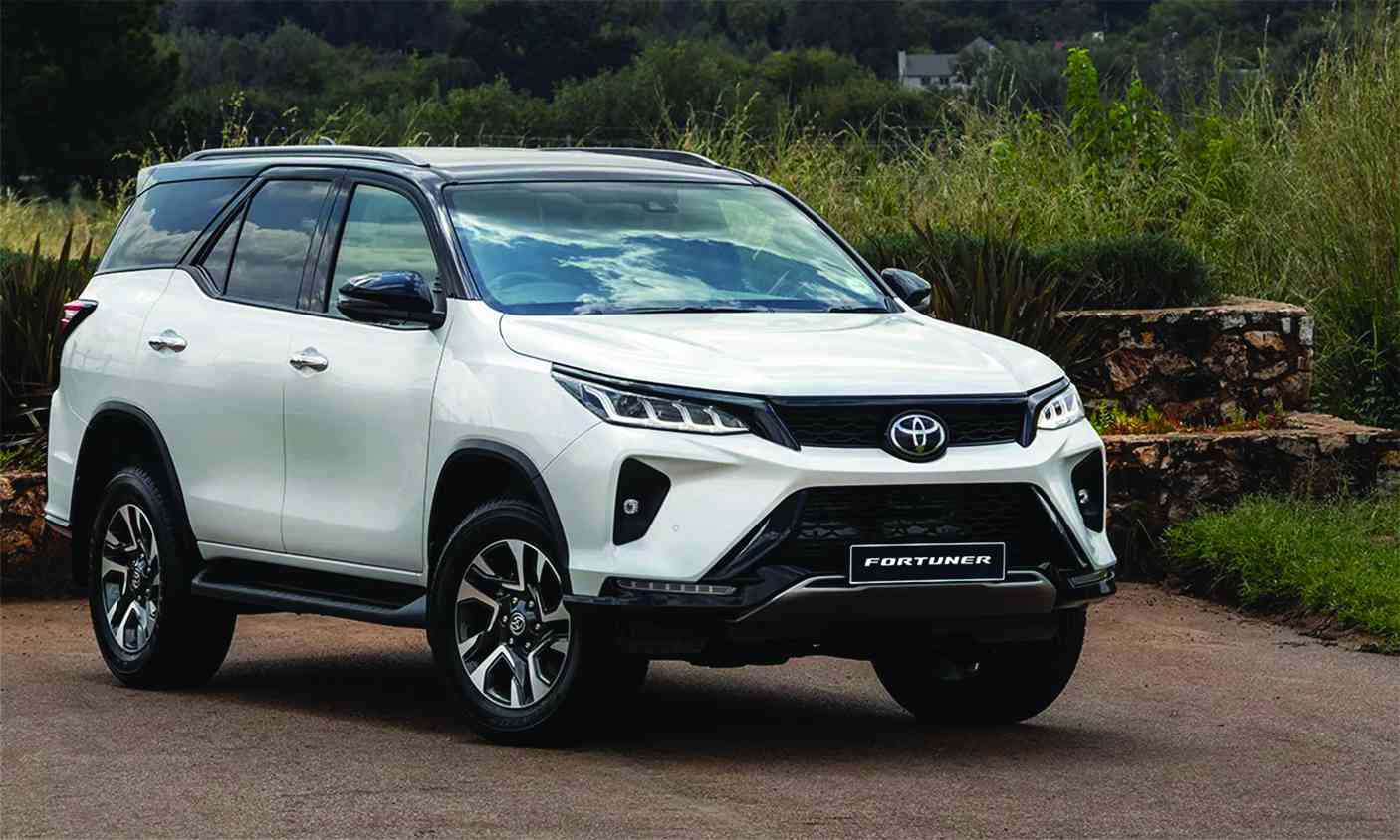 Toyota recently made improvements to the interior of its well-liked seven-seat Fortuner as well as some cosmetic updates. Last month, I spent a few days with one.
Toyota is the top-selling automaker in Zimbabwe, with market-leading vehicles in a number of high-volume segments, including the recently updated Fortuner. I was able to test the premium VX model in colour white for a few days.
Design
The updated Fortuner has a markedly different appearance thanks to new Bi-LED headlights that have a Lexus-like design, a new front bumper, updated air intakes, an updated front skid plate, an updated grille, LED fog lamps, sequential indicators, and black A-pillars and exterior mirrors.
New side strakes on the rear bumper, a black license plate garnish, and a black roof spoiler have all been added to the back end. All of the updated cars have new 18-inch alloy wheels, which further contributes to the exterior's more modern aspect. The Fortuner should function well for several years before being replaced.
Inside and outside
However, new features include a maroon and black leather two-tone interior, more USB connections for the backseat passengers, and a much-needed upgrade to the TFT cluster inside the instrument binnacle, which now has a fresh appearance and startup animation.
The seven-seater's interior resembles that of the 2022 models, which added an 11-speaker JBL sound system, dual-zone climate control, and a surround-view camera system in VX form.
Despite supporting Apple CarPlay and Android Auto, the infotainment system is still not the greatest in its class, and the colour screen system does not have the highest resolution.
The Fortuner's most recent in-car infotainment system impressed me with its simple smartphone connectivity and user-friendly interface. A variety of partially autonomous driving features, including as lane departure warning, adaptive cruise control, and blind spot assist, are also included as luxuries.
The Fortuner features a 200-litre boot while the third row of seats is in place, and when the third row is folded on each side of the baggage compartment, the boot extends to 718-litres. There is less luggage capacity than in major competitors like the new Ford Everest and the Isuzu MU-X because of the way the third and second rows of seating are stored.
As a result, individuals who want a larger boot will have to completely remove the third row of seating. This is a very capable family SUV off the main road, it has 279mm of ground clearance, an approach angle of 29 degrees, a departure angle of 25 degrees, and a braked towing capacity of 3 300kg.
Performance
A 2.8-litre four-cylinder turbodiesel engine with 150kW and 500Nm of torque powers the Fortuner. A six-speed automatic transmission with a selectable 4x4 system is mated to the engine.
The Fortuner's power increase from the previous lifecycle update is a pleasant improvement, and the vehicle now offers enough overtaking torque and acceleration for everyday driving situations. It excels off-road in all but the most challenging off-road situations, making it ideal for families who want a high level of competence.
With this 2023 Fortuner, I definitely noticed a difference in the ride quality, which Toyota maintains hasn't been compromised.
I believe that the newcomer has undergone some tuning by engineers in an effort to enhance the quality of its driving experience in light of its continually loftier price tag.
The test model is the most streamlined and comfortable Fortuner I have used thus far, proving that whatever unidentified improvements were made were successful.
Safety
In ANCAP's 2019 crash tests, the Fortuner line received a five-Star rating, with 95% of the adults, 84% of the children, 88% of the pedestrians, and 78% of the safety assistance systems receiving the highest possible scores.
Fuel consumption Toyota states that the Fortuner will use 7,9litre/100 km of gasoline, however during my brief test period, I recorded a figure of 9,8-litre/100 km, which is the best I have managed in a 2.8 GD-6 Fortuner.
Verdict
Having driven the most recent Ford Everest its very evident that a brand-new Fortuner needs to be unveiled as soon as possible if Toyota wants to keep its position as the segment's top seller. The redesigned Fortuner differs from the product it replaces just slightly enough to keep it relevant in our market.
To be fair, the Fortuner (and Hilux) lack a flagship V6 option in comparison to the Ford Everest, which is its main rival. As braaing, biltong, whisky, and cola are inseparable bedmates, so should succeeding the hike with a bent sextuplet of cylinders underneath in terms of acoustics, alacrity, and soul-nourishing bliss. The Toyota's 150kW GD-6 has over time proven capable and reliable. Simply said, six always wins over four. As a reaction, Toyota is rumored to be looking at a 165kW/550Nm GR-S, and it is confirmed that the Fortuner will eventually use hybridised propulsion.
Fortuner devotees have maintained the faith with astounding fidelity despite cost of living shocks, fuel costs that are among the highest in the region, and below-inflation salary increases. It's a product that can do no wrong, especially when you factor in the unbelievable residual value.
There is no higher authority that prevents the Moyos, Khumalos, and Irvines from ferociously competing with one another in the midst of picket fences and perfectly trimmed lawns, let alone the Joneses. Welcome to the cult if you are not a member already. — [email protected].
Related Topics