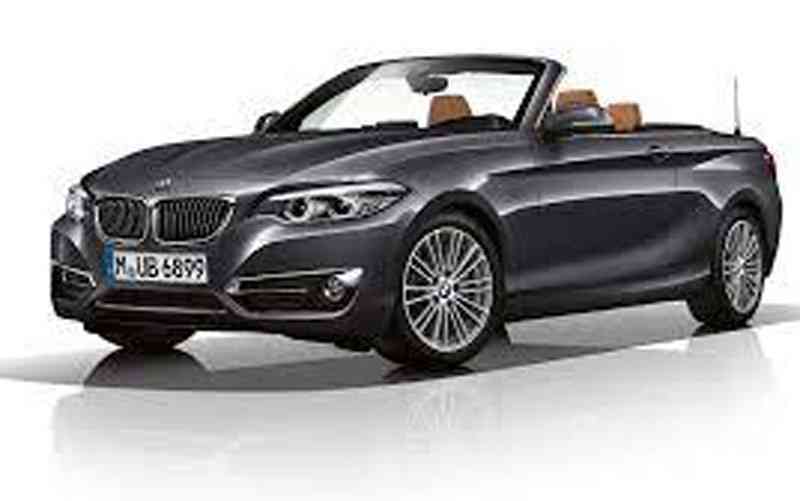 Driving a convertible on a breathtakingly beautiful day is very hard to beat. The sun on your cheeks and the breeze in your hair Hence, the BMW 2-Series Convertible is worth looking into if you have the means to get something exquisite.
For a high-performance vehicle, the 2015 BMW 2-Series is remarkably refined. The cabin of the coupe is delightfully quiet when it comes to road and wind noise, while the convertible is a little louder than we would prefer. In either case, even with the sportiest suspension calibrations, the ride is firm, but never unpleasant.
Having the 2-Series for a week was a lovely little surprise after driving the magnificent Audi A3 Cabriolet some time last year. That is a surefire technique to feel much better about your circumstances when life is tough. It definitely is a cure for mid-life crisis. Unfaithful spouse? If you drop that top, everything will be temporarily forgotten.
Well, it is beyond reach for the typical street guy, and by the time you can buy one, you are too old to look cool driving one. The 2-Series, however, is not simply a pipe fantasy for a select few.
The 2-Series is not my current favourite soft-top in terms of styling. Its body doesn't appear quite as toned or as submissively attractive as the Audi A3 Cabriolet does. The rear of the 2-Series isn't particularly impressive either. When parked next to the sleek A3, it doesn't appear as well-kept.
The interior design is of the highest calibre, as has come to be expected from BMW. But notably the instrument binnacle, it just feels quite commonplace in comparison to Audi's sleek, modern minimalism. The brown leather seats give the interior a touch of traditional character, and the 2-Series is the pinnacle of German OCD in terms of build quality.
Children under the age of 18 can use the space in the back. This is not your school type of car. Its for Sundays when you go for a spin or when you go for coffee by Avondale or gym by Sam Levy. You will be impressed by the driver's seat's memory feature and the front seats' electrical back-and-forth movement.
The boot space that was available caught me off guard: It holds 335 liters with the top up, and even when the roof is stowed, 280 litres are left over for some weekend travel necessities.
And if it starts to rain when you are halfway to the corner shop, it just takes 20 seconds for the roof to re-appear above your head. Also, you don't need to drive slowly; as long as your speed is 50km/h or less, it will quickly complete its task.
The 228i model's magnificent two-litre, four-cylinder engine is smooth, strong, and competent. Because the competitor to the drop-two-litre top's engine is a 1,8T FSI with 132kW, you would have to give up your cabriolet fantasies if you desired an Audi .
If you know of a spot where the Bimmer can stretch its legs, the 2-Series 228i, which replaced the naturally aspirated straight-six, produces a considerably meatier 180kW and makes for an intriguing experience when driven in Sport mode. Its nimble body has lots of grip and enjoys being tossed into corners. The chassis is always as calm as a millpond. As for shifting gears? Almost imperceptible. The available Sport Automatic eight-speed gearbox is excellent.
This is a stunning display of German engineering which is enhanced with a number of extra features, including park assist, park distance control, a Harman Kardonn sound system, high beam assist, and, get this: acoustic seat belt warning. This was done in typical European fashion. That unpleasant sound that prompts you to fasten your seatbelt?
Also, we have Satnav Professional, which is somewhat absurd. The less sophisticated Satnav Business cost less. Use Google Maps on your smartphone instead, as all of these nice-to-haves pile up over time. The 2-Series now costs US$20 000 when all the boxes are checked. More top notch versions have been launched since 2015.
The 2-Series will be ideal for you if you are a lover of BMW. And given the variety of possibilities, it may be tailored according to your preferences. White with red leather seats is how I picture my ideal 2-Series. It should beautifully decorate the space, in my opinion.
My decision
This may be the most attractive little convertible BMW has ever made, and it combines the possibility of driving with the wind in your hair with a surprisingly high level of functionality.
The drawback is that the driving experience still needs work and is far from being the "ultimate", as BMW previously boasted for earlier models. However, drivers who want the convertible may find this to be less of a problem than those who would rather own a coupe.
The almost brilliant A3 convertible presents the BMW with some fairly tough competition. In a different manner, the 228i is elegant, but it has a rear-drive chassis that the Audi can't hope to match. There is a real option here, but for the driver, the 228i easily prevails thanks to the refined turbo engine and ZF automatic.
The target market will love the sharp styling and the driving experience is full of plenty of slightly subdued delight. Nevertheless, the ride on 18s does bring back memories of run-flats from the past. Overall, it's a very attractive and extremely capable starting place for ownership of a BMW convertible. — [email protected]
Related Topics