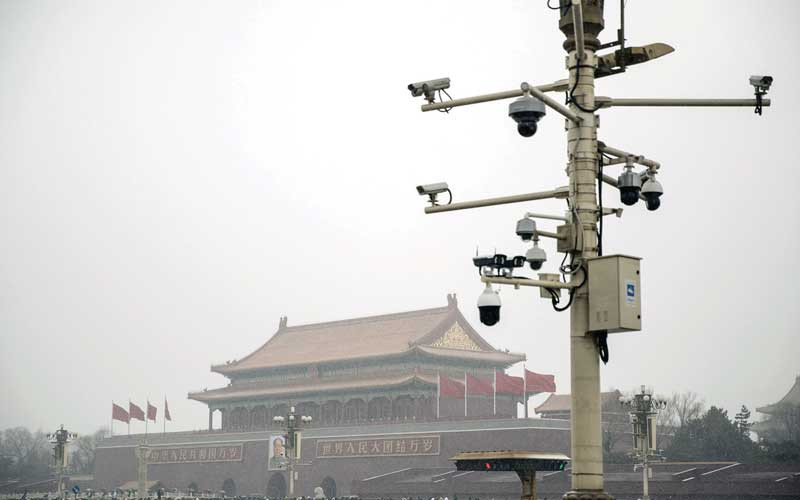 BELOW is Part I of a series from a report published by Friedrich Naumann Foundation for Freedom, which was launched last Friday:
Zambia and Zimbabwe inherited a raft of surveillance laws from the colonial governments that once governed those two countries, which have continued to be used for conducting surveillance activities, ostensibly for national security, but in reality for consolidating political power.
China's relationship with the two countries, along with its own ambitions to dominate the manufacture and supply of technologies globally, have created fertile ground for China to supply surveillance technologies to the southern African countries, which are comparatively cheaper than those from other parts of the world.
Over the past decade, a number of media reports have chronicled the adoption and rollout of Chinese sourced technologies in the telecommunications industries of these two countries, although these have tended not to examine how the different layers of Chinese technologies may be used by the Zambian and Zimbabwean governments to carry out targeted and mass surveillance.
The use of Chinese technologies for surveillance purposes does not take place in a vacuum and both countries use legislation that enables the often-unjustifiable use of surveillance technologies on unsuspecting members of the public that curtails their enjoyment of their fundamental rights.
China is not foisting these technologies on African states. Both historical and current political and economic relations make these governments more amenable to such technological and security cooperation.
This research paper seeks to identify and then discuss some of the key factors which have led to the adoption of Chinese surveillance technologies in Zambia and Zimbabwe. The two countries have been chosen because of their strategic interest to Friedrich Naumann Foundation for Freedom.
In both countries, the press has revealed an increase in the use of state sponsored surveillance programmes but there has been little in the way of research, which seeks to understand the factors driving the introduction of such surveillance mechanisms in either country.
Methodology
The research findings are drawn from desk research, combined with key informant interviews based on an online survey sent to a selected group of people in Zambia and Zimbabwe with experience of state sponsored surveillance and the use of Chinese technologies.
Background: China's strategy for strategic influence and surveillance
The role of China both in digital information and technology development and the supply of surveillance technologies and infrastructure is not a straightforward discourse, as with most debates on the role of China in the world.
China's rising position, demonstrated by its capacity to reduce poverty for millions of Chinese nationals, develop modern infrastructure, become a major global manufacturing hub of technology items, has led much of the global south to seek or strengthen partnerships with China.
China was a key supporter in the political and liberation struggles in Zambia and Zimbabwe. After independence from Britain, both countries strengthened their diplomatic and economic ties with China through reciprocal arrangements and major infrastructure projects, as well as military exchanges.
This part of the research follows a number of themes, which uncover some of China's reasons for producing and exporting surveillance technologies. Having outlined and discussed China's reasons for exporting surveillance technologies, the conversation will focus on how those plans coincide with an environment which is conducive for the use of such technologies in Zambia and Zimbabwe.
China's Digital Silk Road and associated concerns
From as early as 1964 China developed principles to guide their economic and technical assistance that were presented as reaffirming national sovereignty, removing conditionalities, and aid dependency. These principles are outlines in the Digital Silk Road (DSR), the digital dimension of the Belt and Road Initiative (BRI) supported by the Chinese President Xi Jinping.
The Chinese government gives support and preferential treatment to telecommunications companies through lines of credit from state owned banks, which allows these firms to win major telecommunications infrastructure projects with lower costs. Civil society, privacy and surveillance watchdogs are concerned about the possibilities this opens for privacy violations, illicit data collection and risks to other freedoms.
The biggest concern with this rolling out of telecommunications technologies is that China may use the data generated through the infrastructure it has supplied to enhance its own position as a global superpower, as well as using the technologies for surveillance purposes.
The Council on Foreign Relations (American think tank) observed that the actions of the Chinese government in installing backdoors in encryption technology increase its intelligence and propaganda capacities. China, through its Digital Silk Road activities, is partnering mainly with low and middle-income countries in the Middle East, Asia, and Africa, most of which, including Zambia and Zimbabwe, have poor human rights records, disregard for the rule of law and an appetite for surveillance.
These factors make it likely that some, including Zambia and Zimbabwe, will intentionally use Chinese technologies to carry out surveillance activities and the Chinese manufacturers are not deemed bold enough to refuse to work with national law enforcement and security agents.
The emergence of digital authoritarianism
China dominates Africa's telecommunications infrastructure, supplying approximately 70% of the continent's internet networks. Most African countries see the development of infrastructure and communications as a sign of developmental progression.
And yet governments are known to be using information technology to carry out surveillance, repression and manipulation of views, which impact adversely on democratic practices, including holding of free and fair elections, freedom of expression, and right to privacy.
Such practices are not limited to non-democratic countries but also found in democratic liberal leaning regimes.
The US, for example, banned the Chinese TikTok application owned by Byte Dance, alleging surveillance and data gathering for Chinese authorities. China itself has used firewalls to block social media platforms, such as Facebook, and Twitter inside China since 2009 even though Chinese diplomats are active on these platforms defending Chinese policies.
Other countries have stated security concerns about the unauthorised use of personal information and data transfers to outside data storage facilities to drive similar decisions to ban platforms.
China's geopolitical and economic gains
China's geopolitical interests and authoritarian "instincts" are not the only explanations of its motivation to build 5G networks abroad.
Several Chinese technology manufacturers allegedly build back doors into their technology platforms and systems, which are used to harvest user data surreptitiously to send back to the manufacturer, without the users' consent or knowledge.
In this instance, Chinese technology manufacturers may be motivated to roll out their surveillance technologies as a way to gather data that may be useful in developing and improving their technologies. If Chinese technologies are more accurate in processing biometric information belonging to diverse races, information that they could use in future to target people and nations, they would have a competitive edge over other similar Western technologies, which are less accurate in the processing of biometric data of racial groups.
Public-Private-Surveillance Partnerships in Africa and beyond
Digital surveillance requires some form of infrastructure to the Australian Strategic Policy Institute International Cyber Policy Centre has produced analysis and coverage of over 27 Chinese firms providing different services, including artificial intelligence, facial recognition, 5G, biotechnology, surveillance, e-commerce, finance and entertainment.
The clients and receivers of these services are both national governments and local authorities, such as Huawei-Gelsenkirchen Smart City Project, Germany (2019) and the Smart Zambia project in partnership with Huawei. They also engage private mobile telecommunications operators or internet service providers interested in the setting up of independent 5G networks, such as Huawei-Rain South Africa (2020).
Mass surveillance is usually conducted through the monitoring and interception of communications, and this form of surveillance is conducted over telecommunications infrastructure. That is why it is important to understand the level of prevalence of Chinese digital infrastructure, which may be vulnerable to use for surveillance purposes.
Africa has a huge infrastructure gap, which is being addressed through Chinese infrastructure support coming either in government-to-government partnerships or with a private sector implementation arm, usually Huawei or ZTE.
Musodza is an ICT expert with more than 16 years of experience in digital security, internet governance and cyber policy work. He holds degrees in computer science, Law and post grad qualifications in Cyber Law and Digital security. He has keen interests in cyber security research, training and capacity support for human rights defenders. A co-founder of the Digital Society of Zimbabwe and The Ethical AI for Africa Project; Hove is a researcher with a decade of experience in IT Law and policy work. His work is focused on reducing the potential harms that various digital technologies pose for the enjoyment of fundamental rights particularly the right to human dignity, the right to privacy and the right to free expression. He is a Master of Laws graduand in IT Law and has previously led digital rights work at the Media Institute of Southern Africa, Privacy International and Consumers International; and Saki is an LLD candidate at the University of the Western Cape researching on data protection and privacy frameworks with a focus on Zimbabwe. He holds an LLBS, LLM in Human Rights Law and LLM in Information Communication Technology law and currently works for a global philanthropy foundation as a programme officer focusing on closing civic space (online and offline) and protection of human rights defenders. He writes in his personal capacity.
Related Topics