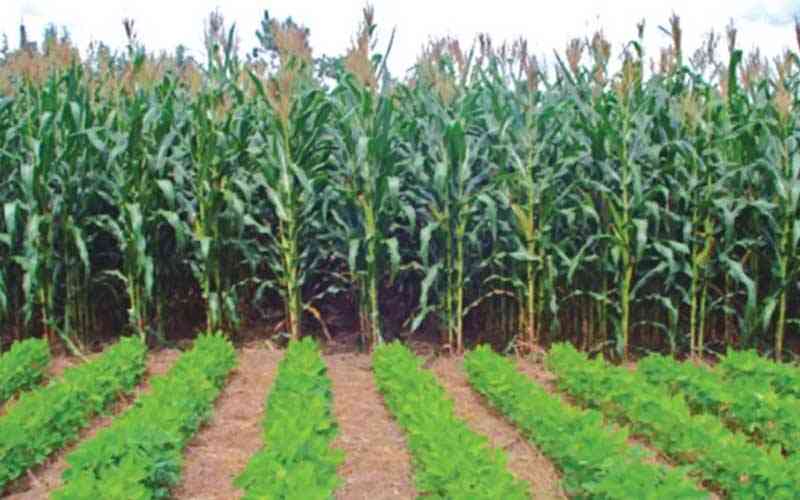 WAR veteran Edward Tongoona began farming in 2008, after receiving land through a controversial programme that redistributed Zimbabwe's large commercial farms, primarily owned by white farmers, to black farmers. Like many other cultivators,
Tongoona doesn't have a title deed to his land, only an offer letter from the government. This made it difficult for him to secure a bank loan. This limited access to credit — especially for the cultivation of maize, a national staple whose production had declined by nearly two-thirds by the time Tongoona took to farming — is one reason the Zimbabwean government in 2015 introduced a contract farming program, popularly known as Command Agriculture, that is aimed at reducing the country's increasing reliance on maize imports.
Under the programme, by way of a loan, the government provides farmers with fertilizer and seed for a season in exchange for five tonnes of maize per hectare, the cost of which is deducted after harvest. Tongoona began participating in the program in 2018. "I joined because I didn't have enough money to buy all that I need in farming," he said. "Since then, a lot has changed for me. I was able to buy two tractors and other farm equipment."
Each season, he produces up to 250 tonnes of maize on his 34.8 hectares and sells it to the Grain Marketing Board, a government body that acts as a go-between for farmers and millers. "It's a good programme. It should continue because it has helped me grow from a small farmer to a more pronounced, commercial one,"
Tongoona said. Prince Kuipa, operations director at the Zimbabwe Farmers' Union, said: "The best way to finance agriculture is not through government, given its tendency to write off debts." "The private sector is more efficient at administering loans." Tawanda Murwira is one of the farmers who defaulted this year. "I only managed to pay back part of the loan this year, even though I intended to pay it all," he said. "The yields were not good."
This year, Zimbabwe is expected to have a below-average maize harvest, owing in part to delayed rains, but Murwira also points to other delays. "I didn't get all the inputs I needed, and the few I got I did not get on time," he said. "We would be sent on a goose chase around the province to get all the inputs. This really affected the timing of our planting and ultimately the output yield was affected.
" Freedom Mazwi, an agrarian researcher based in Harare, disagrees. Agriculture is too important to be left to the private sector. He said the prevailing notion that Zimbabwe's reliance on maize imports is linked to the land reforms initiated in the 2000s.
"The World Bank and the International Monetary Fund urged Zimbabwe and many African states to withdraw from funding agriculture, and what were the results? Export crops flourished, but the country began to be a net importer of grain," he said. "There is a lot that can be learned from Command Agriculture by African governments. Recently, the Rwandese government announced it will adopt a similar approach in the wake of the Russia-Ukraine war, which has made many African countries food-dependent."
Murwira, however, has decided to opt out for now. He is focused on self-financing next season's crop. "If well-managed, it is a good programme, but as of now, it is marred with confusion. "As it stands, I will no longer apply for funding under Command Agriculture or any government-supported funding. Farming is time sensitive, and time is not of the essence under these programs."
Mujuru is a Global Press Journal reporter based in Harare, Zimbabwe. She specialises in reporting on agriculture and the economy.
Related Topics