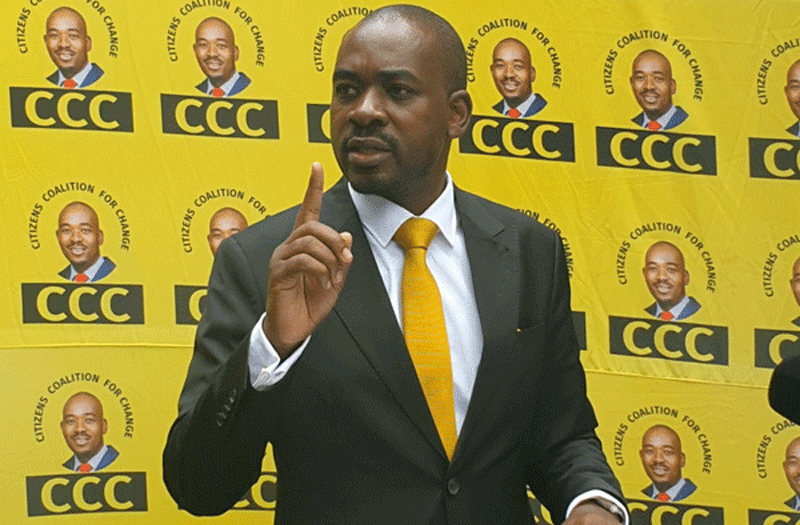 President Emmerson Mnangagwa's ruling Zanu PF party has been accused of embarking on a new wave of terror targeting supporters of the Nelson Chamisa-led Citizens Coalition for Change (CCC) as tension rises in the country ahead of the 2023 elections.
Mnangagwa is set to face Chamisa for the second time in presidential elections after narrowly beating the CCC leader in the disputed 2018 polls.
Suspected Zanu PF supporters a fortnight ago ambushed Chamisa's mortocade in Gokwe-Kabuyuni as they tried to block him from addressing a rally ahead of last weekend's parliamentary by-election in the constituency.
Four journalists that were covering the CCC rally were injured in the attack. CCC officials in the Midlands say Zanu PF has intensified attacks against the opposition party in the aftermath of the by-election.
Former State Security minister Owen Ncube has been accused of orchestrating the violence with an audio recording circulating on WhatsApp groups revealing his plans to "weed out" opposition supporters from his Gokwe Kana constituency.
"Which are the main areas dominated by CCC? Who are their ring leaders, list them," Ncube is heard saying in the recording.
"Are there any members from town in your area, who are giving assistance to CCC?
"Do they have a car? If so, where do they park during the night? Who is sponsoring CCC in your home area? Does he have a shop?
"Who is the aspiring candidate for CCC in your home area? Where do they live in Gokwe Kana?"
When contacted for comment, Ncube said he did not talk to newspapers' before hanging up.
In Manicaland, Zanu PF supporters this week allegedly unleashed violence on opposition Zimbabwe People First (ZimFirst) supporters, which left 12 people seriously injured.
The incident happened in the Headlands area where Zanu PF legislator Christopher Chingosho has also declared the constituency an "opposition no go area".
The attackers, who allegedly wore Zanu PF T-shirts stormed into a ZimFirst gathering and beat up opposition supporters with sticks and clenched fists, leaving them badly injured.
They demanded specific information about the meeting from the victims while torturing them. Chingosho allegedly provided the attackers with his constituency vehicle.
"They're were a number of them in the vehicle. They assaulted us and then threw us into the back of the truck.
"They dumped us at Kubatana shopping centre," a ZimFirst member and one of the victims, Temptation Njanji, told The Standard.
Chingosho professed ignorance when he was asked about the incident.
"I was in Bulawayo," Chingosho said.
In Makoni North, Zanu PF legislator James Munetsi is also accused of unleashing terror on opposition party supporters.
But the ruling party is also labouring under divisions in the constituency, which are turning violent.
Munetsi recently clashed with Barbara Nyagomo after blocking the former United Kingdom-based woman from carrying out developmental projects with growing fears that she could be eyeing Munetsi's parliamentary seat on a Zanu PF ticket.
Munetsi confirmed the clashes with Nyagomo.
"Yes, there was a challenge with Nyagomo because I believe her non-governmental organisation is not registered," he said.
"I do not know anything about the violence. I don't fight people in my constituency.
"In fact, supporters from both Zanu PF and the opposition vote for me since I am doing many projects."
In Mashonaland East on Friday, Zanu PF supporters were left with egg on their face after their plans to disrupt Chamisa's campaign rally in Chivhu, turned into a wild goose chase amid reports that the opposition leader had sold them a dummy.
Over 80 placard-wielding Zanu PF members camped at the Chikomba Rural District Council offices in the morning baying for Chamisa's blood, only to disperse later in the day after it emerged that the purported rally was a hoax.
Chamisa has implored CCC supporters to lie low as a way to protect themselves from violent attacks from Zanu PF loyalists.
He urged his supporters to adopt what he termed "Operation Mango — green outside and yellow inside", where they pretend to be Zanu PF supporters in public while remaining opposition at heart.
"They have localised violence to make sure that they will stop me," he said.
"I want to say to Zanu PF, I will go anywhere, and everywhere, you will not stop me.
"I have been telling people that if they want to kill you for T-shirts, don't worry about them. Let's go Operation Mango — green outside, yellow inside. Why? To preserve yourselves.
"Be Zanu in their slogan, be Zanu PF wherever you are going, but show and maintain your integrity to support the change."
Efforts to get a comment from Zanu PF spokesperson Christopher Mutsvangwa were fruitless as his mobile phone went unanswered.
Heal Zimbabwe Trust spokesperson Rawlings Magede told this publication that they were worried about a new wave of violence in the country.
"We are concerned with an increase in cases of politically motivated violence, intimidation and hate speech and intolerance which has claimed lives and property," Magede said.
"There is also an increase in politically motivated violence at both intra and inter party level that has claimed Zimbabwe lives, livelihoods and threatened peace, social cohesion, unity and harmony in the country we all love.
"Such violence has been accompanied and worsened by the abuse of the authority of traditional leaders and intolerant hate speech by political and society leaders, both of which have contributed to incite violence.
Crisis in Zimbabwe Coalition director Blessing Vava said there were signs that next year's elections will be marred by violence.
"The signs of a bloody election are now there for all to see," Vava said.
"It doesn't need a rocket scientist to tell you that. Zanu PF is going for broke and it will be a difficult terrain for the opposition going into the elections and this casts doubt of a free and fair election.
"The scenes in Gokwe and Wedza are just a sign of what is to come.
"As we are saying, without reforms there won't be credible elections in Zimbabwe and what's needed is the intervention of regional blocs like Sadc to bring peace in our country."
Related Topics