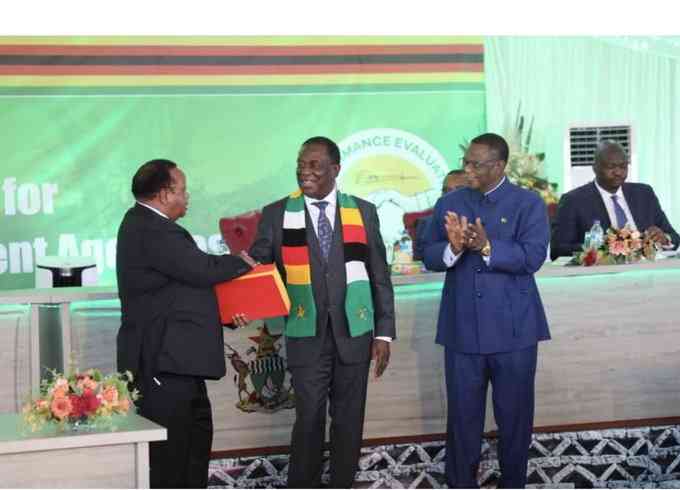 My Dear People
THE desperation by Ngwena to get some form of validation after what has been a disastrous performance bordered on the comical when he held a performance review of his administration last week.
In what was nothing more than a self-congratulatory exercise, we were told that among the top performers in the administration was Foreign Affairs minister Frederick for his re-engagement efforts.
This made me fall back into my plush sofa in amazement.
What success when the United States and the United Kingdom maintained their sanctions pointing out the failure to carry out reforms?
What achievement when the African Development Bank president Adesina and the former Mozambican president Joaquim Chissano told Ngwena and his administration point blank that failure to reform has frustrated re-engagement?
Munopenga!!!!
In this orgy of self-praise Ngwena and his administration revealed that only two ministries performed below expectation. Hehehede!!
They are surely more than that.
There is the Generari whose Health ministry has become a global embarrassment with public hospitals becoming death traps and having to deal with so many strikes by disgruntled health workers that he put in place laws criminalising job action.
There is Energy minister Soda who has superintended over daily power outages of 18 hours as well as failure to pay regional power suppliers.
As I pen this letter, Zambia, Mozambique and South Africa are all threatening to switch off Zimbabwe because of its delinquency.
There is of course Labour minister Paul who has been accused of buying a house using struggling pensioners funds from the National Social Security Authority.
It will be criminal to forget Mthuli who has taken to introduce blended inflation to obfuscate the embarrassing Zimdollar inflation rate, which is in three figures and is testament to his failure to run the economy.
There is also Local government minister July who tried to foist a ridiculous waste management deal that would cost ratepayers an astronomical fee of more than US$22 000 a day.
And this is just from the top of my head.
With such incompetence on display, it is farcical to identify just two ministers.
And not forgetting the most incompetent of the lot which of course is Ngwena. The less said about his performance, the better kkkkkk.
The only thing that Ngwena did right in that assessment was to categorise Joji, Nick and Monica as failures.
Joji and Nick think being loudmouths and bootlickers of note will endear them to the dear leader, but Ngwena was able to put them in their place. Joji's only proven competence is being a backstabber.
MDC leader Dhagi has been in the spotlight again.
Unsurprisingly he is trying to stop another election this time on the grounds that the delimitation exercise was flawed.
Indeed he could almost share my moniker of Dr Stop It when it comes to avoiding elections kkkkk.
One cannot forget how he frantically tried to stop by- elections from taking place in March last year mainly caused by his obsession to recall party members be it in parly or local council.
He failed of course and his party received a shellacking in which they failed to pick a single parliamentary or council seat.
No wonder MDC-T members wanted to boot him out of the party after such a catastrophic performance.
It is understandable that he wants to stop another election this year as he is still licking his wounds, but no doubt as is his nature he will again fail and be obliterated at the polls.
It is hard not to feel sorry for the poor fellow, who hangs on to Ngwena's coattails for relevance.
In other news, the High Court reversed purported expulsion of MDC-T vice president Elias Mudzuri and four others by Dhaggi in a ruling that exposed his alleged credentials as a constitutionalist for the fraud they are.
He mistook the rulings that went in his favour courtesy of vene vayo to mean that he is a constitutional expert. Munopengaaaaa!
The beating up of Zimbabwe Electoral Commission officials by Ngwena's violent activists shows just how the country has gone to the dogs without Gushungo's wise leadership.
The officials were beaten up by activists led by one of the 2018 losing contestants Kudakwashe Damison.
That these dimwits had the audacity to do so, shows how impunity has been allowed to fester in Ngwena's rotten party.
How could it not happen when Zanu PF party supporters can chant slogans calling for Nero's demise or when Zanu PF member Abton Mashayanyika can call for Nero to be killed and go scott free?
Damison might have been arrested, but knowing the catch and release syndrome that has characterised the second repubric, there is nothing to celebrate as he could be out soon.
In his determination to preside over another five-year term with a dispensation of darkness and poverty, Ngwena is trying to coax chiefs to bulldoze their subjects to vote for him.
One of the sweeteners he has given them is Psmas medical aid cards. The very same Psmas which is on the verge of collapse as they have closed nearly all their health facilities and having failed to pay its workers for half a year to the point of driving one to commit suicide.
The medical aid provider, which caters for most of the country's civil servants and pensioners, has deteriorated to such a point that kidney patients are contributing to bus fares to enable striking nurses and doctors to report for work and attend to them. Such is the dereliction of duty by Generari whose Health ministry superintends over the beleaguered health institution.
It beggars belief that Ngwena would insult chiefs by giving them such a medical aid package. Even by his standards, this is a new low for the octogenarian.
If anyone still needed evidence that Zanu PF died with Gushungo, then the postponement of the party's primary elections that were due on March 18 put the matter to rest.
Even the boys in uniform are failing to bring order in that broken party kkkkkkk
Gushungo chete chete
Dr Amai Stop it! PhD (Fake)
Related Topics