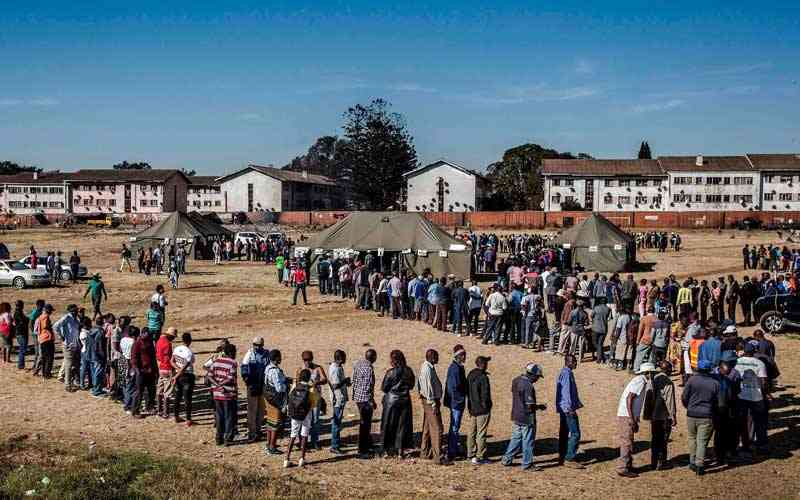 My Dear People
As is typical of Ngwena and his dispensation of poverty and darkness, the delimitation process to establish the wards and constituencies for this year's harmonised election has been tainted by limitations ( no pun intended) of honesty and transparency.
Indeed, those who coined the term dog's breakfast must have had the chaos of the delimitation process as one fitting such a description.
After the Zimbabwe Election Commission (Zec) boss Priscilla had declared the delimitation report she had submitted to Ngwena as the final document on February 3 to be gazetted in 14 days' time, no one could have imagined that such a straight forward process could be mired in such chicanery and outright confusion.
But then given that this involved the treacherous Ngwena, who removed the wisdom imbued Gushungo, we should probably not have been surprised.
Even Joji who sees himself as the embodiment of common sense was caught pants down having initially correctly communicated that Zec had handed his boss the final delimitation report on February 3.
Suddenly we were told that Priscilla's declaration that it was the final report handed on that day was not that final after all and Joji who had communicated the same was suddenly issuing a grovelling apology for saying exactly what the election body boss had said.
This was probably after a dressing down from Ngwena which could have been similar to the one I gave him kkkkk.
We were then told that Ngwena received the final report on the 17th of this month to gazette it last week.
This was characterised by secrecy and opaqueness which is, of course, Ngwena's modus operandi.
With countless questions asked over the process, including whether even the right report was gazetted, the chances of a free and fair election, which is just months away, have already been trimmed considerably.
Deliberations at the debt conference last week must have shocked and confused Ngwena when the former Mozambican president Joaquim Chissano and Africa Development Bank president Akinwumi Adesina said property rights and investment protection agreements as well as free and fair elections were prerequisites to resolving the country's US$17,5 million debt crisis
The message is not new.
It has been harped upon by the European Union, the United States, the country's civic society, the opposition… just about everyone with a modicum of common sense.
Such advice has fallen on deaf ears in the past and I doubt this will change.
For Ngwena, clamping down on the opposition, locking up Job without trial since June last year, chaotic land grabs and banning demonstrations is the diet, which sustains Ngwena.
The pleas by Adesina and Chissano to the septuagenarian are akin to telling a mosquito to stop spreading malaria.
If those are the conditions for a successful debt resolution, then the meeting was a sheer waste of time and resources.
How can one who was catapulted into power via guns and tanks understand democratic principles such as property rights and free and fair elections? Munopenga!!!!
The high levels of corruption under Ngwena's leadership have been so frightful and have resulted in such high levels of poverty that the Roman Catholic Church bishops can no longer hold their silence.
In a pastoral letter titled The Unjust Fetters, released on the Catholic Church's 40-day lent season which is underway, Zimbabwe Catholic Bishops Conference, the bemused clergymen did not hide their disgust at how corruption has worsened under the Second Repubric.
"What is most worrisome is that such rampant corruption by known players is not being nipped in the bud by the responsible offices, but is seemingly supported by those in power by their silence and inaction," they said.
The men of cloth did not stop there.
"Can we choose from the candidates who will present themselves, people who will lead our country on the path of economic prosperity, justice and freedom for which our brothers and sisters gave their lives in the war of liberation?," they pleaded.
It is obvious that they were not referring to Ngwena and his coup gangsters kkkkk.
The Roman Catholic bishops must be applauded. It makes me proud that Gushungo was a devout Catholic.
Who wouldn't be when led by these sober-minded bishops who will not be fooled by Ngwena's claptrap of him creating a new dispensation?
The MDC Alliance circus and its principal clown Douglas Mwonzora are once again at loggerheads with the party looking to boot out the bespectacled leader for failing to attend party meetings and misusing funds under the Political Parties Act.
This is what happens when a party's foundations are based on greed and opportunism and fails to win a single parliamentary or council seat.
Mwonzora, who has been more involved in chasing out of the party those who want to remove him from the dining table with Ngwena than putting together a team that could win an election, will no doubt cling on to the feeding trough for all he is worth ( which is not much) come hell come high water.
To those who want to remove him, good luck. They will need it!!
Munopengaaaa
Gushungo chete chete
Dr Amai Stop it! PhD (Fake)
Related Topics