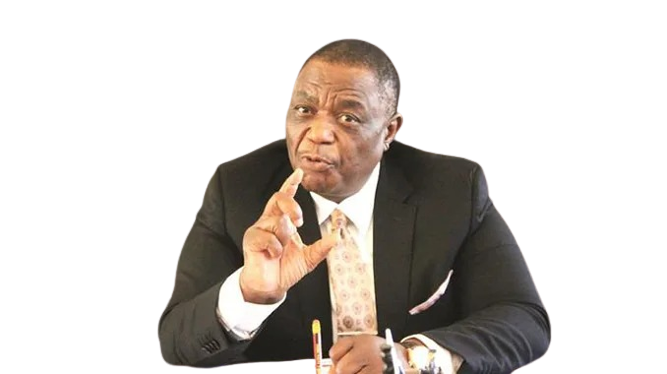 My Dear People
It is election season again and I intend to put my feet up and watch the circus act by Ngwena as he desperately goes for another term in office after being catapulted into the post by guns and tanks.
This was after he betrayed Baba six years ago.
His latest act of desperation has been to recruit schoolchildren under the grouping Virgin Voters for ED.
At first I thought it was someone making a sick joke until his garrulous spokesman Nick actually confirmed it on Twitter with no sense of embarrassment whatsoever.
It is one thing to have vendors, teachers, pastors, driving instructors, miners, entrepreneurs and even prostitutes for ED, but to take schoolchildren and call them virgin voters for ED not only smacks of desperation, but is also abhorrent and a new low even for the treacherous Ngwena.
Unopenga!!!
Frog marching schoolchildren into politics for Ngwena's selfish political ends is apparently part of the so-called new dispensation.
We all know that Ngwena is very unpopular given that although his party got two-thirds majority in parliament, he received just over 50% in the presidential election in 2018 which shows that not all supporters of the party think that he was a worthy replacement for baba whose wisdom Ngwena can only dream of matching. This is not surprising given his lack of probity which is why Baba, with his telescopic foresight, had fired him.
It is refreshing, however, to note that not everyone wants to be associated with these sham groupings.
Founder and senior pastor of Celebration Ministries International Tom Deuschle did not mince his words on what he thought about the formation of the grouping known as Pastors4ED.
"We are seeing today pastors being manipulated by the state to support political ideologies that often speak and do things contrary to the word of God.
"This pastors for ED is an abomination I dare to say it out loud. It is ridiculous.
"You cannot be a pastor for ED," he said. Hear hear!!!
However, the man of God must watch his back after those utterances because the Lacoste goons might just find a reason to throw him into Chikurubi for six months without trial like they are doing with Job.
Ngwena's so-called new dispensation is driven by sadists, who will do anything to remain in power.
The levels of desperation by Ngwena and his party is further evidenced by the callous attack on elderly Citizens Coalition for Change supporters in Murehwa.
The incident was exposed in a video that has gone viral on social media.
In the video, alleged Zanu PF youth militia, with flog sticks are seen questioning the elderly villagers why they were gathered to support CCC at their old age before severely flogging them.
Zanu has distanced itself from this incident and as usual implied that the opposition stage-managed the beatings, an explanation that has very few takers.
This is all too familiar given that even when those CCC female party members, including Joana Mamombe reported to the police that they had been abducted, they were the ones who were arrested!!
Only in a country led by Ngwena can such madness reign supreme.
The Second Repubric has shown that it is far worse than the first Repubric as they have put in place a law that will imprison health workers for prolonged strikes for a period of six months.
The provision, signed into law by Ngwena stipulates that health workers can strike for up to three days because they are considered an essential service.
Unopenga!!
The irony of this law on the health sector is that it has been passed at a time when the health minister is none other than Constantino who flies to China for treatment abandoning the local health institutions he superintends which have become death traps due to lack of basic medicines such as painkillers.
Instead of addressing the crisis in the sector, particularly the poor working conditions health workers are operating under, they have decided instead to jail them if they doth protest too much.
New dispensation, my foot!!
Ngwena should adequately address the problems in the health sector rather than donate ambulances to African churches while some health institutions in rural areas have no ambulances resulting in patients being ferried by scotch carts and wheelbarrows from their homes for treatment.
It is no wonder why 4 000 health workers have deserted the country for greener pastures where requests for better working conditions do not run the risk of imprisonment.
Ngwena has surely turned the country into a banana republic.
Now the people can see why baba once said that there was no one who could successfully succeed him.
The land reform that was championed by baba in 2000 has been rendered chaotic since the advent of the Second Reprubric.
The programme was meant to empower disempowered black Zimbabweans to get land from the white farmers who owned vast tracts of land.
Under Ngwena the land reform has turned into a frenzy of disorder with blacks invading the farms of other black farm owners as shown by the clash last week between police and 1000 Zanu PF youths who had invaded a farm in Goromonzi owned by Maxwell Muziwi.
It is indeed a dispensation of poverty and confusion. Then you see people still supporting that military-owned party, which has now been reduced to a shell after Gushungo's overthrow.
Munopengaaaaaaaaaaaaaaaaa!
Gushungo Chete Chete!
Chatunga Chete Chete!
Dr Amai Stop it! PhD (Fake)
Related Topics