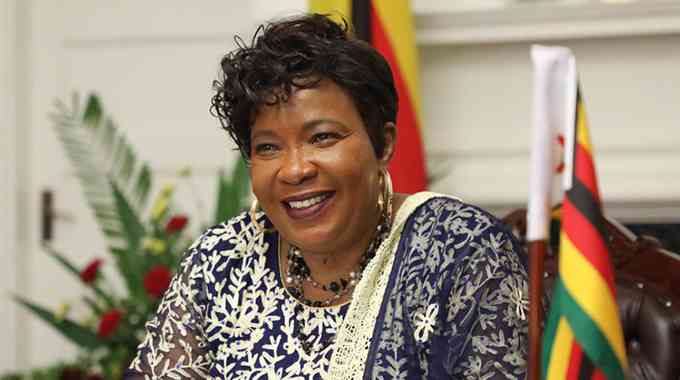 My Dear People
Your hard-working mother has gone international kkkk.
According to various news sources, including Iran official media, Dr Amai 11 held "bilateral talks" with that country's Foreign Affairs minister Hossein Amir-Abdollahian in Iran on expanding relations between Zimbabwe and Tehran.
She appeared to be speaking on behalf of the government when she blabbered about Zimbabwe attaching great importance to the development of bilateral relations with Iran.
The journalists told us that the Page 2 girl also called for "all-out economic cooperation in various fields to strengthen relations".
What made the situation even more bizzare is that Foreign Affairs deputy minister David Musabayana was also in Tehran at the time when Dr Amai 11 was carrying out these state duties.
When the Lacoste gangsters were plotting the coup against Baba, they accused me of all sorts of things, including taking over the running of the country unconstitutionally.
Some of you even insulted me saying I was under the impression that power was sexually transmitted.
So what do you call this thing that is happening under Lacoste? Dr Amai 11 is actually representing the government in foreign capitals and you choose to see no evil and hear no evil.
A first lady has no business in the affairs of the state because hers is not a government office.
It is becoming clear that Dr Amai 11 is harbouring political ambitions and would stop at nothing to get to the highest office, including holding cooking lessons and being a marriage counsellor in Kanyemba.
She needs to come to me for free advice because I have been there and I will tell her that it will end in tears kkkkk.
Zimbabweans will not accept the creation of a monarchy as Gushungo got to learn rather too late.
Still on the monarchy, Ngwena is hellbent on personalising everything in this country and government mandarins are taking advantage of his desperation to be loved by Zimbabweans to come up with hare-brained interventions.
After realising that tired civil servants would not take peanuts for a bonus this year, some clever official came up with the idea of a "presidential bonus".
The so-called presidential bonus will comprise US$200 that will be paid in tranches kkkk.
I presume the idea is to influence civil servants to view Ngwena as a caring leader ahead of the elections and give him some sort of advantage against his nemesis, Nero.
Rubbish! Civil servants often see beyond cheap politics and many that I have spoken to described the bonus as an insult because it will not make any difference to their incomes.
The long-suffering civil servants will take the money, but they will still go on to use their vote to punish the uncaring leaders who are preoccupied with accumulating wealth only for their families.
Temba, who alleges that he is an independent parliamentarian and politician, is growing increasingly agitated by the continued creation of structures to support Ngwena's re-election bid.
The loud-mouthed Temba has on several occasions taken to Twitter to complain about the creation of the parallel structures.
He says the emergence of organisations calling themselves this and that 4ED is a sign of a party that is at sixes and sevens.
I tend to agree with him because if Ngwena was confident that Zanu PF would deliver a second full term in office come 2023, he would not be making a fool of himself attending launches of these organisations.
Last weekend we saw the excitement around the launch of Vapostori4ED in Bulawayo and it was some spectacle.
The threat of bhora musango continues to loom large for the embattled Lacoste leader because he is deeply unpopular in Zanu PF and if not properly managed, it can even overwhelm those that will try to rig the polls.
This is why Ngwena is busy creating parallel structures. And hustlers and criminals are taking advantage of this desperation to create their own outfits that they use to extort money.
We hear Amakorokoza have become the latest victims of the predators who are being forced to pay extortionate subscription fees to be members of organisations calling themselves this or that 4ED.
The growing practice is bringing disrepute to that high office because it is now used for extortion purposes.
Munopengaaaaa
The Lacoste government is too predictable! So they decided to release Chitungwiza North legislator Godfrey Sithole on the eve of the arrival of a Commonwealth fact-finding mission.
Sithole was jailed along Zengeza MP Job Sikhala and several Nyatsime residents on public violence charges over five months ago.
The Nyatsime 16 are political prisoners and we doubt the Commonwealth Charter condones that.
They include 34 members of the Mirirai Jehova Apostolic Church, who are also supporters of the Zimbabwe Transformative Party.
They have spent four months in remand prison on charges of criminal nuisance for allegedly singing "Emmanuel free us, we are tired of suffering" while walking in Harare's central business district.
Sithole's release was calculated to show an impression that Zimbabwe's judiciary is not captured.
The strategy will obviously not fool anyone because Sikhala and many others remain in custody.
The Commonwealth delegation will also not be fooled by the last minute theatrics because they will make their own independent consultations where the truth will be revealed.
Munopengaaaaaaaaaaaa!
Dr Amai Stop it! PhD (Fake)
Related Topics