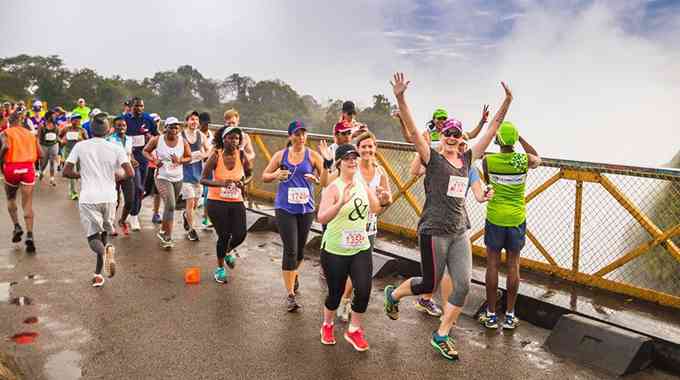 All is set for Zimbabwe's most popular marathon event, the Econet Victoria Falls Marathon, which takes place tomorrow in the scenic resort town.
The event, now widely regarded as Africa's number one marathon, will attract about 5 000 registered runners, excluding accompanying friends and family, in what promises to be an unforgettable experience against the breath-taking backdrop of one of the world's natural wonders.
Econet Wireless Zimbabwe, the headline sponsor of the marathon, says this year's event has attracted a record number of participants, after it returned last year following a two-year COVID-19-induced hiatus.
"We are delighted and excited to inform all our visiting athletes and participants — from wherever they may be travelling from around the world and from Zimbabwe — that everything is now in place for the Econet Victoria Falls Marathon which will be held on Sunday (July 2, 2023)," said Econet Wireless Zimbabwe group chief executive officer Douglas Mboweni as he extended a special welcome to both local and international athletes.
"We have been working closely with the race's technical organizers, the local authorities, tourism players, emergency services and many other stakeholders, and I am confident that we will host a successful event," he said.
"As the headline sponsor, we proudly welcome you this great event, and wish you all the very best during your run and as you take time to enjoy this special and scenic resort of Victoria Falls with friends and family," said the Econet boss, whose company has a great track-record of placing a big premium on physical and mental wellness in the workplace.
The Econet Victoria Falls Marathon, now in its 15th year, last year attracted over 4 500 participants from all over the world — with up to 40 different nationalities attending the event.
Econet has been sponsoring the prestigious race since 2009, helping to make event one of the most eagerly anticipated events on the global sporting calendar.
Over the years, the marathon has established itself as a premier sporting event, drawing runners from across the globe, and promoting Zimbabwe as a top tourism destination.
This year's race will feature a 42,195km full marathon, a half marathon 21,1km, a Fun Run as well as a half marathon relay (10,5km x 2).
A major attraction of the marathon is undoubtedly the opportunity before and after the marathon, for participants to enjoy the vast range of holiday and leisure activities available in and around the Victoria Falls.
These include wildlife and game viewing safaris, boat cruises, walking safaris, canoeing, white water rafting, horse riding and many more.
And during the race, participants will have the opportunity to run on the side of the mighty Zambezi River, catching glimpses of the iconic falls and enjoying the natural and cultural heritage of the region.
Related Topics