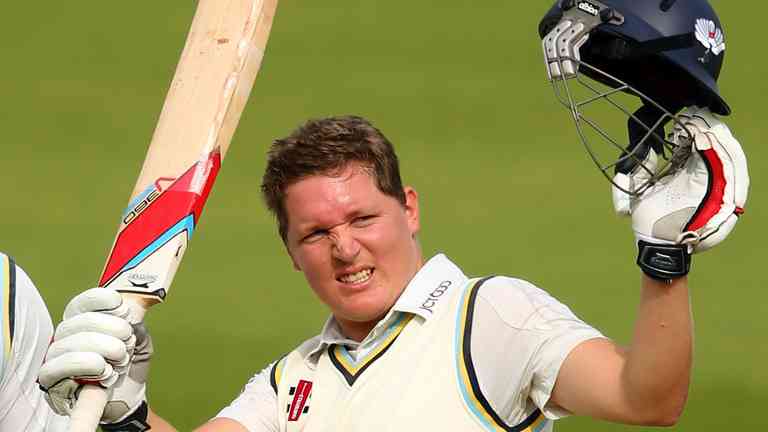 YORKSHIRE coach Ottis Gibson has poured cold water on recent reports linking former England opening batsman Gary Ballance with Zimbabwe's national cricket team.
Harare-born Ballance played for Zimbabwe at Under-19 level before moving to England in 2006 as a schoolboy.
He went on to play 23 tests and 16 one-day internationals for his adopted nation before falling out of favour.
The 32-year-old has not played for England since a 2017 test at Nottingham and recently apologised for using racist language against former Yorkshire teammate Azeem Rafiq.
Recent reports suggested that Ballance could be poised for a return to international cricket with Zimbabwe with the relevant paperwork regarding his nationality switch having already been reportedly submitted to the International Cricket Council (ICC) earlier this year.
Ballance was also reported to have already spoken with Chevrons head coach Dave Houghton.
Houghton said the veteran opener will be welcome to play for Zimbabwe should he decide to return to the country of his birth.
However, Yorkshire coach Gibson appeared to dismiss speculation surrounding Ballance's future after expressing confidence that he will play for the English county cricket side again.
"I don't know where that (Zimbabwe) talk came from," Gibson said in an interview with the Yorkshire Post.
"All the conversation that I've had with Gary is that once all this stuff gets sorted, he wants to come back and play for us. That's my understanding from him.
"I strongly believe that whatever any sanctions there are that he'll come back and play once his head is clear of all the stuff that's been going on."
Gibson's comments come after Zimbabwe coach Houghton recently expressed optimism that Ballance wouldn't be against the idea of retracing his Zimbabwe roots in international cricket.
"I've known Gary since he was a kid and I speak to him reasonably regularly," the former captain told reporters during Zimbabwe's recent tour of Australia.
"I don't think Gary would be against coming back to play for Zimbabwe but he's still got to sort out things in England.
"I think he's probably got another eight to nine good years in him, so if he wants to come back we certainly won't turn him away."
Ballance, 32, has not played first-team cricket this season after admitting last November that he used racist language towards his ex-Yorkshire teammate Azeem Rafiq.
The Marondera-born star reportedly apologised to Rafiq at a meeting in London last month hosted by Julian Metherell, the non-executive chair of the Professional Cricketers' Association.
However, Gibson insists he has been focusing solely on cricket and had been hoping that Ballance would return just a few weeks ago, once the England and Wales Cricket Board (ECB) investigation into Rafiq's allegations is finally over.
"Earlier in the year I had a lot of optimism that Gary was going to play from the conversations that I was having with him," he said.
"He played some second-team games and stuff like that, but the last conversation I had with him, I'm not so sure he's going to play this year.
"The closer he gets to this ECB stuff — he's having conversations with lawyers and all that sort of thing — it's taken him a little bit away from where he was a month ago, when he felt like he was really close to coming back to cricket.
"We've sort of left it to him to let us know how he's feeling but the last conversation I had I don't think he was feeling as optimistic as he was."
Related Topics