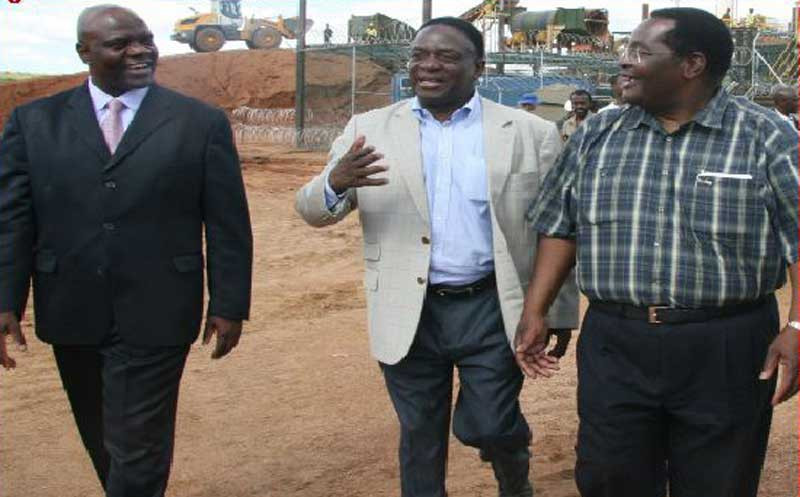 BELOW is a book excerpt from In Search of the Elusive Zimbabwean Dream, Volume III (Ideas and Solutions) by Professor Arthur Mutambara.
President Emmerson Mnangagwa's new Cabinet shocked many because of the crass ethnicity and primitive clansmanship, which degenerated into the shameful appointment of direct relatives.
Well, I am surprised; folks were surprised!
Why and how did you expect anything different?
What has been the role of ethnicity in Zimbabwean politics? What is going on?
An excerpt of the book is instructive.
Here we go:
As I join the government of national unity (GNU), I am pretty naive about the extent of ethnicity in our politics. A few stories and remarks from Robert Mugabe shake me out of that naiveté. One such narration goes as follows:
"When I crossed into Mozambique with Edgar Tekere on April 4 1975, one of my immediate personal objectives was to go to Ghana and see where my son Nhamodzenyika was buried.
"Hence, at the first opportunity in 1976, I headed to Ghana through London.
"While in London, I was put under siege by my Zezuru friends, who included Tichaona Jokonya, Alois Mangwende and Enos Chikowore: What are you doing in a political party of the Karangas and Manyikas? Leave that party and go and work with Abel Muzorewa in the ANC (later to be transformed into UANC)'.
"This was the Zezuru position after all the Zanu infighting in Zambia, which led to Herbert Chitepo's death on March 18 1975.
"Most Zezerus had left Zanu with Nathan Shamuyarira in 1971 to form FROLIZI with another Zezuru leader – Zapu's former vice president – James Chikerema.
"The top leadership of Zanu's Dare ReChimurenga (Zanu's War Council) from 1972 to 1975 now mainly consisted of Karangas and Manyikas.
"No, no, let us not do that, I remonstrated with them. I literally begged them.
"You only make it worse. As Zezurus, let us stay in and organise from within. In fact, those of you who left, must all come back to Zanu!"
That is Bona's son in his own words!
While I am enjoying this riveting historical account, I am shocked and flabbergasted by the crass and shameless acceptance of ethnicity (pejoratively referred to as tribalism) as a principle, value and framework of analysis and organisation.
Before proceeding, it is imperative to interrogate the term tribalism.
It is discredited as a productive concept in political science because it presupposes: primitiveness and savagery; ancient hatreds and irrational violence; and post-colonial return to pre-colonial savagery.
On the other hand, ethnicity is a better term. It is more productive. Ethnic groups are not from antiquity; ethnic groups are a product of post-18th-century modernity.
Nevertheless, all this ethnicity versus tribalism discourse is an exercise in the pursuit of political correctness.
I am not interested in all that gibberish.
Using ethnicity (or tribalism) as a primary tool of political organisation is hugely problematic.
In the above London account, Mugabe is directly and unashamedly asserting his identification with, and commitment to, Zezuru ethnicity to me!
When I look back, historically, it all adds up. When Shamuyarira and Chikerema formed the Front for the Liberation of Zimbabwe (FROLIZI) in 1971, they say that the leader of the new party is Robert Mugabe – then in detention in Rhodesia with other nationalists – who will replace both Joshua Nkomo and Ndabaningi Sithole.
FROLIZI is derisively dubbed the 'Zezuru Front'. Furthermore, as Robert Mugabe consolidates his leadership of Zanu after the Mgagao Declaration of October 1975, the Geneva Conference of 1976, and the Zanu Chimoio Conference of March 1977 which confirms him as Zanu leader, there is a flood of Zezuru politicians, who re-join Zanu, while others join for the first time.
Thus, the construction of the Zezuru hegemony, which will dominate the independent state of Zimbabwe for 37 years, has started in earnest with Robert Mugabe as the cunning and sophisticated architect.
In other conversations, Mugabe also casually refers to Zezuru dominance in certain areas as an accepted norm:
"Mashonaland East, you cannot penetrate it given Solomon Mujuru and Ray Kaukonde's stranglehold on it. Their grip on the province is total and unequivocal."
It is also clear that at the attainment of national independence (maybe even before), Mugabe and Mujuru collude and conspire to set up a Zezuru hegemony in Zimbabwe, which starts to falter 26 years after independence when Mujuru senses it is prudent for Mugabe to retire and appoint a Zezuru successor – preferably his wife.
He feels an old and progressively unpopular Mugabe is neither good for the Zezuru hegemony nor his vast business interests.
The fight that ensues between Mugabe and Mujuru is ostensibly a Zezuru civil war, where Mujuru felt Mugabe was putting his megalomaniac and narcissistic ambitions ahead of Zezuru aspirations.
It turns out that the historical alliance between Mujuru and Mugabe is more than just sheer ethnicity – it is familial! The two are related as Joice Mujuru narrates to Blessing-Miles Tendi in his Mujuru biography The Army and Politics in Zimbabwe, "My husband and Mugabe were distantly related. A young girl called Nhemasve from Solomon's clan was given to Mugabe's clan. This is how clans built bonds in the past, by intermarrying.
"It is said that this girl, Nhemasve, is the one who gave birth to the line of Mugabes which Robert Mugabe belongs to. Solomon and Mugabe kept this relationship secret.
"Solomon always said to me that with Sithole removed as leader, according to the Zanu hierarchy, as secretary-general Mugabe was supposed to succeed Sithole, so he was entitled to become the leader anyway.
"But Solomon also said Mugabe being his distant relative also influenced his decision to make sure Mugabe became the leader."
So, there we have it from Joice Mujuru - Robert Mugabe and Solomon Mujuru are related.
Of course, both Mugabe and Mujuru keep this association secretive which speaks volumes about its sordid and malignant utility to them.
Shameful.
My fears and perturbation of the prevalence of unbridled tribalism in our politics are also confirmed by narratives about Zanu PF heavyweights, who are chased away from farms acquired during the land reform programme in the Mashonaland provinces just because they come from other regions.
Justice minister Patrick Chinamasa is kicked off a farm in Mazowe and has to settle in Headlands, Manicaland – his home province.
Cabinet minister Paul Mangwana is shown the way back to Masvingo, while chairman of the Civil Service Commission, Dr Mariyawanda Nzuwah, is brazenly advised to go back to Malawi. He is only saved and protected by the intervention of vice-president Joseph Msika.
To have these stories narrated to me, and variously and unequivocally confirmed by our Zanu PF Cabinet colleagues, breaks my heart.
Really?
So, crass ethnicity constitutes the core of our national politics. It is part of our collective political DNA.
Sad.
As I write these memoirs, tribalism, which remains a retrogressive feature of Zimbabwe's land reform programme, particularly in the Mashonaland provinces, continues to surface.
More ethnic rot is exposed in an article in the NewsDay of 12 December 2019 titled Land row exposes Ministers' tribal storm.
A retired colonel, who is a Zipra war veteran has accused the minister of lands, agriculture and rural resettlement, Retired Air Marshal Perrance Shiri of taking a farm he has occupied for 17 years on tribal grounds and giving it to Home Affairs minister Kazembe Kazembe.
In his letter, Ngwenya said he was disheartened and shocked by the persistence and frantic efforts by the two ministers to remove him from Collingwood Farm, also called Southwell Farm, in Mashonaland Central on tribal grounds.
"I'm disheartened and shocked by your persistence and frantic efforts of tribally trying to remove me from Mashonaland again with a pretext of farm downsizing," Ngwenya said.
He further narrated that in 2002 he was allocated Mashona-Kop Farm in Mashonaland East but was chased away by a former minister and told to look for a farm in Matabeleland.
Right up to his demise in the coup d'état of November 2017, Mugabe continues to manifest his Zezuru tribal inclinations by packing the Cabinet and party with his Zezuru underlings, allowing his wife – Grace Mugabe – and her sycophants to publicly sing the shameful song: Zezuru Unconquerable, while pushing for Sydney Sekeramayi as his successor, deputised by his wife – two unashamed Zezurus.
Furthermore, during the coup d'état in November 2017 itself, he tries to cut a Zezuru deal with General Constantino Chiwenga, to no avail.
What is worse is that the coup d'état brings into power Emmerson Mnangagwa, who is a primitive tribalist without the contrived subtlety, nuances and sophistication which were the hallmark of Mugabe's tribal machinations in the early part of his leadership.
At least Mugabe was a nationalist, who professed affinity for Pan-Africanism. There are none of these redeeming virtues in his successor.
As I complete these reflections in January 2023, Emmerson has crudely and unashamedly filled up all key government positions with his incompetent and clueless direct relatives, corrupt and directionless associates, and subservient cronies from the Midlands Province.
Beyond that, he is only interested in Karanga folks to the exclusion of other ethnic groups. Brazen and crass tribalism.
Pathetic.
There is utter disgust within Mnangagwa's own party – Zanu PF – and the country at large. I guess, in terms of ethnic politics, (with rise of Mnangagwa) Zimbabwe has jumped from the frying pan into the fire.
Mnangagwa's approach to national and governmental affairs is driven purely by the politics of clansmen and cronies.
How shameful.
Sadly and unfortunately, as an opponent and a victim of Zezuru hegemony, Emmerson Mnangagwa has not learnt anything.
In fact, he has chosen the dangerous path of constructing his own Karanga hegemony; or is it a primitive Midlands clansmanship?
As I conclude these memoirs in January 2023, I am surprised by Emmerson's inability to learn from recent history.
Clearly, this will not end well.
In our beloved Zimbabwe, there is no place for a primitive unintelligent tribalist – an unsophisticated clumsy clansman.
Mutambara is the director and full professor of the Institute for the Future of Knowledge at the University of Johannesburg in South Africa.
Related Topics