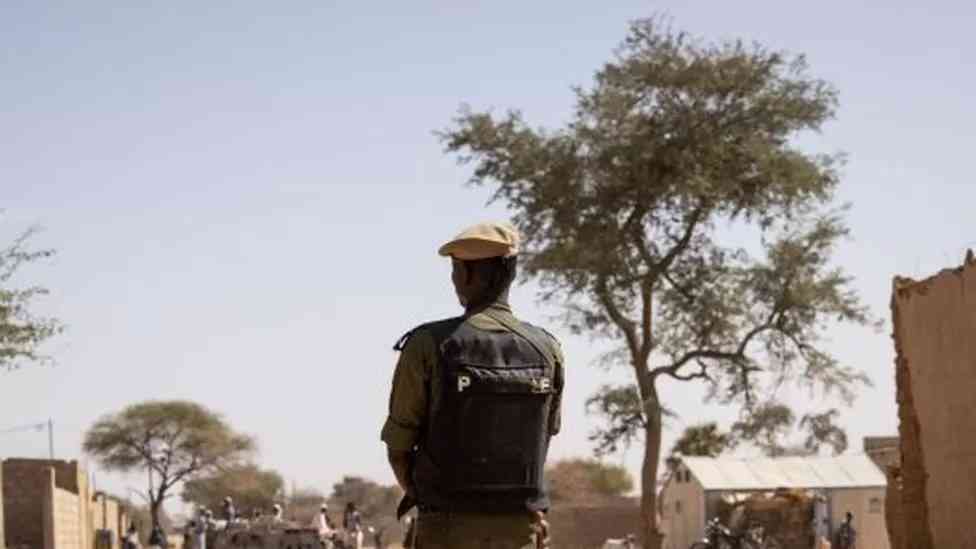 Some 44 people have been killed after two deadly attacks in northern Burkina Faso on Thursday, officials have said.
The twin attacks happened in the villages of Kourakou and Tondobi in the Sahel region, near the Niger border.
No group has admitted to carrying out the attacks, but jihadist violence is common in the area and officials have blamed "armed terrorist groups".
Militant groups linked to al-Qaeda and the Islamic State (IS) are known to operate in the region.
The Lieutenant-Governor of the Sahel region, Rodolphe Sorgho, said the assailants behind the "despicable and barbaric attack" had been "put out of action".
Other villagers were reportedly injured in the attacks, but it is unclear how many. Mr Sorgho said "actions to stabilise the area are under way".
One resident told the AFP news agency that "a large number of terrorists burst into the village" and that he heard gunfire all night long.
"It was on Friday morning that we saw that there were several dozen dead," he said.
AFP has also reported that the killings were in retaliation for the lynching of two jihadists who had tried to steal cattle a few days earlier.
Thursday night's killings happened close to the village of Seytenga, where dozens of people were killed last June.
Burkina Faso and its neighbours have faced protracted jihadist insurgencies since 2013.
Thousands of people have been killed during the crisis and more than two million have been displaced. The violence has led to significant political turbulence in the country.
The military - led by Lt Col Paul-Henri Damiba - seized power in the country in January last year, promising an end to the violence.
But he failed to stamp out the attacks, and he was removed in a second coup by Capt Ibrahim Traoré the following September.
Capt Traoré has promised to win back territory from the jihadists, and to hold democratic elections in July 2024.
His new military chief, Col Celestin Simpore, vowed earlier this week to step up a "dynamic offensive" to counter the jihadists.
But Capt Traoré has also requested that French troops leave the country and there has been widespread speculation that he might start working with Russian mercenaries.
Related Topics