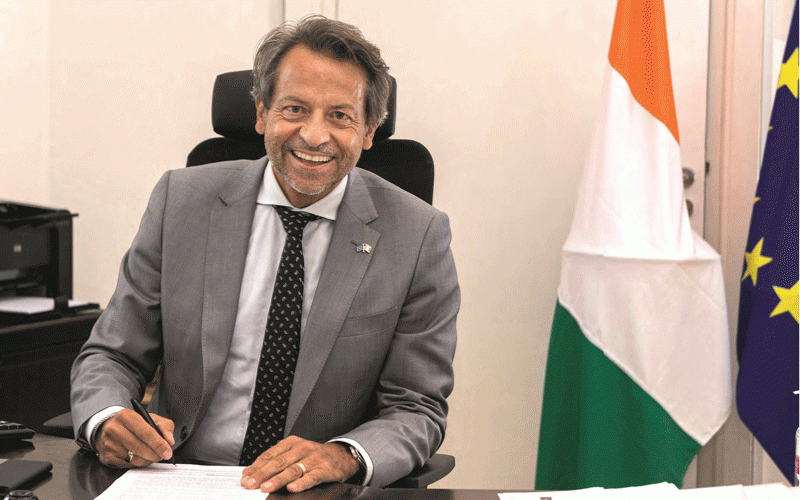 EUROPEAN Union (EU) ambassador to Zimbabwe, Jobst Von Kirchmann, on Wednesday said the bloc was ready to work and promote investment to the southern African country after years of international isolation.
"We stand ready to work with Zimbabwe to make that a reality. It's not always easy to export because you have to know all the rules and the EU is quite a complex body because we have standards, we have norms, sanitary requirements," Kirchmann said at a business conference held at the Zimbabwe International Trade Fair (ZITF) in Bulawayo.
"Some European countries still have a negative perception about Zimbabwe and I think we should work on it because at the end of the day us, working with the Zimbabwean government can facilitate and promote investment…"
Trade between Zimbabwe and the EU remains high, the envoy pointed out.
"We are the number one export destination for horticulture products. 42% of all horticulture products go to the European market, citrus, vegetables, oranges, peas etc," Kirchmann said.
"The European market is exporting in this country in particular machinery, for example for agricultural production to make processes more efficient."
President Emmerson Mnangagwa has sought to mend ties with the EU and the West after he replaced the late former President Robert Mugabe in a coup in 2017.
In 2019, Mnangagwa and the EU launched a formal political dialogue process, focusing on areas of interest which included investment, trade and economic development, human rights, democracy and good governance and rule of law, among others.
Under Mugabe, the EU used to have frosty relations with Zimbabwe.
The EU first imposed targeted sanctions on Zimbabwe in 2002 over human rights violations, but removed most of them in 2013 to encourage reforms.
Last month, it extended remaining sanctions measures against the Zimbabwe Defence Industries (ZDI), and welcomed a planned invitation to observe this year's crunch elections to be held between July and August.
The EU and the United States have in the past urged Mnangagwa to implement political and economic reforms for the normalisation of relations.
Related Topics