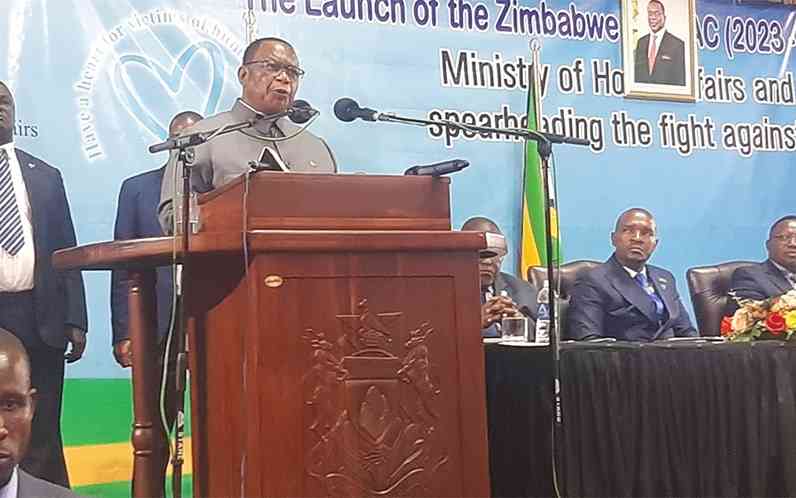 What seemed to be a good escape from poverty back home in Zimbabwe quickly turned into a nightmare for Chipo* when she landed in Oman in 2022.
Like many economically impoverished citizens, Chipo could not resistan opportunity to leave the country in search of a better life after she was offered a housemaid job in Oman.
In a pre-recorded interview that was played at the launch of the Zimbabwe Trafficking in Persons National Plan of Action (2023-28) in Harare last Wednesday, Chipo said she only realised that she had been sold into slavery when she arrived in Oman.
Her cousin claimed to have facilitated the job placement.
"I was very happy that my relative had thought of empowering me," Chipo said.
"She requested my documents and pictures, and she sent a message (to the would-be employer).
"Within a short space of time, she said my new boss was processing my travel documents.
"The following day I was told my visa had been processed and I was to travel the day after."
Chipo said it never crossed her mind that something fishy was brewing with the way her travel documents were quickly processed.
According to Chipo, she never thought her cousin could plot any evil.
"I asked her why I was not being given proper time to prepare and plan for my journey but she insisted that my new boss cannot wait for me to come," Chipo said.
"I was told to take my pictures at the airport, I did and sent them to her.
"My visa was written Oman, but being out of touch with reality, I thought maybe it was a city in Dubai."
Oman is an Arab country neighbouring Saudi Arabia, United Arab Emirates (UAE) and Yemen.
Chipo said her arrival was the beginning of her woes as she came face-to-face with racism at the airport.
She said they were made to stand in their own queue as blacks, and within minutes, a very tall man approached her brandishing her picture.
"I was shocked to see the man who did not say anything except to show me that picture I had sent my cousin," she said.
"I agreed to follow him after being told he had been sent by my cousin.
"He took all my documents (passport and visa) and signalled that I should get into the car."
Contrary to what she had been told by her cousin, Chipo was told to start work as soon as she arrived at her new employer's house.
With no time to rest, she was told that part of her duties included looking after 10 children, cats, dogs and a snake.
Chipo said her cousin had said she would be looking after only two children.
"I experienced an unusual bleeding during Ramadan, I called my cousin to tell her and she blocked me," she said.
"I told my mother who called my boss and was told I was lying.
"She got in touch with my sponsor who demanded the money she had bought me with.
"I was told I had been sold for US$2 000. My mother sold her cattle to pay back the sponsor."
Luck came her way when they heard that government was rescuing citizens sold into slavery in Oman.
At least 100 victims of human trafficking were rescued from Oman after enduring months of inhumane treatment at the hands of their employers in the Gulf State last year.
In 2016, over 120 women were rescued from Kuwait after they were trafficked to the Middle Eastern country under similar circumstances.
The victims were allegedly subjected to servitude; working round the clock for no pay, feeding on leftovers, and subjected to sexual and physical abuse, and denied freedom of movement by being confined indoors.
Speaking at the launch of the anti-human trafficking event, Vice-President Constantino Chiwenga said they were reviewing laws to ensure stiffer penalties for human traffickers and their associates.
"If one deliberately recruits and makes the person suffer, that's a crime against humanity," Chiwenga said.
"Zimbabwe frowns at this heinous crime which is also a grave violation of human rights.
"This crime strips an individual of all their dignity, their self-worth and their confidence.
"We will act to address this to make sure that there is watertight protection of our people.
"Gone are the days of slavery. Being subjugated as a people ended when we attained our independence in 1980."
He said a 70-year jail sentence given to one of the perpetrators of human trafficking last year was an example of stiffer penalties that offenders would be slapped with.
Speaking at the same event, Home Affairs minister Kazembe Kazembe said between 2016 and 2021, more than 100 trafficked victims had been repatriated home.
"In 2022, a total 69 cases involving 139 victims were recorded and investigated," Kazembe said.
"Seven accused persons (all Zimbabweans) were arrested. Four were arrested for Oman trafficking and three for domestic cases."
As government ponders moves to end human trafficking, Chipo says she has not fully recovered from her ordeal in Oman.
"Don't go without full information," she advised fellow Zimbabweans seeking jobs overseas.
"I can't do heavy work anymore because I now have backache as a result of the inhumane treatment I was being subjected to as a maid."
Related Topics