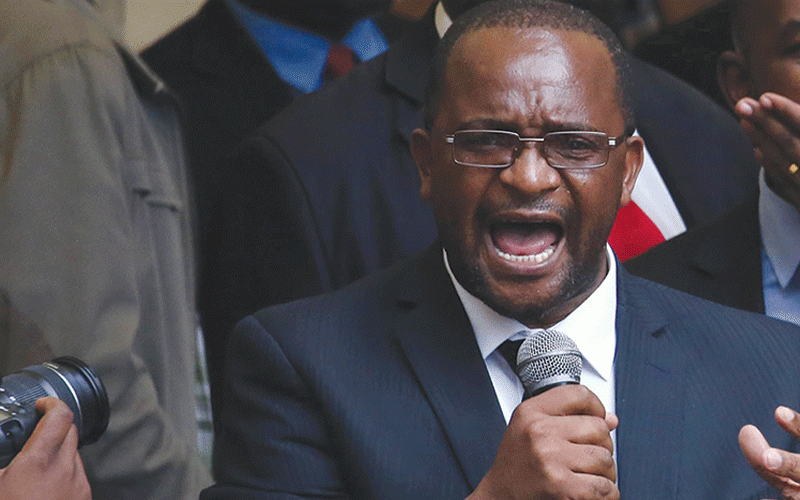 OPPOSITION MDC Alliance leader Douglas Mwonzora has filed a Constitutional Court (ConCourt) challenge against the Zimbabwe Electoral Commission's (Zec)'s delimitation report seeking an order declaring the gazetted document illegal.
Mwonzora and his party last month approached the ConCourt seeking an order to compel President Emmerson Mnangagwa not to proclaim poll dates before addressing the controversy surrounding the delimitation report.
Zimbabwe expects to hold general elections between July and August this year.
Mwonzora was granted the greenlight last Thursday to file his argument at the ConCourt and his case would be heard by a full bench of seven judges.
In an interview with NewsDay, Mwonzora expressed confidence that Zec's delimitation report would be thrown away.
"The Constitutional Court last week gave us leave to direct access, meaning that we were given the right to appear before the full bench of the Constitutional Court in our challenge for the delimitation. We have been able to do that and we are confident from the points we have raised we are going to succeed," Mwonzora said.
"We are asking the ConCourt for three things; to declare the delimitation report as invalid, to order Zec to redo delimitation and to order the President to proclaim election dates after the delimitation report has been resubmitted."
Seven of Zec's nine commissioners distanced themselves from the delimitation report, which Mnangagwa gazetted on February 21 this year.
"We are very confident about the points we have raised. Our application was judged not to be unnecessarily argumentative and we think we are going to succeed," Mwonzora added.
Despite the delimitation report being controversial, analysts have criticised Mwonzora's court application saying the timing and motive were suspicious.
The Nelson Chamisa-led Citizens Coalition for Change recently ruled out boycotting elections saying despite existing administrative challenges caused by Zec.
Independent election watchdog, Election Resource Centre (ERC) has, meanwhile, said postponing general elections for whatever reason would be unconstitutional.
In a statement yesterday, ERC said elections are central to Zimbabwe's democracy.
"Through elections, the fundamental right of every citizen to political participation is realised and elections guarantee the philosophical-political principle of democracy (people's power)," ERC said.
"Suspending elections would be a clear violation of the rights of Zimbabweans to participate in the democratic process and would be a step away from democratic accountability and has the potential to lead to political instability.
"Suspending elections denotes a move away from the hard deadline spelled out in the Constitution where the terms of office of elected officials end on August 26, 2023. This is a threat to Zimbabwe's constitutional democracy."
The watchdog said Zimbabwe may be plunged into a constitutional crisis if the election is postponed because there is no extension provision regarding terms of office.
"The Constitution is explicit and peremptory in that, where the delimitation report is not completed six months before an election, or where it is deemed unconstitutional, the old boundaries ought to apply for that election and does not envision a suspension of elections," ERC said.
"The constitution makes it clear that power should be acquired only through a periodic election conducted every five years, and the term of office of elected government officers is strictly five years.
"There is no legal basis that will allow the current government to legitimately remain in power post 26 August 2023, therefore, any proposed suspension of the 2023 harmonised elections poses a threat to Zimbabwe's democracy."
Related Topics