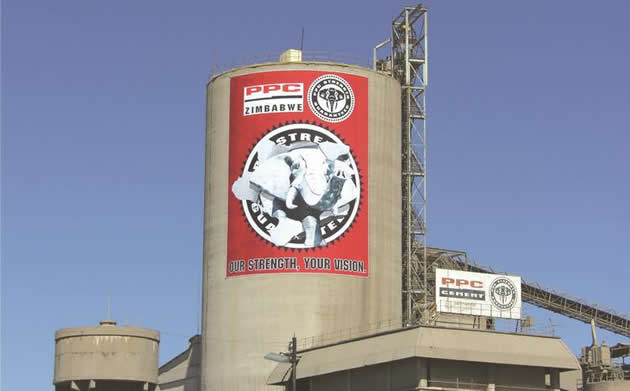 REVENUE at Johannesburg Stock Exchange listed pan African cement maker, PPC's Zimbabwean operation fell by 31% to R855 million (US$49,29 million) in the six months ended September 30, 2022 following key maintenance schedules at its kiln plant, the firm said this week.
The revenue stood at R1,24 billion (US$71,43 million) during the same period in 2021.
PPC Zimbabwe's cement sales volumes declined 13% period-on-period, the firm said, citing the kiln shutdown.
"Revenue (at PPC Zimbabwe) decreased by 31% to R855 million (US$50,4 million) due to the impact of the planned kiln maintenance and the depreciation in the Zimbabwean dollar against the rand," PPC said, as it share financial statements for the period with investors.
EBITDA (earnings before interest, tax, depreciation and amortisation) declined by 48% to R148 million (US$8,73 million) with a reduced EBITDA margin of 17,3%.
"EBITDA and EBITDA margin were adversely impacted by the procurement of clinker from South Africa and Zambia as a way to offset the impact of the kiln shutdown during a high demand period.
"Imported clinker, including transport, is more expensive than PPC Zimbabwe's own clinker manufacturing costs. In addition, the shutdown of the kiln incurred once-off additional maintenance costs, which negatively impacted the EBITDA margin. As at 30 September 2022, PPC Zimbabwe held R253 million (US$14,92 million) in hard currency cash," the company said.
Zimbabwean dollar depreciated by 72% against the rand since March 31, 2022 and distorted the group's consolidated results.
PPC said following the resumption of clinker production at the end of May 2022, PPC Zimbabwe's cement sales volumes improved in the second quarter of financial year 2023 (FY23) relative to the first quarter of FY23 with a continued robust cement demand from residential construction and government-funded infrastructure projects.
The company said PPC Zimbabwe implemented US$ price increases of 5% in March 2022, 2% in April 2022 and a further 5% increase in August 2022 to recover input cost inflation.
"Further, PPC observed an increase in foreign currency availability in the Zimbabwean economy, with over 80% of cement sales occurring in foreign currency during the period under review. PPC received a US$3,7 million dividend in December 2021 and an additional US$4,4 million in dividends in June 2022," it said.
In the outlook, PPC Zimbabwe anticipates a further recovery for the balance of the financial year thereby restoring its profitability to historical levels.
Commenting on the group results, PPC (Africa) chief executive officer Roland van Wijnen said he was pleased that strategic initiatives implemented during the period enabled the firm to maintain its market-leading position in its core Southern African markets and continue to reduce debt, despite challenging and competitive trading conditions. "We are in a strong financial position to weather the local economic cycle and are well placed to supply any increase in demand as the roll-out of the South African government's infrastructure development plans gain momentum," he said.
Excluding PPC Zimbabwe, revenue in the period under review increased 9% to R4,25 billion (US$250,1 million) supported by period-on-period price increases, while cement volumes were 1% down on the comparable period.
Including the impact of PPC Zimbabwe, which contributes 17%, group revenue decreased by 1% to R5,10 billion (US$300,7 million).
Related Topics