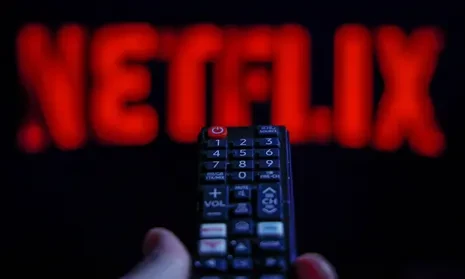 Streaming giant Netflix will begin its crackdown on password sharing in the first quarter of this year, after the release of its company earnings report to shareholders last week.
The practice of sharing passwords with people outside the subscriber's household will become more complex and is likely to involve an additional fee to share a single subscription across multiple locations.
"While our terms of use limit use of Netflix to a household, we recognise this is a change for members who share their account more broadly," Netflix said in its report to shareholders.
"As we roll out paid sharing, members in many countries will also have the option to pay extra if they want to share Netflix with people they don't live with. As is the case today, all members will be able to watch while travelling, whether on a TV or mobile device."
Based on a trial of the new stricter rules in selected Central and South American countries last year, the company conceded it expected a negative reaction in the short term.
"As we work through this transition – and as some borrowers stop watching either because they don't convert to extra members or full paying accounts – near term engagement, as measured by third parties, like Nielsen's The Gauge, could be negatively impacted," the statement said.
"However, we believe the pattern will be similar to what we've seen in Latin America, with engagement growing over time as we continue to deliver a great slate of programming and borrowers sign-up for their own accounts."
Netflix has been no more specific than "later in Q1'23" on when the crackdown will begin.
The new model could see Netflix users in, for example, Australia paying about AU$4 extra a month if last year's trials in Costa Rica, Chile, Peru, Argentina, El Salvador, Guatemala, Honduras and the Dominican Republic are a guide. Those countries were targeted by the company because password sharing appeared to be particularly common there.
Subscribers had no restrictions placed on mobile devices such as smartphones, tablets or laptops, to enable legitimate users to still access their accounts while travelling.
But the new system may put an end to logging into your account to watch a Netflix show at a friend's or relative's house, as well as sharing a single subscription across multiple houses.
Netflix's director of product innovation, Chengyi Long, explained in an updated blog post in October how the new system could work. Only one home will be permitted on a single Netflix account, but can be used across multiple devices. To add additional households an additional monthly fee will apply (in most Latin American countries it was $US 2.99). While travelling the account will only be accessible by tablet, laptop or mobile. Subscribers will be able to log on to remove unwanted households from their account.
"Today's widespread account sharing between households undermines our long term ability to invest in and improve our service," she said.
"So we've been carefully exploring different ways for people who want to share their account to pay a bit more."
In 2022 Netflix lost 200,000 customers in the first quarter alone, and conceded it expected to lose two million more in the second quarter. The company blamed the drop on a number of factors including increased competition and the war in Ukraine.
Long did not outline how Netflix plans to enforce the new system.
In the Latin America trials, if a change in location of an account being used is detected for more than two weeks, the holder receives an in-app notification giving them the option of changing their household address or pay a fee to add the new address.
In an interview with Variety on 19 January, Netflix co-CEO Greg Peters admitted the crackdown on shared passwords would "not be a universally popular move" and the company would begin enforcing the new regime by giving customers who continue to share accounts "a gentle nudge" to pay extra for multi-household use.
In the report to shareholders the same day, Netflix reported a total of 231 million paid memberships in 2022, $US32bn generated in revenue and $US5.6bn generated in operating income.
Netflix Australia declined to comment, saying last week's shareholder communication on the issue was the most up to date.
Related Topics