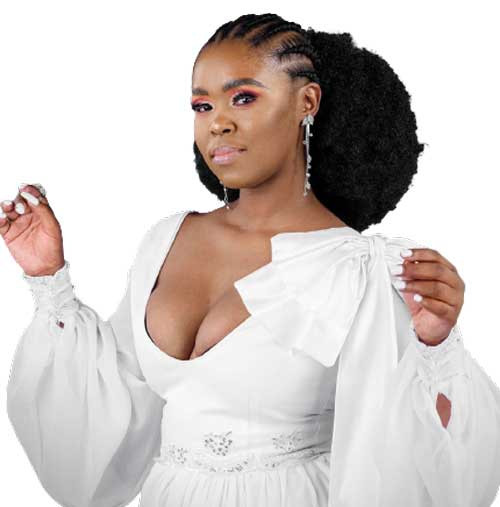 Rumour has it that a delicious nature of operations at Warner Music Africa (WMA), is giving Zahara the licence to do more than enough to drive back the burden poised by particular sporadic temperament of composition weighing down her soul.
And rightfully so, just a short few days ago the musician — who is part of a prominent class of the highest degree of adorned artistes in South Africa with over 400 000 albums sold — celebrated achieving 20 million streams with the global record troupe!
Moving freely, the world has not seen enough as yet of the 'Loliwe' and 'Lengoma' hit maker, who in 2020 made the list of BBC 100 Women — that honours inspirational and influential women across the terrestrial planet. This multi-platinum award-winning singer-songwriter, born Bulelwa Mkutukana, has been the star of the showbiz industry — always fighting for what she believes in and called to do — and the numbers underline that, in so doing.
Fresh showtime to her life history, slightly over a decade ago her debut ditty craft named 'Loliwe' — dropped in 2011 — was certified double platinum only 17 days after being conceived. Preying numbers racketing forward at bay for Zahara, the edible album went on to sell an excess of 100 000 copies — and it bagged eight South African Music Awards (Samas) laurels.
Guarding her clean fate with her life, she walked away with four more accolades at the latter award ceremony for her out-and-out rabble-rousing gripping moves on 'The Beginning Live' — her follow up opus sculpt. Whenever there is a glimmer of hope they have shut the gates double quick, locking that build forward — but with very few fears, Zahara repelled that particular raid setting her sights on the future!
Singing with all her guts, Zahara's further prosperity heralded with spic-and-span euphony put all into perspective in 2017. With it being so, contiguous circles who had been evermore waiting to lose themselves in the songstress' Afro-pop jams, breathed a collective and profound sigh of relief.
At this point in time, Zahara who has over 30 awards under her belt, is forthwith a household name on the African celibate. Rock-steady building a global audience, she of late took to social media to celebrate the good fortune of her sassy melodic offerings, 'Mgodi' and 'Nqaba Yam' (2021) — hatched with Warner Music Africa.
Colourful and tasteful — 'Mgodi' — whelped in 2017, was certified gold within six hours of its release in South Africa.
Puissance, subtle, quaint and charming — 'Nqaba Yam' boasts anthems such as 'Sinda Mphefumlo', 'Nqaba Yam', and 'Nyamezela', among champagne lullabies rolled out in this best possible auditory communication creation.
To lionise the milestone, WMA gave kudos to Zahara in a clannish post with a caption — on American photo and video sharing social networking service Instagram: "We're celebrating the astounding success of @zaharasa's two albums, 'Mgodi' and 'Nqaba Yam', since joining the WMA family. Congratulations, Zahara!"
Delightful to watch, in jubilation, the vocalist and composer treated bunches here and abroad to an intimate infinite smash of keys and notes that hit on the feel. A vibrant 20-minute proper live performance featuring four rattling canons from her six-year-old good strong full-bodied work of sound — 'Mgodi'.
With a tidy delivery of tunes listing 'Ndiveze', 'Mgodi', 'Umfazi', as well as 'Yhini' — the cool, calm and composed quality of play on show was enough to place an immediate impact off the chain.
"In light of the success of my two latest albums, I wanted to share an exclusive performance of songs from my gold-certified album, 'Mgodi'. Thank you to all of you who have supported me this far. Ndiyabulela kakhulu #ZaharaArmy #CountryGirlLovesYou #CountryGirlInternational #Mgodi," Zahara said.
Always on the tip of her rooters' tongues, the effortless Eastern Cape country girl with a golden voice is presently shuffling stops in Canada — dispatching the crowd into an audible craze with well masterminded major displays.
And as she gears up for her one-woman show at Sun International Carnival City, ballad devotees are ready and waiting for their minds to be blown out! Determined to play, 'Zahara: The Healing Women Concert' will occur on the fall of next month in Johannesburg.
Work rate is absolutely brilliant — expressing her excitement over the show on Instagram — Zahara exclaimed, "I can't wait to deliver a ONE-NIGHT special that'll touch your heart and soul. Join me and the Zahara Army on September 23rd at Carnival City's Big Top Arena."
Grant Moyo is a prolific writer, innovative media personality, entrepreneur and a creative artist who is passionate about using his creative mind for the betterment of society.
Follow him on X (formerly Twitter): @TotemGrant
Related Topics