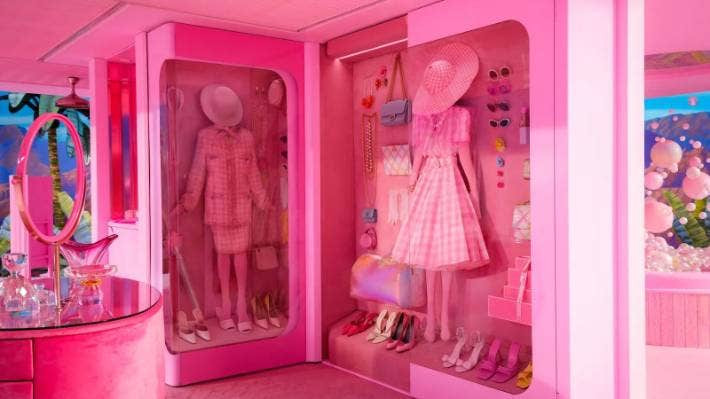 Nuggets of gold lighten up happiness — gravitating towards creating a symmetrical and slightly wider whole heap of hilarious yet cool vibes no sniffer can duplicate in a Barbie world where the reality of a patriarchal society is often than not in the matriarchal utopia's crosshairs. Functioning out of her skin, the director of 'Barbie' (film) gives power to a 'she' as the lead performer wittily comes and floods through how women warriors wow, even on the fringes of gender equality.
Not exempt from critics — stereotype, labelling, and discrimination of men is prominent throughout the plot, which at times overpowers the great job well done in arousing magical storytelling, perky pink theme, lively production design, flourishing optic philosophy, delicate costumes, and a smart as a whip cast.
In spite of the ferocious take and scruple of notes, sassing strengths and weaknesses — there is always a catch — 'Barbie' (film) is an overall ultimate essence of imagining a great world of entertainment in a typical clean, cozy and comfortable atmosphere. Hence signing on Oscar, Golden Globe and (7x) Grammy® award winning artist and producer Mark Ronson to produce 'Barbie: The Album' — the soundtrack full-bodied auditory communication perception for the eye-popping flick — was a no-brainer!
Really nicely worked, Warner Bros. Pictures presents a Heyday Films Production, a LuckyChap Entertainment Production, an NB/GG Pictures Production, and a Mattel Production — an American fantasy comedy reel based on the Barbie fashion dolls by Mattel. The 'Barbie' movie pursues characters 'Barbie' and 'Ken' — portrayed by Oscar-nominees Margot Robbie ('Bombshell', 'I, Tonya') and Ryan Gosling ('La La Land', 'Half Nelson') — on a trip of self-discovery following an existential crisis.
Being the archetypal live-action 'Barbie' film after many computer-animated direct-to-video and streaming television films, it was directed by Oscar-nominated writer director Greta Gerwig ('Little Women', 'Lady Bird'), who co-wrote the screenplay with Noah Baumbach ('Marriage Story', 'The Squid and the Whale').
The 114 minutes long motion-picture show, produced with a $145 million budget — premiered last month at the Shrine Auditorium in Los Angeles (July 9), and was theatrically released in the United States on July 21, by Warner Bros. Pictures. More than happy, in South Africa, Warner Bros Films and Mattel held a premiere screening of the much-hoped-for 'Barbie' movie in partnership with Warner Music Africa (WMA). WMA provided the event hosted by radio presenter Zanele Potelwa — with 'Barbie: The Album' as the soundtrack of the night.
America Ferrera, Kate McKinnon ('Bombshell', 'Yesterday'), Michael Cera, Ariana Greenblatt ('Avengers: Infinity War', '65'), Issa Rae ('The Photograph', 'Insecure'), Rhea Perlman, as well as Will Ferrell — make up a part of a pretty amazing ensemble supporting cast of 'Barbie'.
A Best Teaser winner at the 2023 Golden Trailer Awards, besides being produced by Oscar nominee David Heyman ('Marriage Story', 'Gravity'), Margot Robbie, Tom Ackerley and Robbie Brenner — this comedy moving picture was executed produced by Michael Sharp, Josey McNamara, Ynon Kreiz, Courtenay Valenti, Toby Emmerich and Cate Adams.
According to The Hollywood Reporter 'Barbie' — with a creative team listing Oscar-nominated director of photography Rodrigo Prieto, six-time Oscar-nominated production designer Sarah Greenwood, editor Nick Houy, Oscar-winning costume designer Jacqueline Durran, visual effects supervisor Glen Pratt, and Oscar-winning composer Alexandre Desplat — is slaying at the box office! It has garnered in $774.5 million at the global box office in just 12 days, testimonial to why it won Most Anticipated Film at the 6th Hollywood Critics Association Midseason Film Awards.
Sharp bright progress, 'Barbie' was described as a record-breaking box office success during its opening weekend, and set the record for any reel that was not a sequel, remake, or superhero property. The movie's opening weekend gross of $162 million marked the largest opening since 'Black Panther: Wakanda Forever'. It was also the biggest opening ever for a film helmed by a female director, pulsating 'Captain Marvel' (2019). And it thoroughly satisfactorily exceeded 'Suicide Squad' (2016), to have Robbie's highest opening weekend.
Jell rolling, 'Barbie' scored the third-highest July opening weekend at the time, behind 'The Lion King' (2019) and 'Harry Potter and the Deathly Hallows' — Part 2 (2011). This also asterisked the third-highest opening weekend for a Warner Bros. film, after the latter motion picture and 'Batman v Superman: Dawn of Justice' (2016). Great confident boost, 'Barbie' also set the biggest opening for a movie based on a toy, surpassing 'Transformers: Revenge of the Fallen' (2009).
Opined by Billboard as "an upbeat, immersive soundtrack full of pop gems from a global who's who of top pop hit makers" — 'Barbie: The Album' was also produced and overseen by Atlantic Records' West Coast president, Kevin Weaver and Atlantic Records' EVP and co-head of Pop/Rock A&R, Brandon Davis. Big in those moments, the toothsome melodious offering is already a worldwide pop phenomenon! Buoyed up by a fair pocket of lofty robust creative flare and power to sponge it up, it is bossing, with over 500 million global streams and over 4 billion social impressions across lead tunes and iconic videos.
Credit to polished jams by American singer Billie Eilish ('What Was I Made For?'), Trinidadian rapperNicki Minaj and American rapper Ice Spice ('Barbie World' with Aqua), English-Albanian singer Dua Lipa ('Dance The Night'), as well as English singer Charli XCX ('Speed Drive'). More to that, kudos to hits by Colombian singer Karol G featuring Aldo Ranks ('WATATI'), English singer PinkPantheress ('Angel'), as well as South Korean girl group Fifty Fifty featuring American rapper Kaliii ('Barbie Dreams') — for also taking the bragging rights.
An inspiration to a generation — "Barbie: The Album' is the gift that keeps on giving" (Hypebae), "a front runner for album of the summer" (The Daily Beast), and "a stellar musical experience" (Forbes). Highlights from the 17-track ditty craft also include massive canons from an unprecedented lineup of global superstars listing Khalid's 'Silver Platter', 'Man I Am' from English singer Sam Smith, 'Pink' by American singer-songwriter and rapper Lizzo, as well as American singer Ava Max's 'Choose Your Fighter'.
'Journey To The Real World' from Tame Impala, 'Forever & Again' by The Kid LAROI, HAIM's 'Home', 'Hey Blondie' from Dominic Fike, 'Butterflies' by GAYLE, as well as Ryan Gosling's 'I'm Just Ken' — complete the ballad list of smash lullabies rolled out in this opus sculpt. Always flirting with the prospect of plotting sunshine, Fader perfectly positioned 'Barbie: The Album' as having — "more memorable pop moments than most major motion picture soundtracks."
Taking a front row seat for adventure, 'Barbie: The Album' goes ahead the UK's compilations chart and three tracks from it by Billie Eilish, Dua Lipa, as well as Nicki Minaj, Ice Spice and Aqua — catapult into the national singles chart top 5. "A veritable toybox of the biggest pop stars today" wrote Grammy.com, while Esquire raved that, "The Barbie soundtrack is a pop lover's dream" — until now, no film soundtrack has at the same time slingshot three top 5 singles in the United Kingdom.
Midas touches oozed out by co-producers Brandon Creed and Joseph Khoury, as well as the 'Barbie' music supervisor and album executive producer, George Drakoulias — this work of euphony is too good! It is currently placed on top in Australia, where it becomes the first soundtrack since 'Encanto' to lead the ARIA Chart.
As history beacons, who would honestly begrudge the uproarious reception being experienced untwisted, here forth? After a magnificent stroll punctuated by a picturesque champagne 'Barbie' flick, aboard its star-studded soundtrack!
Grant Moyo is a prolific writer, innovative media personality, entrepreneur and a creative artist who is passionate about using his creative mind for the betterment of society.
Follow him on Twitter: @TotemGrant
Related Topics