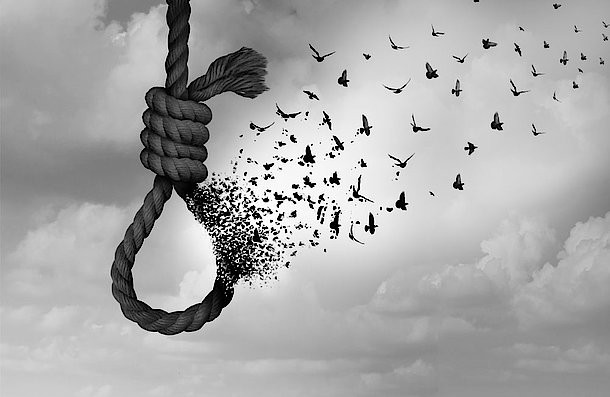 Apocryphal myths to wane untreated depression triggered by fiscal difficulty and the experience of abuse, enmity, exploitation and mistreatment — that can chip in to the sensitivity of pain and despair possibly directive to self-harm, eating disorders and even suicide — continue to profit traction globally.
While a whole host of hunches prompting the influx of insurmountable efforts to dispel the psychokinetic as well as physical abrasive factors are due to a heap of social stigma, the taboo to openly address suicide, as well as rock-bottom accessibility of data encompassing mental disorders and suicide — fact is, more people perish from suicide than from murder and war. Having been ranked as the 13th major cause of decease here and abroad, rates of suicide attempts tend to be 2-3 times higher in women than in men.
Thrust into the spotlight, although the gender gap has become slender in recent years, according to World Health Organisation (WHO), there are twenty people who have a suicide attempt for every one that is fatal, at a rate approximately one every three seconds. May being Mental Health Awareness month, comes as a constant reminder of how Bongani Ndlovu could have saved the life of his late sister — who buckled under suicide in 2021 after a series of neglected depression diagnosis — merely by forevermore reminding her that she is beefed-up and feisty than she thinks, as well as more independent than what the society considers!
Taking the hard way out to creating the best solutions out of this nut case, the straight-from-the-shoulder general nurse, who celebrated his 26th birthday in June — a month that mulls over on suicide consciousness giving exceptional limelight to issues affecting men — continues to devote his time accenting public cognizance towards social stigma and suicidal behaviours.
"Globally, every minute, a man deceases by suicide. The self-slaying rate for males is four times higher compared to females. Women are much liable to attempt suicide, whereas men are more apt to succeed. Depression in men frequently results in ire, peevishness, escapism conduct, risk-taking, and antagonism. Depression in women is more usually related to lugubriousness, weeping, feelings of guilt, and alteration in appetite," Ndlovu said.
"It gets twisted when findings from several researches confirm that modern men are struggling to fill the breadwinner responsibility. Traditional societal norms posture men to be the first-string financial provider in the home, yet, the decrease in industries like manufacturing, coupled with advances in technology, has left numerous men jobless. Through a grueling situation like this, with so much of a man's sense of dignity linked to how much money he earns, over time, this can result in high stress and lead to depression."
Ndlovu noted that there is a large chunk of a growing population of youths from the African celibate that are struggling with anxiety, stress, and depression — leading to substance as well as alcohol abuse — before culminating to attempted suicide. Suicide reported as to the highest degree a common cause of decease for citizenry aged 15-24, the medical practitioner who is presently deployed at Gwanda Provincial Hospital, bravely carries on to hew out and eviscerate suicidal thoughts prickling youths and young adults through his WhatsApp platform.
"It is of paramount significance to bear in mind that, cerebral and mental trauma cannot merely result in ruin in an individual's day-to-day life. But, when left untreated it can result in mental health disorders, such as major depressive disorder, post-traumatic stress disorder, concise psychotic disorder, and generalized anxiety disorder. There is a high probability that the torture and letdown from the traumatic event can even lead individuals to attempt suicide," Ndlovu said.
Presenting victims with an outright opportunity to redeem themselves, Cognitive Behavioral Therapy (CBT) and Eye Movement Desensitization and Reprocessing (EMDR), are two corroborated techniques oftentimes put-upon to aid treat psychological and emotional trauma in idiosyncratic. Principles superficial, the first-line treatment formula for affective and mental harm is psychotherapy.
"Cognitive behavioural therapy is centered on cutting down depressive symptoms by adjudging the illogical thought patterns, feeling, notion, and crooked attitudes toward an individual and their surroundings that results in symptoms of depression. Interpersonal psychotherapy concentrates on admitting the clean-cuts related to depression — such as a nerve-wracking social status, financial headaches, unemployment, societal estrangement, the passing on of a loved one, or the end of a romantic relationship. Pharmacological therapy, such as antidepressants are frequently in use to treat the co-happening disorders linked to trauma, such as depression and post-traumatic stress disorder," Ndlovu said.
In a place where his spirit can be fulfilled without loads of energy or chaos around, when he is away from the ever hectic medical field, dance and music allow him to burst out of his shell. Besides numbing his grief, the latter work as instrumental means of escapism and therapy that Ndlovu — who admits that healing is a process — can build on for the rest of his life.
Choreographing his way from the streets to professional music video shoots, last May Ndlovu brought home the bacon as a dancer on Ukukhanya eAfrica and Pamellah's visual companion piece to the soon to be released potential Afro-pop smash hit titled — 'Ithuba Lami Lokucwebezela' (Ndebele words meaning 'my time to shine'). The latter banger chronicles the life of Ndlovu, bringing to light how he whisked his way past trials and tribulations to become 'a beacon of hope forging ahead into the precincts'.
"From a medical point of view, music and dance are regarded as the most therapeutic interventions. Dancing eases tension. I'm in my highest happy mood when I'm on the dance floor. When I'm dancing my natural endorphins are released leaving me with a good sense of well-being. That being said, Ukukhanya eAfrica's gospel Afro soul music speaks volume on spirituality and goodwill. The message it carries is a great source of inspiration of how we can all play a role in supporting those experiencing a suicidal crisis or those bereaved by suicide whether as a parent, child, friend, colleague, person with lived experience or as a member of society," Ndlovu said.
"Music is a representation of our inner vibrations, and it touches my soul that Pamellah and Sandra Sibanda (Ukukhanya eAfrica) took time out to pen the song 'Ithuba Lami Lokucwebezela' — based on my life. Both their level of creativity and social commentary is second to none. To rhythmically document the extent at which I have opened closed doors and broken generational curses is a clear testimony that we can all create hope through action and be the light!"
Breaking down self-annihilation walls, September is Suicide Prevention and Awareness Month. Projecting aggressive long-term treatments, in 2003, the International Association for Suicide Prevention joined forces with the World Health Organisation (WHO), to set up World Suicide Prevention Day (WSPD). Making reservations amicable, September 10-16 is regarded as National Suicide Prevention Week. Claws on September 10th — each twelvemonth, gives attention on the issue, trims down stigma and ascents awareness among organisations, system of rules, as well as the public — giving a queer message that suicide can be prevented.
Collecting courage and conviction, 'Creating hope through action' is the triennial theme for the World Suicide Prevention Day from year 2021 to this twelvemonth. Keeping quarters at bay, this motif is a reminder that there is an option to suicide and aims to stir sureness and light in all of us!
*Grant Moyo is a prolific writer, innovative media personality, entrepreneur and a creative artist who is passionate about using his creative mind for the betterment of society.
Follow him on Twitter: @TotemGrant
Related Topics