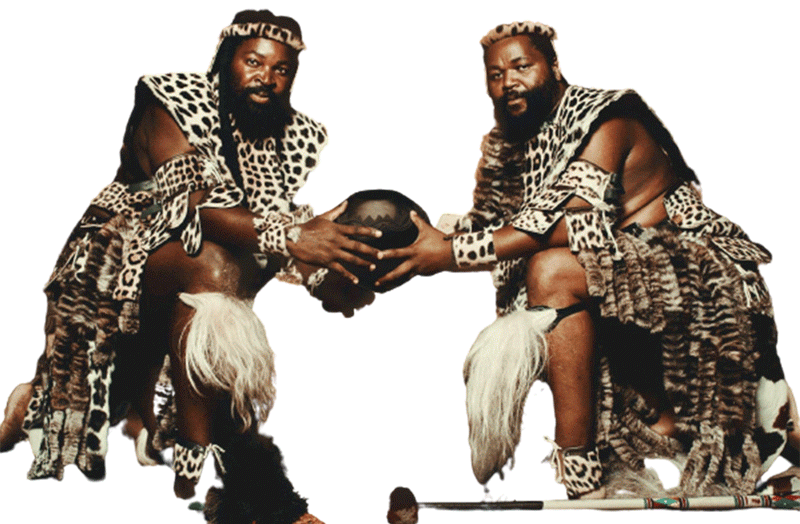 RAZZMATAZZ mirroring the chart topping stunts stringed along for the ride by its precursor 'Umbayimbayi' a crunchy love banger that has been walking on air, the brazen breakout of Inkabi Zezwe's debut record album titled 'Ukhamba' — hatched a little over a fortnight ago — has bravely hit the surface! Rain or shine, as far as their collaboration on this epic 'off the charts' musical sculpt is concerned, both Sjava and Big Zulu could not let their guard down as their organic vibe keeps lewdly whelping monster songs — as seen on how this duo's red-hot 12-track offering got to roughen up and transition from good to great in a New York minute.
Recorded in Bergville, KwaZulu-Natal, in a fortnight, Inkabi Zezwe's body of work is bringing listeners much deeper into the musicians' universe. Veering off a pipe dream and skidding into a successful formula that is currently riding on a crest of waves, 'Ukhamba' — which is filled with elements of Afropop, Rhythm & Blues, Hip-Hop, and Maskandi — is high-and-mighty on streaming platforms. Bergville becoming a source of inspiration to the kind of melodies Sjava and Big Zulu would gravitate towards, on Apple Music, their project has been featured as the 'Album of the Week'.
Lionizing the duo's supersonic inclinations, all twelve lullabies off their work of euphony are on the Top 100 South Africa chart — with the lead smash canon 'Umbayimbayi' placing position 4 and the opus 'Khaya Lami' sitting on number 18. Produced by Xowla Shabalala, also known as Stallion, and Mfanafuthi 'Ruff' Nkosi — 'Ukhamba' is also charting on the platform's album charts, cementing the top spot in South Africa and Eswatini. This up-to-the-second masterpiece catapulted to number 5 in Zimbabwe and posed jolly on position 6 in Namibia.
On the cusp of winning it all on Apple Music, the record album has multiple ballads on the streaming platform's city charts. On the Top 25 Johannesburg chart, 'Umbayimbayi' and 'Khaya Lami' are charting at number 4 and 16 respectively. On the Top 25 Durban chart, four sounds are in the top 10 — 'Umbayimbayi' is adorned on position 3 as 'Intro (Inkabi Zezwe)' sits pretty on number 4, with 'Khaya Lami' placed on position 7 and 'Siyabonga' holding the number 9 spot.
Thematically rigging their inward concerns such as love and identity, eleven of the tunes from 'Ukhamba' are charting on both South Africa's and Eswatini Singles' charts. In South Africa 'Khaya Lami' climbed to number 18 while in Eswatini 'Siyabonga' affixed on number 10, as 'Khaya Lami' placed the 11th spot, with 'Omunye' securing position 17.
Unquestionably, the messaging is as cosmopolitan as 'Ukhamba' is — at its nucleus — deep in thought with how masses can seize community, warmheartedness, and sensitivity for themselves and those around them. Over twelve captivating jams, Inkabi Zezwe takes listeners on a gripping jaunt that feels personal but chews over a nation aft to itself — and will transform into a world-shattering coeval South African anthology!
Dragging along the ditty 'Impumelelo' featuring Xowla Stallion, as he puts his blue-chip point across, Big Zulu declared that — "This song is about the pain of losing your partner when you are broke, jobless, and trying to make ends meet." Itching to weigh in on some of the musical compositions rolled out in the spick-and-span project, Sjava put the limelight on the record album's forerunner 'Umbayimbayi' as well as 'Sayona' an incredibly cool number that totally flips over the script.
"In the album we started off by giving the fans a taste of the double platinum single 'Umbayimbayi' where the musicians' first line is them prophesying love to their love interest, and they would shoot mountains to solve any challenges the partner encounters. A continuation of this is a heartbreak song 'Sayona', fans would definitely relate to it. It is a song dedicated to two people that love each other, however, due to their past mistakes they cannot seem to find a common ground and they reflect on their past mistakes," Sjava said.
Stirred and jolted by Inkabi Zezwe's a la mode work of euphony which also comprises saucy pieces of music listing 'Uthando Lunye', 'Emapusheni', 'Slow Jam Sase Bergville', 'Iskhwele', and 'Ilanga' — Spotify stats have been equally impressive! Within forty-eight hours of the official release of 'Ukhamba', seven beats rolled out in this full bodied auditory communication concept were charting on the Top 50 South Africa chart. With three anthems in the top twenty — 'Umbayimbayi' eye-popping on position 3, 'Khaya Lami' holding number 12 and 'Intro (Inkabi Zezwe)' securing the 16th spot.
On a good run, 'Khaya Lami' took the top spot on several Spotify playlists including African Heat, New Music Friday SA, Hot Hits South Africa, Bhinca Nation, and Made in South Africa. Bringing a lot of swag, all twelve hits charted on Spotify's Singles chart with 'Umbayimbayi' holding the fort at number 4 and 'Khaya Lami' at number 17.
Details are on point, 'Ukhamba' has also proved to be an astral body of work on Audiomack. 'Umbayimbayi' (5th spot) and 'Khaya Lami' (number 9) feature on the Verified Afro Sounds playlist. 'Siyabonga' (position 3) and 'Iskhwele' (number 7) are on the Afropop Hits playlist. 'Uthando Lunye' (top spot) as well as 'Impumelelo' (number 10) are both on New Releases.
What an amazing hefty amount of workmanship Inkabi Zezwe has, on Deezer, the duo's juicy musical offering secured position 4 on the platform's album chart. What is more, eight tracks off the latter euphony sculpt are charting on Deezer's Singles chart ('Umbayimbayi' on number 5 and 'Khaya Lami' on position 18).
Finding the love to love devotees, Inkabi Zezwe's four city tour kicks off on June 24th at the Sunbet Arena — Time Square — in Pretoria. Super good looking when that door opens — the latter event will be followed by a jovial close affair with rooters at Grand Arena, GrandWest in Cape Town (July 29th). Age and time coming together on the same path, Sjava and Big Zulu will get their big boys pants up — self-propelling along to The Big Top Arena at Carnival City on August 26th. Concluding the tour in Durban at the Hollywoodbets Kings Park Stadium, this special venue will detect its noise on September 3rd.
Grant Moyo is a prolific writer, innovative media personality, entrepreneur and a creative artist who is passionate about using his creative mind for the betterment of society.
Follow him on Twitter: @TotemGrant
Related Topics