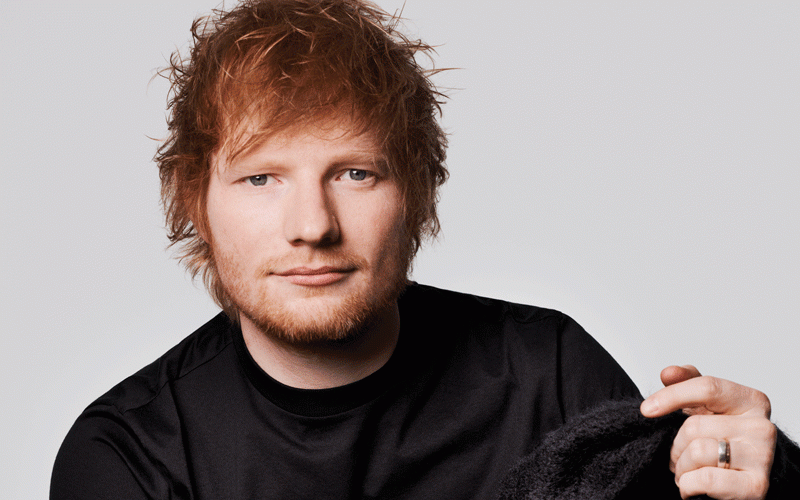 I had been working on Subtract for a decade, trying to sculpt the perfect acoustic album, writing and recording hundreds of songs with a clear vision of what I thought it should be.
Then at the start of 2022, a series of events changed my life, my mental health, and ultimately the way I viewed music and art. And in just over a week, I replaced a decade's worth of work with my deepest darkest thoughts, says Ed Sheeran — reechoing the down-to-earth sonic stretch of the backwash of his a la mode toothsome record album.
Major playing in the cutthroat world of music, this soul-baring rock-solid 14-track melodious offering was whelped through Asylum/Atlantic Records.
Trumping the straw that broke the camel's back, in the lead of the project's release the English singer-songwriter dropped two jams — Boat a well-oiled timeless and relevant hit, as well as the heart wrenching smash canon called Eyes Closed which earned this many-sided musician his 14 th UK number 1 ditty.
Coming on the same pedal, Salt Water, Life Goes On, Dusty, End Of Youth and Colourblind — make up a part of the track list of anthems rolled out in this catchy body of work '-' (Subtract). Judgement coming off the back of a triumph, even in this mode — being a musical offering that revisits Ed Sheeran's singer songwriter roots and one that was etched against a backdrop of personal heartache as well as expected value — this work of euphony presents one of the galactic stars on the planet at his 'to the highest degree' vulnerable and honest status.
"As an artist I didn't feel like I could credibly put a body of work into the world that didn't accurately represent where I am and how I need to express myself at this point in my life. This album is purely that. It's opening the trapdoor into my soul. Within the space of a month, my pregnant wife got told she had a tumour, with no route to treatment until after the birth. My best friend Jamal, a brother to me, died suddenly and I found myself standing in court defending my integrity and career as a songwriter," Ed Sheeran said.
"I was spiraling through fear, depression and anxiety. I felt like I was drowning, head below the surface, looking up but not being able to break through for air. For the first time I'm not trying to craft an album people will like, I'm merely putting something out that's honest and true to where I am in my adult life."
In for a helluva surprise, Subtract ('-') is the upshot of Ed Sheeran pushing the extremity of his opus craft, as he delivers the most profound songwriting of his vocation. Holding that in place, joining forces with American musician, songwriter, and record producer Aaron Dessner (founding member of the rock band The National) on penning and production — after the pair teamed up tailing an introduction from mutual friend, American pop singer-songwriter Taylor Swift — Ed and Aaron began crafting the project in February last twelvemonth.
Super star light shining through everything around them, writing over 30 musical compositions during their month-long studio stint in Kent, United Kingdom, the record album's fourteen ballads are circular-knit trussed conjointly by recherche production from mated back, folk-leaning textures to bolder, full-band/orchestral arrangements.
"Writing songs is my therapy. It helps me make sense of my feelings. I wrote without thought of what the songs would be, I just wrote whatever tumbled out. This is last February's diary entry and my way of making sense of it. This is Subtract!" Ed Sheeran said.
Jogging in Ed Sheeran's memory lane, he ruptured onto the UK music scene in 2011 with his debut body of work titled '+'. Enthused, chop-chop establishing himself as a history making artist, he followed with sassy musical offerings that include 'X', 'Divided', 'No. 6 Collaborations Project' and '=' — a catalogue that has seen this Grammy multi-award winning artist transform into one of the universe's astronomical musical success stories of the 21 st century!
Bubbling under — Curtains, Borderline, Spark, Vega, Sycamore, No Strings and The Hills Of Aberfeldy are good-as-possibly-can tunes also taking the lion's share of this latterly hatched full-bodied auditory communication creation.
Putting his stamp on the front door of sunshine, last Wednesday (May 10 th), Ed Sheeran set about the second season of Apple Music Live. In the intimate live performance, the phenomenal artist showcased his up-to-the-second work of euphony in full for the first time aboard a 12 piece band, including Aaron Dessner. So much soul and personality shining through, buffs around the globe streamed the public presentation on demand — on both Apple Music and Apple TV +.
So many different tasteful and dramatic ideas of his storytelling — a little over a week ago, Ed premiered 14 official auditory sensation videos on visual communication streaming platform YouTube, to lionise the release of Subtract ('-'). Nice work on that number, rooters went to Ed's After Party on the latter platform, where he delivered an exclusive acoustic execution of the banger Eyes Closed. What is more — highlighting the details in a frame — a spanking new documentary titled Ed Sheeran: The Sum Of It All is out now on Disney +.
BIOGRAPHY: Grant Moyo is a prolific writer, innovative media personality, entrepreneur and a creative artist who is passionate about using his creative mind for the betterment of society.
Follow him on Twitter: @TotemGrant
Related Topics