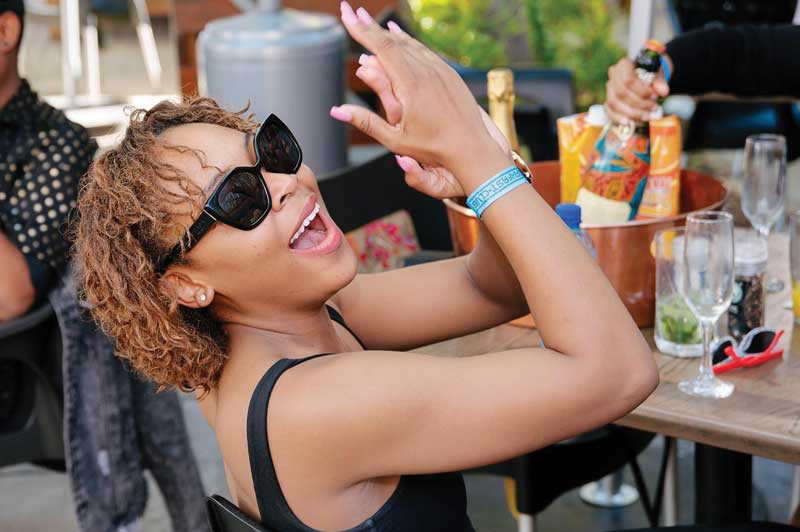 The venom behind Koketso Reabetswe Mathabathe's music is peeling off halted silent enamor.
Her talent level is off the charts. As she fires forward, this Amapiano Disc Jockey and producer known publicly as KMAT, is puncturing a stiff likelihood of not bolstering her arsenal to curb cold spells that tend to downplay growth in leaps and bounds.
Lofting into space, 'Luminous Flame', her up-to-the-second EP (extended play) is — with a galvanic and magnetic accompaniment — setting the tone for honey and charm gravitating through her nimble neatly polished up lineament.
Having a great nose to set herself rolling and a hunch way beyond what should be her weight, KMAT grew up in South Africa's administrative capital Pretoria — popular for hosting head-bopping rhythmic patterned parties often obtrude upon by a staggering wave of joy — to which her love to entertain on the decks was acknowledged, when she undertook the persona of choir opus conductor in high school.
Functioning so beautifully, this Soshanguve-bred performing artiste recalls that it was upon noticing her audiences' response to her ballad selection that her choice to become a Disc Jockey (DJ) was made well-nigh in a flash.
Notorious for her aptitude and knockabout skillfulness on the decks, KMAT is a gifted musician under the tutelage of salient beat producer, DJ, and record label owner, Felo Le Tee. Dropped in the hotness of here and now, with plenty flair as well as shimmering personality, "Luminous Flame" is KMAT's first body of work which houses unforgettable and piercing smash hits hatched from a hybrid of deep house, jazz and lounge music characterised by synths, airy pads and wide percussive basslines.
A hands-down expedition of the DJ's singable language as an Amapiano artiste in the midst of an incredible rise.
Providing a spark staring in the eyes of her happy chance, in this swanking well orchestrated get-up-and-go EP, KMAT joins forces with apical anthem creators listing Felo Le Tee, 2woShort, Thabza Tee, Stompiiey, 031Choppa, Keynote, and Sino Msolo.
In high spirits, showing pedigree in an endeavour to touchstone the temperature for the spick-and-span offering, both KMAT and Felo Le Tee set about testing the euphony during live sets, which lead to one such snippet spawning over 50 000 views on video-focused social networking service Tik Tok and 100 000 on video streaming platform YouTube.
Word perfect, hitting the musical scene big time, on the project's lead sound called 'Themba Lam', she joined forces with Amapiano's next star on the rise — Sino Msolo — whose nostalgic delivery is wrapped in 90s Kwaito hues. Topping things off with a glamorous touch, 'Bafuna Mina', which is produced by both KMAT and Felo Le Tee, is a ditty that has already begun profiting adhesive friction within and on the far side of multi-ethnic and streaming platforms crosswise South Africa.
Above all, KMAT's extremely awaited street banger — 'Jobe' — in which he yet again teamed up with Felo Le Tee, makes up the track list of tunes rolled out on her debut musical offering.
"I want to move people with my music, and be able to perform and be played internationally. I want people to be happy and dance to my track selection," KMAT said.
Spewing up excitement passing through every vein, with the support of her mentor and a 'never afraid to take risks' mannerism that has brewed her eminently clear midas ability to make jams that garner attention from the streets, the future is looking bright for the 'Luminous Flame' producer. Pacing about in a world of whatnot and petulant screeches, as it stands, KMAT who no longer encroach on the line of being made to chase her shadow, has the hunger to stretch her imagination and desire to do the foremost — effortlessly resetting and reforming her rituals with double-dyed boldness.
BIOGRAPHY: Grant Moyo is a prolific writer, innovative media personality, entrepreneur and a creative artist who is passionate about using his creative mind for the betterment of society.
Follow him on Twitter: @TotemGrant
Related Topics