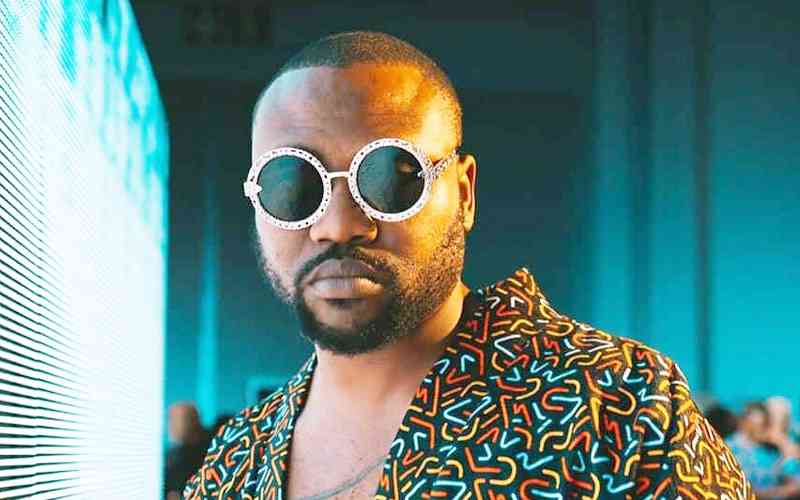 We live for these moments when real cool vibes give us goosebumps.
As of now, Amapiano tunes are lighting up and reaching new heights of global acknowledgement — and Sizwe Alakine's "shock value" hold on this genre is iron cladding.
Once a hip-hop artist known publicly as Reason, it is still mind blowing how the auspicious swing of sound by this musical artist and composer — who boasts of multiple smash hits, gongs, nominations and international collaborations in his brawny rap career spanning over a decade — is turning out to be buttery.
Having kept grip hands to protect his repute as a hard hitting hip hop knocker from the word go, his stunning jump off point came last twelvemonth after a shared love for music with record producer, Disc Jockey and vocalist DJ Maphorisa ended in a studio bond that hatched his debut groovy Amapiano ditty called Khanda Tshisa. Just somewhat a fortnight ahead of his up-to-the-minute single release titled Mang Ka Pa Mang, Sizwe Alakine latterly dropped his much awaited debut Amapiano album called Alakine World — a quintessential soundtrack to Kasi summer.
Doling out a hybrid of deep house, jazz and lounge music characterised by synths, airy pads and wide percussive basslines — this 13-track record album, a homecoming of sorts, is a project that operates as the recital and a philharmonic collage of happenings specific to the township as well as the masses who reside in these spaces.
It retains the crunchy anthems delivered earlier this 2022 period of time. Music fanatics can look forward to taking heed of spick-and-span beats listing Mang Ka Pa Mang, AmaVampire' featuring Mr JazziQ, Tserai J, PMD, Boibizza, 2woshort and Soultribute, as well as After Tears, featuring DJ Stokie, Boohle and Tycoon. The fresh cut musical offering furnishes a platform that soaks up these sounds in the context of Alakine World, offering possibilities to gully meaning anew.
The track list is wealthy with many topics of township discourse as each banger offers diverse matters to chew over on. Ntaka [Imali Ayikho], featuring Imnotsteelo set about by highlighting one of the most rife subject matters within and on the far side of the South African townships — thus, economic disparity. Ntaka [Imali Ayikho] is a do-or-die appeal that emphasizes the battle of acquiring bare needs. Abantu, featuring Lady Du is a radio-friendly musical sketch of the nosy neighbour who often cut-in themselves in other people's concerns. This particular individual begrudges and wishes ill of their fellow men while paying little attention to the upshots in their own life.
In a song lay with lighter-than-air log drum frolics coordinated with wah-wah guitar plucking Bring it Back — an oomph collaboration with King Jillz, Strictly Bk, Roii and Sauwcy — is a stripped-down and glowering ballad rendition of an Amapiano love melody. The track diagnoses making up after a lover's quarrel and speaks volume on the necessity to patch a relationship, as life without a better half is a bitter reality. Bring it Back features creative facile flows that are a light reminiscence of Alakine as Reason, presenting a many-sided facet to Amapiano.
Neatly placed in the musical composition sequence, Ngiyashiselwa, a collaboration with King Jillz and Boibizza, is an illustration of the fiery feeling for another. Sonic complex, the number shows prospects of pureness by using elements of Zulu culture, delivering the promulgation of passion through a barrage of poetic oration. Ngiyashiselwa is dichotomy embodied, as the unclouded annunciation of emotion is at the same time laced with the moistness of sexual repulsion.
Sizwe Alakine takes the album back to a grim motif with Amaginsa — a song he joined forces with Deeper Phil, DayJoy Skillz as well as Disc Jockey and record producer Kabza De Small. It is an interpretation of being in adjacent proximity to gangsters and criminals. In Alakine's lyrics, these are the people who live around us, are our friends, and part of our families. A dispiriting persuasion played up sees Alakine express the incomprehensibility of this not being shared lived experience, as others live lives without battles and strife while these motifs are rampant in the township. On a lighter note, other notable mentions on Alakine World are Ziyawa La, a chill dance ballad on which he teamed up with Zan'Ten and Raspy as well as latent pieces of music offering typical Amapiano dance cadences like Estoepini, featuring Tserai J, PMD, Vision and KiD X, as well as Konko, which enlists S'tukzin's pizzazz and Gemini Major's midas touch.
While a couple of the subject matters addressed in Alakine World are somewhat hefty and very hard-nosed, amid party anthems and Kasi tunes, the artful gimmick of laying darker motifs on Amapiano beats seeks to ease the magnitude of the rough reality. This expressive style — typical to South African "struggle" euphony — shows displays of dance and a blissful get-up-and-go tone overlying on the aching lyrics. This full bodied auditory communication indicates this subtlety heart and soul of black South Africa while also seeking positive stimulus and reasons to relish life amid strife.
Switching up like a wildcard, Sizwe Alakine's zing is just a tip of the iceberg, which is keeping us on the edge of our seats. So you know, throughout his okay performances and changeover, this musical artist and composer never forgot that he is not what the world thinks of him, but what he thinks of himself.
l Grant Moyo is a prolific writer, innovative media personality, entrepreneur and a creative artist who is passionate about using his creative mind for the betterment of society. Follow him on Twitter: @TotemGrant
Related Topics