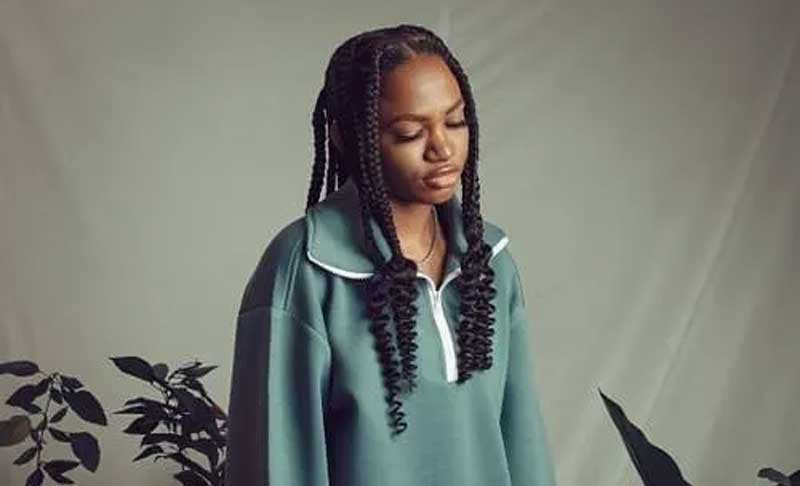 Nobody can deny that ever since Onose Emmanuella Bagudu, known publicly as Layzee Ella, burst into the limelight — she has been getting big props to be able to fight it out with some of music's biggest talent.
No matter how much the elating rapper and singer songwriter's pulsating flurry has been put under the pump — with nothing to lose and everything to gain — she is floating in the middle of paradise where her colours are starting to shine through.
Quite aware that it takes twice as much to create magic and even longer to be a legend, last July, a little over a year after dropping her debut EP (extended play) called When The Lights Go Off — Layzee Ella quivered with anticipation after dolling out her ditty Medusa, the forerunner of her spic-and-span EP titled Feel Everything.
Often than not cited as "Nigeria's next hotshot" in a heartfelt way, this new sprung recording artist recently had fans in their feels as she celebrated a milestone of 1 million streams with her latter crisp body of work — hatched last month.
Although her pleasure trip seems to have commenced on social media in the midst of lockdowns as the Covid-19 pandemic cases spiked — consequently bringing the world to a sluggish diachronic period — Layzee Ella's jaunt as a composer started out at a tender age of eight. The self-proclaimed introvert, who was born in Edo State, drew yeasty inspiration from her passion of reading and kicked off her own storytelling process through writing songs.
Layzee's online community grew after she did selective covers of Afrobeats hits like Tony Montana by Nigerian singer Mr Eazi as well as Risky by American-Nigerian singer-songwriter and record producer Davido, featuring Jamaican deejay, singer and songwriter Popcaan.
Aside from the fact that the singer-rapper got tongues wagging in 2020 after the release of her debut banger called Sober — the year that followed she had loads to say, rolling out her musical offering When The Lights Go Off.
The latter project spawned smash tunes such as Deep Into You and Body On Me, along with four other boisterous anthems. Budging in the neighbourhood, Layzee is able to articulate her innermost thoughts in a way that pulls you closer into her inner being — and although her voice sounds youthful, it still demands attention.
Fain tilted on finding spots where she is comfortable, her ballads speak of a desire for sincere companionship, a passion she shares with young people.
This Nigerian singer songwriter's euphony — which is a rich composite of influences from rhythm and blues, dancehall, as well as reggae in addition to Afropop — resonates with listeners of all ages.
What is more, following the lustrous vibe of her auditory sensation When The Lights Go Off, 'Medusa' which features Nigerian artist Khaid, is a piece of music well-stacked around perfidy and the complexities of romance. Kindred to some of her earliest productions, this beat employs a smoky delivery mode that evinces the message of the songstress. Overall, Layzee Ella confirms her credential as a musician on a cusp of a happy chance.
"I want everyone to be super psyched — like, go crazy! When I'm in the studio creating, I'm always truly myself — fully expressive, and doing the craziest things. I just go off and I'd love my listeners to have that same energy when they listen to me. We're going to take that energy to our show venues too," Layzee Ella said.
Since releasing her second EP (extended play) 'Feel Everything' last month, Layzee Ella has been making waves. Pushing her voice, dropping the track Medusa last July — her first single this 12-month — has seen her popularity rise further than anticipated, gaining immense cyberspace traction.
In the light of this, Layzee Ella's monthly listeners has slingshot to 30 000 on Spotify. So close to next level greatness, she has been featured on playlists such as Fresh Finds Africa, New Music Friday Nigeria and Ghana, as well as Bubblin and Sizzlers — on the platform. On Apple Music, Feel Everything made the cut on playlists listing Afrobeats Hits, Naija Hits as well as New Music Daily Nigeria, Kenya, and Ghana.
Having premiered the latter crunchy EP on The Dotty Show, across all streaming platforms — this elastic auditory communication has to date grossed over 1,2 million streams.
Taking a step further, most recently, this up-to-the-minute project was featured on fellow Nigerian rapper, singer and songwriter Olamidè's takeover of Spotify's Fresh Finds Africa playlist.
Lucky or not, Layzee Ella is working pretty hard. Rolling her dice, she is set to deliver a remix of Medusa — handing fanatics a chance to take heed to the Afrobeats and Dancehall-inspired beat anew.
Composing thoughts and emotions that are turning into hits, her heart is on every note.
Fondly, as she focuses on herself and the positive swings going on in her life in that head space where she owns the stage, Layzee Ella is going to shine — absolutely stunningly!
Grant Moyo is a prolific writer, innovative media personality, entrepreneur and a creative artist who is passionate about using his creative mind for the betterment of society. Follow him on Twitter: @TotemGrant
Related Topics