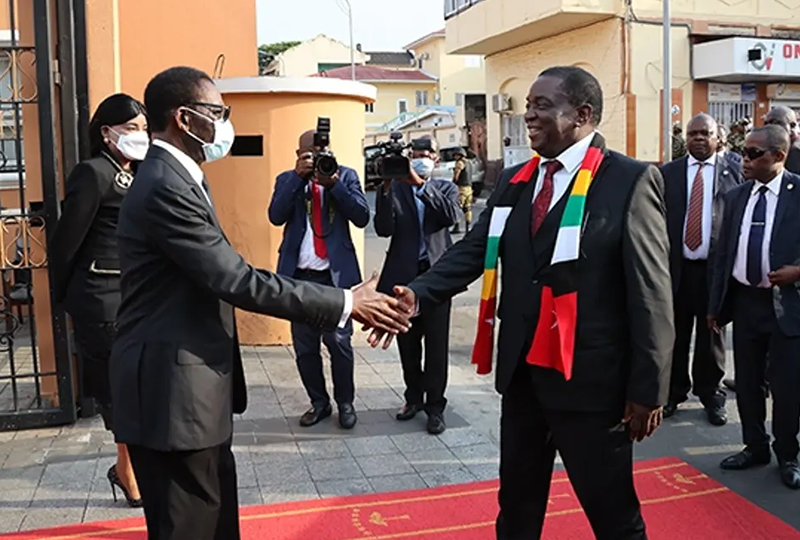 My Dear People
Fresh from hosting a man who proudly describes himself as Europe's 'last dictator' Alexander Lukashenko of Belarus, Ngwena was a guest of one of Africa's most authoritarian rulers last week.
Teodoro Obiang Nguema Mbasogo has been president of Equatorial Guinea since August 1979.
He holds the unenviable record of being the longest serving president of any country in history.
His son Teodoro Nguema Obiang Mangue is the vice president of that country.
Known for his love for flashy cars and Michael Jackson, Mangue grabbed international news headlines last year when he personally ordered the arrest of his half-brother over allegations he sold a plane owned by the state airline.
On the trip to Equatorial Guinea, Ngwena was accompanied by his son Emmerson Junior.
Emmerson Junior was also a prominent figure in the meetings that the Lacoste cabal leader held with Lukashenko in Harare where even the Generari did not feature.
Are you following what I am trying to illustrate to you? This is the making of the Ngwena dynasty.
Besides travelling to tie up business deals for his family, Ngwena had also gone for extra lessons on how to hang on to power even when your people no longer want you.
Another curious member of his delegation in Equatorial Guineawas Kudakwashe Tagwirei.
It is anyone's guess what Kuda's role there was, but remind me again why Generari and his boys rolled tanks on the streets against Gushungo claiming that he was surrounded by criminals.
Munopengaaaaaa!
As Kuda wined and dined with Africa's misfits in Malabo, naughty Mthuli was making sure that the SDA man had some sleepless nights after he exposed one of the biggest scandals of the so-called new dispensation.
Mthuli told us that in 2021 the government had borrowed US$88 million from Fossil Mines to construct the Mbudzi interchange in Harare.
Fossil, a company that has been linked to Kuda and has won several government contracts, is one of the contractors for the interchange.
So basically it gave the government a loan so that it can pay itself with 5% interest. If you thought Gushungo's government was the most corrupt then you haven't seen anything yet!
It appears that Mthuli had forgotten that at one time he told Parliament that he allocated a similar amount of money to build the interchange from the International Monetary Fund's special drawing rights.
I doubt that the gazetting of the Fossil loan was a mistake by the good professor.
My hunch without evidence is that there are people who are fed up with the orgy of looting of state resources by a few members of the Lacoste cabal and the gazetting of the loan was calculated to expose the rot.
It was certainly not a coincidence that it happened when the crew was still holed up in Malabo. We shall see more of this as we head towards the elections.
Predictably, the National Prosecuting Authority (NPA) now says it does not have enough evidence to secure a conviction against Henrietta Rushwaya, who was caught red handed in October 2020 trying to smuggle 6.9kg of gold through the Robert Gabriel Mugabe International Airport.
We all know Henrietta's relatives in high places and I was never at any given point convinced that she would pay for the crime.
The NPA's chief public prosecutor special projects Tawanda Zvekare delivered the expected news about Henrietta's privileged status at a recent launch of the 2022 Transparency International Corruption Perception Index report in Harare.
Zvekare also revealed that former Public Service minister Priscilla Mupfumira, who was arrested in 2019 for alleged corruption involving the disappearance of US$95 million at the National Social Security Authority, might also go scot free.
He was quoted saying: "For the serious cases which you were talking about, that's Henrietta Rushwaya case, the Priscilla Mupfumira case and like cases, I would want to say that the threshold for proving a criminal case is proof beyond reasonable doubt, which is a high threshold.
"It may not be discharged easily."
Zvekare was merely using flowery language to describe the so-called new dispensation's catch and release strategy. Kkkkkk
Another Lacoste zealot Justice Mayor Wadjajena, who was arrested last year over the alleged plunder of Cottco, had his application for refusal of further remand upheld by a Harare magistrate.
I can assure you that would be the last you hear of that Cottco scandal.
Thieves will be left alone to enjoy their loot.
Last week was a nightmare for the Lacoste faithful.
A survey by the London-based SABI Strategy Group revealed what we have all known since the disputed election – that Mukomana will beat Ngwena hands down if Zimbabwe were to hold free and fair elections.
The survey conducted on behald of The Brenthurst Foundation revealed that 53% of the registered voters said they would vote for Mukomana while a measly 40% said they were sticking with the Lacoste leader.
The results of the survey drew the worst from poor Jonso who went on a tirade on Twitter against The Brenthurst Foundation.
I reminded Jonso of the adage that you don't shoot the messenger for telling you the truth kkkkkkk
Munopengaaaaaa!
Gushungo Chete Chete!
Chatunga Chete Chete!
Dr Amai Stop it! PhD (Fake)
Related Topics