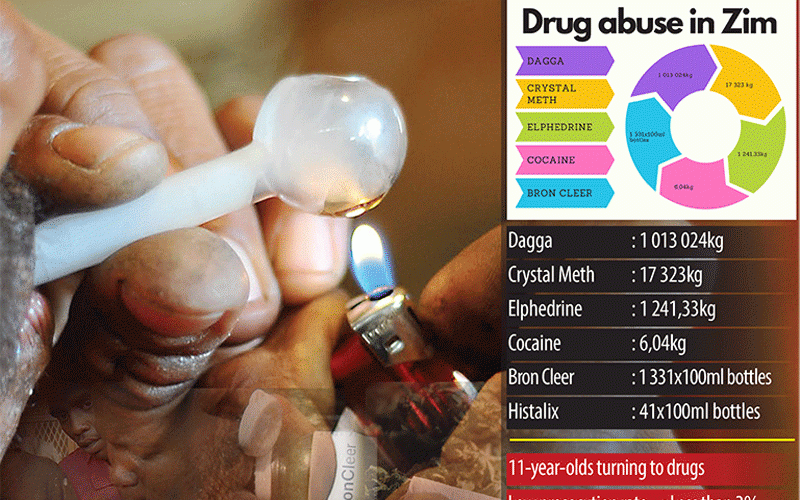 The recent expulsion of eight school children by the Dominican Convent High School over allegations of drug and substance abuse is not only a tip of the iceberg but is also a clarion call for Zimbabwe to introspect on how to tackle this problem that threatens the welfare, mental health and future of our youths.
Statistics from the United Nations Office on Drugs and Crime (Unodc) show that around 284 million people between the ages of 15-64 used drugs worldwide in 2020.
Worse still, youths in Africa and Latin America under the age of 35 constituted the majority of people undergoing treatment for drug-induced disorders while in Zimbabwe over 9% of schoolchildren between the ages of 13-15 years were reported to be using drugs (Unodc, 2022).
A study carried out in Zimbabwe by Matutu and Mususa (2019) also sheds light on the gravity of the problem confronting the country in so far as drug and alcohol abuse is concerned.
It was found that the prevalence of drug and substance abuse among young people was close to 60% and this was attributed to a myriad of factors such as peer pressure, lack of knowledge, absence of family support systems (and poor parenting!), idleness, stress, and — more importantly — the availability and affordability of the drugs.
These illicit substances come in different forms and shapes and the most notorious of them all is crystal meth (commonly known as mutoriro), which — alongside heroin, cocaine, mangemba, marijuana, codeine and spirituous beverages (musombodhiya) are wreaking havoc within the youthful population of this country.
The mental health challenges caused by this scourge are enormous and conservative estimates by the Health Professionals Trust Zimbabwe show that close to 80% of inmates in mental health institutions suffer from drug and substance-induced psychosis (The Standard, October 30, 2022).
In spite of the legal framework in place — such as the Dangerous Drugs Act — that prohibits the importation, possession and/or use of these harmful substances, the problem still persists at a terrific pace for that matter!
As Zimbabwe seeks to 'detoxify', it becomes imperative for a paradigm shift to be adopted to put a fullstop to the rampant problem of drug and substance abuse.
The first port of call would be to address the supply chain of these drugs.
It is an open-and-shut case that most of these products are imported and distributed by drug cartels and individuals into the country.
It is high time the policing of the country's ports of entry (borders and airports) was tightened to reduce porosity and the consequent smuggling of these dangerous products by the drug syndicates.
Border agencies should, therefore, take a holistic approach in curtailing the illegal entry of prohibited substances such as heroin, cocaine, crystal meth and spirituous beverages.
The Zimbabwe Revenue Authority (Zimra) should take a leading role in this worthwhile initiative by strengthening its canine unit to leave no stone unturned in fighting the illegal proliferation of goods that are prohibited from entering the country.
The easy availability of substances banned from entering the country should be worrisome to border authorities and I call upon the law enforcement agencies of this country to work hand-in-glove with Zimra to intensify border patrols and seal illegal entry points that are a potential route that drug traffickers would use to smuggle prohibited drugs and substances that our children end up abusing.
Hosea 4 verse 6 clearly stipulates that, "My people are destroyed for lack of knowledge…" and it is paradoxical that the young population of this country has become a victim of information asymmetry with regards to the perils of drug and alcohol abuse.
Non-profit organisations advocating for youth welfare should prioritise alleviating the problem of illicit substance misuse through information dissemination in order to make Zimbabwe a better country.
We cannot idly sit by and watch while the future of our kids is being jeopardised by a preventable problem.
In addition to enforcement initiatives carried out through arresting the culprits — as the Zimbabwe Republic Police is aptly doing — it is necessary for the country to take drug and substance abuse as a public health issue in need of an urgent attention.
According to the World Health Organisation, public health refers to "all organised measures (whether public or private) to prevent disease, promote health, and prolong life among the population as a whole."
It is my considered view that the country needs more mental health rehabilitation centres to deal with the skyrocketing cases while addressing the causes to reduce prevalence of drug abuse.
At the moment, the therapeutic centres are few and incapacitated to deal with the surge in drug-related cases to such an extent that some of the people end up being relegated to prisons (AP News, 17 February 2022).
This is worsened by stigmatisation where abusers of drugs are sometimes not regarded as people in need of help but as incorrigible misfits with a penchant for trouble.
Parents and schools should also work together to tame the problem of illicit drug use.
Without sounding judgmental, I posit that some of us as parents are to blame for failure to take an active role in the lives of our children as we end up overcompensating by spoiling the kids financially.
In the end, we groom scoundrels, ruffians and brats who are more vulnerable to drug addiction due to financial means, peer pressure and other factors alluded to earlier on.
As parents, let us gain inspiration from the Bible to instil discipline and order in our children since: "Whoever spares the rod hates their children, but the one who loves their children is careful to discipline them" (Proverbs 13 verse 24).
Programmes specifically targeting the youths should be put in place to reduce idleness and boredom, which are cited as some of the factors behind the upward spiral in the prevalence of drug and alcohol abuse among the leaders of tomorrow.
The Ministry of Youth, Art, Sport and Recreation should take a more active role in curbing drug abuse through the creation of jobs for youths and imparting skills to increase their chances of getting employment (or being self-employed).
It is idiomatic that an idle mind is the devil's playground and for youths in this country, Lucifer comes in the form of illicit substance and drug abuse.
*Canisio Mudzimu . Mudzimu is a freelance writer and public relations practitioner. He can be contacted on canisiomudzimu@gmail.com
Related Topics