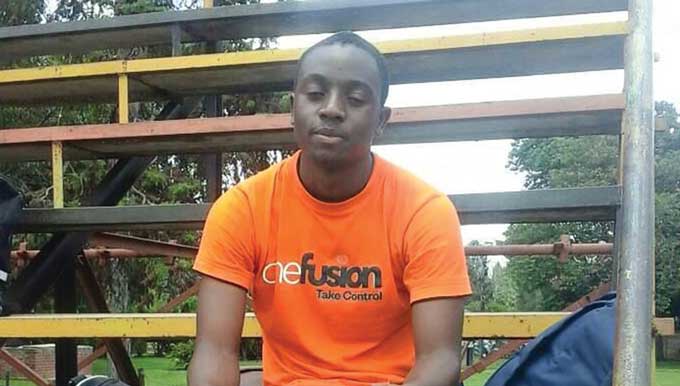 BY ISHEANESU JEREMIAH MUGEZAH AFTER unsuccessful stints at Dynamos and Chicken Inn, budding footballer Panashe Mutasa, son to former Dynamos star Lloyd Mutasa is making waves at the Rusape based club, Tenax FC where he is currently the top goal scorer of the team.
Panashe and his older brother Wisdom have failed to scale the dizzy heights attained by their father, but the former has finally made his mark on the scene.
The 22-year-old attacking player has netted five times for struggling Rusape-based side Tenax who are currently second from the bottom on the log standings with 20 points from 22 matches going into this weekend's fixtures.
Mutasa gives credit to his teammates for the impressive season that he is enjoying.
"Everyone is important to the team and football is a team sport. So for me to be able to score goals, it is because of my team mates. I really appreciate having them. I just missed four games from the matches played and managed to net five goals," Panashe told The Sports Hub.
Being the son of a former footballer meant that he was also fated to become a soccer player.
His career started when he was only 10 when he joined the famous Aces Youth Soccer Academy and played with the likes of Blessing Sarupinda, Martin Mapisa, Joseph Mutembedza, Vasilli Kawe and Kenneth Pasuwa.
While comparisons with his father will always be drawn the AYSA graduate is determined to leave an indelible mark in the local football as well as achieve greatness beyond the country's borders.
Interestingly, Mutasa was given his premier league debut by his father Lloyd in 2018 when he was coach at Dynamos
When questioned about his relationship with his father at Dynamos and how he managed to cope with the critics and pressure that comes from being a coach's son, the player said that it was a bumpy road and also a fruitful experience.
"When I played at Dynamos I had a very good time playing for my father's team. But it is not that smooth as people would say I was playing because of my relationship with the coach. It was a great experience and handled in a professional way without favours," said Mutasa.
"I had a lot of people who encouraged me at Dynamos especially my parents as well as other relatives and friends. They had my back even the fan, so there was little pressure to worry about.
"I had to prove that I can play and I think I did well in that regard. The good thing is I am still at the beginning of my career so I have a long way to go and I can still achieve my goals and dreams."
Mutasa had a short spell under the tutelage of Joey Antipas at Chicken Inn FC and is sure that the coach felt he was not yet ripe to feature in the premier soccer league.
But for him, it was good to have earned the little experience at Chicken Inn.
"In Bulawayo when I signed for Chicken Inn, it was okay but I think the coach felt maybe I was not ready to feature in the team. The experience was short and it was good. I understood  that I was also young at that time," said Panashe.
Mutasa joined Tenax FC in 2019 from Chicken Inn where he is blossoming and scoring goals to carry the team in the fight against relegation.
He also harbours the dream to ply trade in Europe.
"That is not what we were hoping for (fighting relegation) but it is football, it happens and as a team we are going to fight so that we stay in the premier league. Personally I am working extra hard at Tenax so that I can score as many goals as I can to help the team," the young Mutasa said.
"I am doing all I can so that I reach where I really want to be because it is every footballer's dream to play in Europe."
Tenax will take on league champions and current log leaders, FC Platinum in the 2022 Chibuku Super Cup first round stage of the competition.
Panashe Mutasa is eager to prove that he is a vital player for the team when they compete in the tournament.
"Everyone wants to be the champions so we will work hard as team to fight for the Chibuku Super Cup and we will see how it goes," Mutasa said.
Related Topics