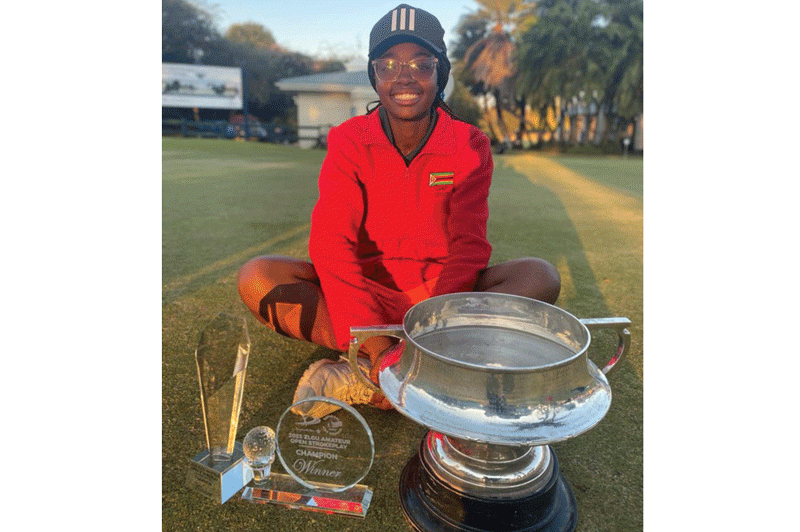 US-BASED teenage golf sensation Margaret Nyamukondiwa is excited to have won two major competitions in a space of two weeks following her capture of the National Aids Council (NAC)-sponsored Zimbabwe Ladies Open Strokeplay Championship at Chapman Golf Club in Harare last weekend.
It was the second time in three years that Nyamukondiwa won the flagship ladies amateur competition in the country after reigning supreme back in 2021.
Last week she beat a big field comprising some of the country's top golfers as well as others from Zambia and Kenya in a three-day tournament in which NAC offered HIV and Aids; and cancer-related services such a cervical cancer screening.
This was the fourth year running that NAC were sponsoring the event.
At the beginning of the Month, Nyamukondiwa won the Zambia Ladies Open while she also helped Zimbabwe to the Gilbertson and Page Trophy barely two weeks before.
It has been a fruitful vacation for the young golfer, who is studying at Western Texas College where she is also playing golf.
"I am very excited about the two big competitions; it's a massive achievement for me in my golf career.These were some of my goals for this year," Nyamukondiwa said.
"I was actually very nervous about playing these tournaments because I didn't expect to win them. I am very happy . None of this would have been possible without some people very close to me that helped me through my hard times."
Nyamukondiwa is the younger sister to one of Zimbabwe's rising male golf stars Tafadzwa Nyamukondiwa, a US Collegiate golf student at Drexel University, who has won several national and regional tournaments.
Interestingly, their father Tawanda Nyamukondiwa initially wanted his children to play tennis but was convinced by veteran iconic coach Lewis Chitengwa Sr to introduce them to golf.
It is a journey that started at Wingate about 12 years ago.
Margaret Nyamukondiwa believes her brother and family have played a big role in her golf career so far.
"Tafadzwa has always been there for me. He helped me through some of the hardest times on the golf course and off the golf course. I could not have asked for a better elder brother," she said.
"My whole family has always been there for me also and helped me keep my head up and always taught me that none of this would have been possible if it wasn't for the heavenly father."
Western Texas College is certainly going to give Nyamukondiwa the lift that she needs to pursue her lofty golf goals.
"Golf that side is amazing because there is a lot of competition. This is exactly what I need to ensure that I achieve my dream. I want to make it to the prestigious Ladies Professional Golf Association (LPGA) and raise the zimbabwe flag high," Nyamukondiwa said.
Nyamukondiwa returns to her US-base next week.
Related Topics