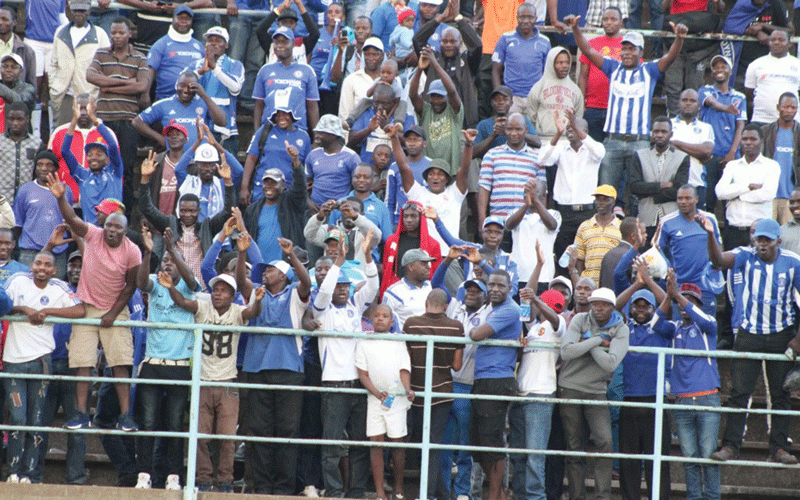 OVER 30 000 people were in Barbourfields Stadium for the Battle for Zimbabwe Part 1 between Highlanders and Dynamos which unfortunately failed to produce goals.
It was the biggest crowd at any match this season and probably the biggest crowd in Zimbabwean club football over the past five seasons or so.
This is in sharp contrast to what has been going on in which high profile matches involving Caps United, Dynamos, and Highlanders struggled to attract even 10 000 people.
During that period, Zimbabwean football suffered a serious decline in crowd attendances due to a combination of factors, one of which was the advent of European football and in particular the English Premier League.
This was not helped by a huge decline in playing standards and a departure of talented Zimbabwean players for more lucrative offers in the South African Premier League.
The other problem was the continued recycling of old players who were each and every season moving from one club to the other while fresh inspiration remained side-lined.
The Premier Soccer League even suggested that clubs sell beer at match venues to entice fans to return to the stadium but even without beer things are beginning to change for the better.
There were between 25 000 - 30 000 fans when Dynamos beat Caps United 2-0 at the National Sports Stadium although Caps United - the home team - released the official figures as 18 500.
The match between Ngezi Platinum Stars and FC Platinum too attracted a full house at Baobab Stadium when Madamburo prevailed 2-0 over their long term rivals.
Although most of the clubs in the Premiership now have sound sponsorship, that sponsorship does not cover winning bonuses which should be derived from gate takings.
Even small clubs like Yadah and Herentals too are beginning to attract recognizable crowds while the likes of Triangle and Hwange have loyal home fans when playing at home
Sadly, though, Sheasham have been deprived of the opportunity to cash in on their home support following the boob by the PSL Emergency Committee that banned their Bata Stadium despite approval by the Zifa First Instance Body.
The truth, however, is that the sudden increase in crowd attendances is not because of the reduction of the gate charges down to $2 but because our football has become very attractive.
Not only the top placed teams Highlanders, Ngezi Platinum, Caps United and Manica Diamonds, but even the teams at the bottom of the table too, Black Rhinos, Sheasham, ZPC Kariba and Cranborne Bullets are playing exciting football.
Watching Black Rhinos in action, one is forced to ask why is this team at the bottom of the table? - That is the sort of competition that now makes the Zimbabwean Premiership.
There is a lot of new talent that has also emerged among the notable names being Fortune Binzi of Manica Diamonds, Calvin Chigonero of Highlanders, Charles Moffat of Yadah, and Mthokozisi Msebe of Bulawayo Chiefs.
What we now need is to keep or maintain the fans we already have while at the same time continue to play exciting football to attract more and more spectators
We should avoid mistakes like the Sheasham debacle while on the field of play; referees should avoid controversial decisions that bring negative attention to the Zimbabwean game.
Clubs too need to sharpen their play in front of goal as fans get excited when goals rain instead of the current situation where leaders Highlanders have scored only one goal in their past four matches.
Apart from the goal drought, so far, it is so good but we need to go another gear up and bring back all those fans we lost along the way due to a number of factors.
Events on the ground have proved that even the English Premier League will not stop Zimbabwean football followers from watching their favourite local teams - that is if they maintain their current exciting and attractive short passing game.
For your views, comments, and suggestions [email protected] or WhatsApp on 0773 266 779.
Related Topics