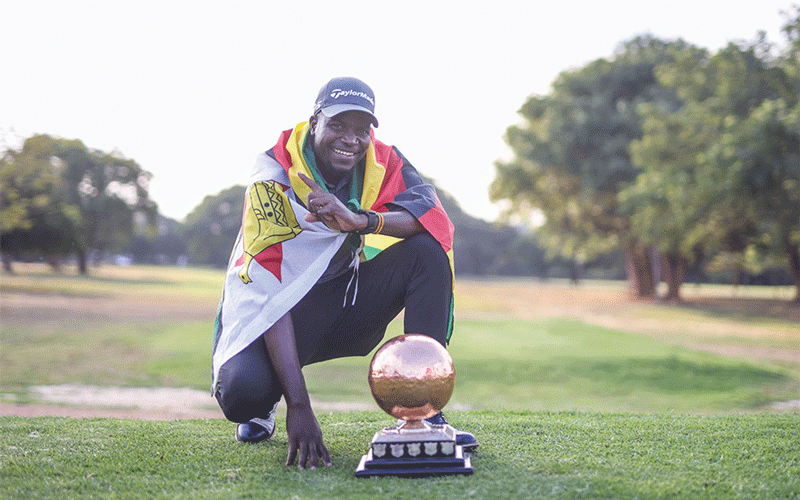 Top Zimbabwe golf professional Robson Chinhoi joined the elite list of black Africans to win on the Sunshine Tour following his maiden triumph at the Zanaco Masters in Zambia on Sunday.
Chinhoi beat South Africa's inform star Niel Schietekat in a playoff to lift the Zanaco Masters and become the second black Zimbabwean to score a victory on the Tour after Tongo Charamba.
It has been a good year for Chinhoi who has done extremely well on the Safari Tour winning the National Aids Council (Nac) HIV and Cancer Prevention Drive Pro-Am golf tourney.
The Nyanga-born 32-year-old golfer also had a solid outing at the FBC Zimbabwe Open last month where he tied for 24 and was third best-ranked Zimbabwean.
The Sunshine Tour has been open to non-white players since 1991 and some of the black Africa golfers have won events include South Africans John Mashego, Lindani Ndwandwe and James Kamte as well Zambian Madalitso Muthiya while Zimbabweans Charamba and Chinhoi complete the list.
Zim Open tournament director Michael Mahachi, who is also one of Africa's top golf rules officials and officiates in a number of tournaments on the Sunshine Tour believes Chinhoi's triumph is for African golf.
"This was a massive victory not only for Robson but for African golf. While the Zim flag rose high on the fairways of Lusaka Golf Club on Sunday 21 May, the multitude of those following the penultimate game No 30 was headlined by the golf fans from Lusaka and others from across the borders. The crowd had an African feel and so was his victory," Mahachi said.
"While this was a great result for Zim golf, it should be music in the ears of everyone looking to grow the game on the continent north of the Limpopo.
"The victory puts him in the Sunshine Tour Winners Category 3A which means more playing opportunities without having to qualify at least for the next two years. This may also present playing opportunities for him in the events co-sanctioned by the DP World Tour in SA," he added.
After the weekend victory, Chinhoi jumped a massive 1268 places on the World Golf Rankings from 2615 up to 1347 to become the fourth-placed Zimbabwean after Scot Vincent ( 125), Kieran Vincent ( 425) and Benjamin Follet-Smith ( 703).
Chinhoi has shown a lot of promise in the past couple of years dominating on the east Africa-based Safari Tour circuit and also won several title locally and on the continent.
But the Zanaco Masters is his first recognised international title as the tournament is sanctioned by the Sunshine Tour.
Charamba won at the 2006 SAA Pro-Am Invitational and 2008 MTC Namibia PGA Championship to become the first black Zimbabwean to take the podium.
Related Topics