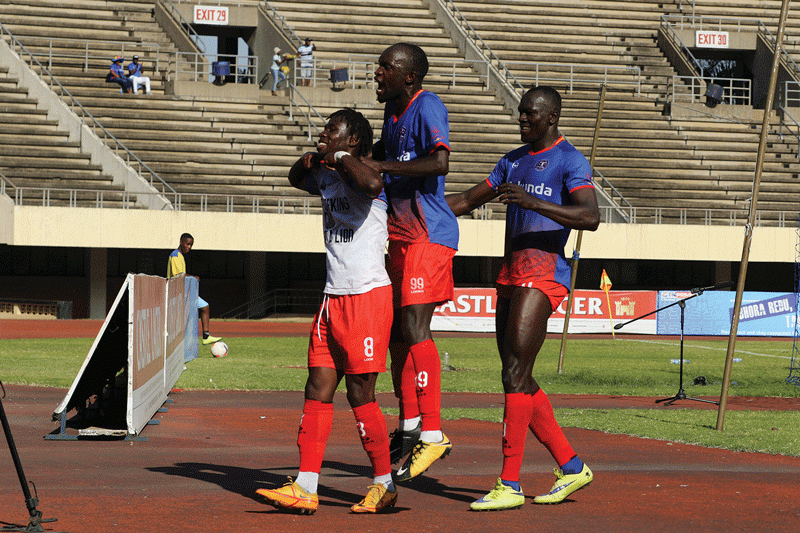 BY HENRY MHARA
DYNAMOS . . . . . . . . 0
TRIANGLE . . . . . . . 0
DYNAMOS' topsy turvy start to their league campaign continued yesterday after they were frustrated to a goalless draw by Triangle at the National Sports Stadium.
Their 2-0 win against Caps United in the Big Harare Derby last week was supposed to be a launch pad to a brighter campaign going forward.
But while it is still too early for coach Herbert Maruwa to be worried about his job, the team's recent performances — barring last week's isolated display — continues to put him under the spotlight.
The team's hugely demanding fans, who just last week saluted a good perfromance, turned against Maruwa and his troops yesterday and booed the team off the pitch.
Unused substitute Denver Mukamba, who appears to have a never-ending love affair with the Dynamos fans, received a standing ovation in an apparent gesture to spite Maruwa.
The supporters even defied their leadership's directive not to throw cash at their favourite player.
Amid all the grumbling from the fans, Maruwa looked calm.
"It's still early (to worry about the title race) because as you can see FC Platinum and Highlanders also dropped points, so we will keep on fighting. We will get it right," Maruwa said in his post-match interview.
"I think it was a fair result, Triangle played very well. They are very organised and in their last two games, they managed to hold FC Platinum and Chicken Inn.
"We wanted an early goal, but we failed to get one. We lacked penetration from our wingers. They managed to close down (Tendai) Matindife and Keith (Madera), but when we introduced Eli Ilunga and Nyasha Chintuli, that is when we managed to create some few chances."
With most of their main rivals in the title race also dropping points this weekend, this draw will not be too damaging for Dynamos who moved to fourth position on the log standings with 12 points, just three behind leaders Highlanders.
Meanwhile, Triangle are just a point behind Dynamos, but the log table is so congested at the top that the Lowveld side finds itself on ninth position.
Triangle coach Thulani Sibanda heaped praise on Dynamos and said he was happy with the point his team gained.
"It's a point gained if you look at how Dynamos dominated the first half," Sibanda said.
"We were struggling in the first half, they could build up and play between the lines. I think they are a very good side, a perfect side. In the second half, we came up with a game plan to neutralise them and try to play in the middle.
"We introduced ball playing players and I thought they (Dynamos) struggled to contain us each time we played the ball around. But drawing away from home, at the National Sports Stadium, it's a point gained for us and we will take it ... because I don't think if they come to Gibbo, it will be easy for them."
DeMbare looked to control the ball from the start, but were struggling to create clear chances early on.
Triangle began to grow into the game, but neither side could find a way to goal as Sibanda's side also struggled going forward in a lifeless first half performance.
Maruwa's men started the second half like they did the first and Donald Mudadi forced goalkeeper Matripples Mleya into a smart save to keep the scores level.
Substitute Ilunga tried his luck after a cheeky turn-and-shoot move inside the box, but his shot flew just over the bar.
Triangle also had their chances through Wellington Taderera who shot tamely at goal following a flowing move, and Enock Karembo as well, but at the end of the day both teams had to settle for a point.
Teams
Dynamos: T Mvula, E Moyo, K Moyo, F Makarati, E Jalai, D Mudadi (N Chintuli, 75'), T Shandirwa, J Makunike, T Matindife (D Musiiwa, 64'), K Madera (B Mpofu, 64'), J Bakari (E Ilunga, 64')
Triangle: M Mleya, J Mukombwe, C Musimwa, E Mafirenyika, A Makopa, E Karembo, T Kabanda, N Zingo, J Nyabinde (B Ngwenya, 59'), W Mensa, N Rauzhi (F Mugumwa, 84')
Related Topics