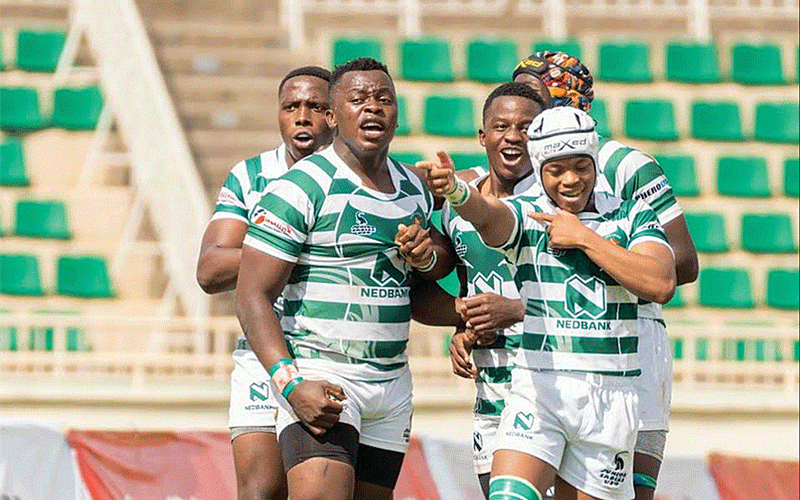 Zimbabwe…………..(22) 60Tunisia……………....(6) (6)THE Zimbabwe Under-20 rugby team turned on the style and marched into the 2023 World Rugby Under-20 Junior Trophy finals with a match to spare following a crushing 60-6 victory over Tunisia yesterday.
The eye-catching result in their Rugby Under-20 Africa Cup semi-final match at the Nyayo Stadium in Nairobi yesterday against the much-fancied north Africans means that they will meet hosts Kenya in the final. Kenya triumphed 24-13 against Namibia in the other semi-final, meaning the Junior Sables will join their east African opponents as Africa's representatives at the 2023 World Rugby Under-20 Junior Trophy slated for July 15 to 30, this year in Nairobi.
The tournament is the second level of the World Rugby tournament structure for Under-20 national sides in which champions qualify for the top-tier competition, World Rugby U-20 Championship to be held next year.
This year's World Rugby U-20 Trophy will involve Kenya (hosts), Zimbabwe, Scotland (relegated from the World Rugby U-20 Championship in 2019), Hong Kong (Asia), Samoa (Oceania), Spain (Europe), Uruguay (South America) and North America winners between USA and Canada.
After both Zimbabwe and Kenya qualified for the World Rugby Under-20 Junior Trophy, a lot will still be at stake when the two teams clash in the final on Saturday with the Junior Sables eager to defend the trophy which they won again last year.
The Junior Sables were in ruthless form yesterday as they ran in an incredible 10 tries and stay on course to retain their title.
Head coach Sean De Souza was very delighted with his team's display against the Tunisians, who had been tipped to give his charges a tough challenge.
"A very good semi-final which went according to plan. It's great when you put a plan together and it comes to fruition.," De Souza said after the match.
"Some boys stepped out of their shells and performed well although we left a lot of points on the park. But it still gives us room for improvement going to the final. We are now playing Kenya in the final which means we have both qualified for the Junior World Trophy, we will just be fighting for the Barthes Trophy. It will be bragging rights for us as defending champions and Kenya trying to take back the trophy. It's exciting times ahead and we are looking forward to what's ahead," he added.
Impressive winger Edward Sigauke, fullback Simbarashe Kanyangarara, inside-centre Alex Nyamunda and open-side flank Muzuva Gutu all scored twice for the Junior Sables as they dominated the Tunisia side, who got their points through a penalty and drop goal by their flyhalf Ahmed Riahi.
Substitutes Brendan Jameson and Tanaka Chinyanga also crossed the whitewash in a dominant display for Zimbabwe, whose only blemish was fly-half Brendon Marume's struggles from the kicking tee, after missing a penalty and five conversions.
Prior to yesterday's semi-final, the Junior Sables thrashed Ivory Coast 55-0 in the quarter-finals and will now head into Saturday's final against hosts Kenya as the only side yet to concede a try in the competition.
Related Topics