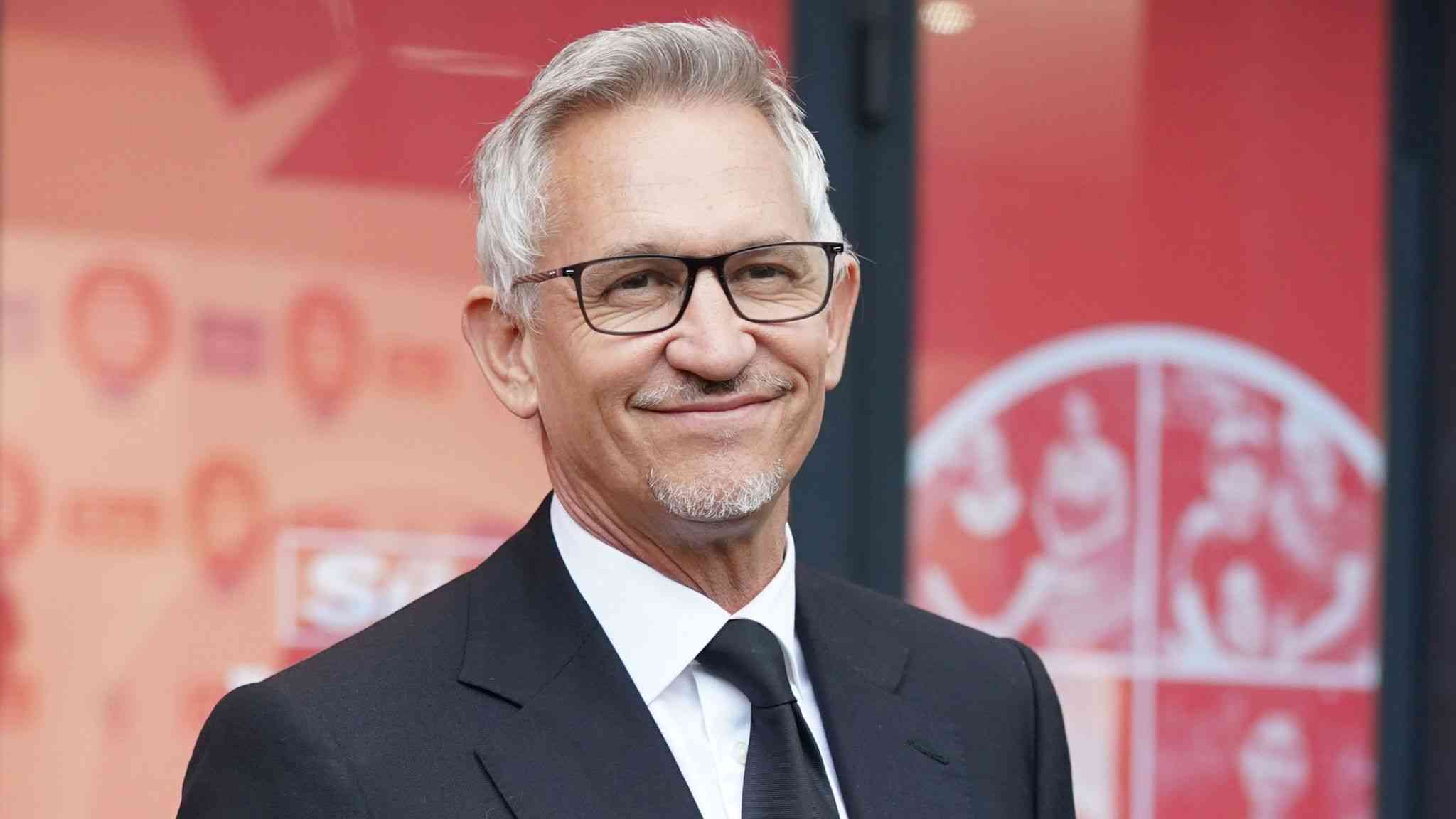 Gary Lineker has been suspended as Match of the Day presenter after the corporation said his criticism of the government's asylum policies breached its impartiality guidelines.
In a dramatic and unexpected escalation of a crisis that has been brewing all week, the corporation took the decision to take its highest-paid presenter off its flagship football show after he was criticised by Tory MPs and the rightwing media.
The move by the BBC prompted other well-known broadcasters – including Lineker's co-presenters on the programme – to come out in support of him.
Ministers put the BBC under pressure after Lineker posted a series of tweets this week criticising Rishi Sunak's new asylum policy. He likened the language used by ministers about asylum seekers to "that used by Germany in the 30s", a comparison labelled "offensive" by the home secretary.
A BBC spokesperson said he would be off air until an agreement was reached on his future use of social media. If Lineker, who has two years left on his contract to present Match of the Day, refuses to back down, then it opens up the possibility of him leaving the corporation.
Lineker was taken off air on Friday afternoon despite making it clear that he wanted to host this weekend's edition of the Premier League highlights programme.
A BBC spokesperson said: "The BBC has been in extensive discussions with Gary and his team in recent days. We have said that we consider his recent social media activity to be a breach of our guidelines.
"The BBC has decided that he will step back from presenting Match of the Day until we've got an agreed and clear position on his use of social media.
"When it comes to leading our football and sports coverage, Gary is second to none. We have never said that Gary should be an opinion-free zone, or that he can't have a view on issues that matter to him, but we have said that he should keep well away from taking sides on party political issues or political controversies."
The Channel 5 News presenter Dan Walker was live on air while exchanging text messages with Lineker. According to Walker, Lineker emphasised that it was the BBC's decision to take him off screen, saying: "They've told me I've had to step back."
The former England footballer Ian Wright said he would not be working on this Saturday's Match of the Day as a result of Lineker's suspension: "Everybody knows what Match of the Day means to me, but I've told the BBC I won't be doing it tomorrow. Solidarity."
Alan Shearer, who had also been booked to appear on Saturday's show, confirmed that he would not turn up to work – leaving the BBC without any mainstream presenters for one of its best-known programmes.
While suspending Lineker for breaching impartiality guidelines, the BBC chair, Richard Sharp, has faced calls to quit in recent weeks. It was recently revealed that Sharp, a previous Tory donor, had made the introductions between Boris Johnson and one of the former prime minister's distant cousins, who became a guarantor for a substantial loan. Sharp later claimed that he had acted "in good faith" as a "go-between". Labour said his position was "increasingly untenable".
The journalist Jon Sopel, who has held several senior positions at the BBC, said: "Lucky there are no producer guidelines on whether you need to declare facilitating an £800k loan to a prime minister while applying for a job as chairman of a broadcasting organisation."
The former Manchester United and England defender Gary Neville, a commentator for Sky Sports, said the decision was what happened when "you take on the Tories and the system".
Lineker's comments dominated coverage of the government's new asylum policy and were publicly criticised by a number of cabinet ministers. BBC sources suggested his decision to double down on the comments in further tweets, fanning the story, exasperated senior BBC management.
One issue for the BBC is whether Lineker would be happy to walk away from presenting Match of the Day, given that he has extensive business interests outside the corporation and has shown no indication that he will retract his comments.
The BBC could face accusations of censorship on behalf of the government if it reinstates Lineker with an agreement to curtail his social media use. However, if Lineker leaves, it will lose one of its most familiar presenters, while also facing accusations of censorship.
Lucy Powell, the shadow culture secretary, accused the BBC of giving in to its enemies: "This feels like an overreaction brought on by a rightwing media frenzy obsessed with undermining the BBC. I note the same cries of impartiality were totally absent when the BBC chair failed to disclose aspects of his close friendship with the then prime minister."
The BBC has long struggled with what impartiality should look like in an era where many of its leading presenters have enormous social media followings and struggle to see why they should be banned from sharing their personal views.
Amid threats to the BBC's funding from the Conservative government, the director general, Tim Davie, in 2020 introduced regulations that restrict what staff can publicly say and what views they can share. The strictest rules apply to staff working in the BBC's news division, with less restrictive terms applying to staff in other parts of the organisation.
Lineker, who has repeatedly shared his political views on his personal social media account, has long been a target for rightwing media outlets and Tory MPs over his views and £1.35m salary. The presenter was personally singled out when the BBC launched the crackdown on social media posts.
One problem for Davie was that Lineker is employed on a fixed contract, meaning he is not on the BBC's staff. As a result, he is covered by a specific rule in the impartiality guidelines – labelled the 'Lineker clause' by BBC staff – which states that some individuals have an additional responsibility to the BBC because of their high profile.
The rules state: "We expect these individuals to avoid taking sides on party political issues or political controversies and to take care when addressing public policy matters."
On Thursday, Lineker said he had no intention of stepping aside from his role.
There is continued speculation in broadcasting circles that Lineker could be poached by a commercial rival, with broadcasters and streaming services currently preparing their bids for the rights to show Premier League games from 2025 onwards.
Lineker also has extensive business interests, including owning a substantial stake in Goalhanger Podcasts, which makes the popular podcasts The Rest Is History and The Rest Is Politics.
Related Topics