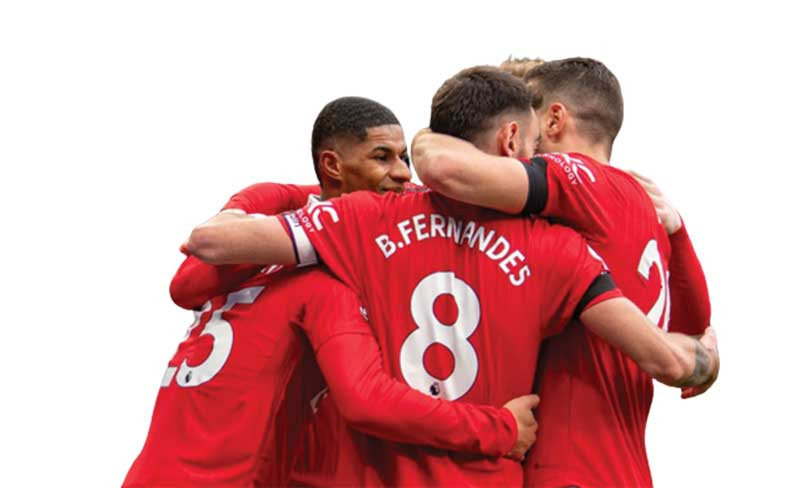 ON Thursday night 73,000 people were at Old Trafford to witness two fallen European giants Manchester United and Barcelona, clash in the Europa League.
It was hugely anticipated, billed as the resurrection, described as the renaissance and portrayed as the second coming for the two, who had been languishing in recent times in the doldrums.
Manchester United ultimately prevailed by two goals to one on the night to go through 4-3 on aggregate as they produced a scintillating display of unmatchable intensity, unflinching spirit and desire and unmistakeable ability and skill.
Barcelona had come to Manchester United's den and been exposed by Ten's mighty men even after controlling the first half and taking a one goal lead into their pen at the halftime break.
What transpired thereafter was a stirring comeback reminiscent of the glory years under Sir Alex Ferguson as United totally brushed aside a Xavi remodelled and formidable Barcelona outfit, who simply had no answers to the United onslaught.
If ever confirmation were needed of Manchester United's changing fortunes, this was it! In Ten Hag's own words, in their biggest test of the season against the most elite opponent they had yet faced, Manchester United proved that they are back on the world stage, back in the reckoning, back in the discussion and back where they belong.
Old Trafford is once more the graveyard, once more the fortress, once more the venue that opposing teams fear and once more a guaranteed source of points for the Red Devils.
It's also once more the home of a manager befitting of the challenge of leading one of the largest football brands in the world.
Erik ten Hag like his Viking namesake Eric the Red came, saw and conquered.
He might have arrived unheralded, he might have appeared unfashionable and he clearly was not the big managerial name United fans had initially sought.
And yet, in the space of just a few months, he has proven beyond any doubt that he is up to the task and could very well be Sir Alex material.
It's remarkable how quickly and with minimum fuss, he has been able to transform and make right the performances and careers of Marcus Rashford, Aaron Wan-Bissaka and wait for it, even Fred!
He has also been able crucially to assimilate seamlessly, the outstanding Brazilian Casemiro signed from Real Madrid and blood young future Argentine superstar Alejandro Garnacho.
He also had the necessary and vital strength and chutzpah to remove the dead wood and obstacles that were blocking United's progress.
Cristiano Ronaldo, remember him!? On match days, unlike his counterpart Guardiola in the blue half of Manchester, Ten Hag has shown a decisiveness and willingness to change strategies and add or remove players if required.
The replacements at halftime in the Barcelona encounter were positive and immediately swung the pendulum United's way.
He is also the confident leader, the supremo who commands respect and attention and who then delivers.
He is their new Sir Alex, their new footballing spiritual hero, their new footballing prophet and guru, their Moses who has rescued them from the footballing wilderness and whose Ten Commandments they absorb, devour and then act upon with renewed enthusiasm and vigour.
Regardless of Thursday's result, the facts are that both Manchester United and Barcelona have made significant progress this year.
Barcelona are currently eight points ahead in the Spanish league and firm favourites for the La Liga title.
Manchester United meanwhile after a naturally tentative start now find themselves in striking distance of the EPL pacesetters Arsenal which is no mean feat given Arsenal's tremendous form.
They also have an early opportunity at trophy success with a showdown in the Carabao Cup final with Newcastle United on Sunday.
A win so early in his managerial reign with Manchester United would add the glaze to Ten Hag's profile and bring much needed silverware to the club.
Their opponents though are brimming with confidence on the back of a season that has seen the Magpies break a number of records including a run that sees them on the threshold of a return to the Champions League.
Put simply, in black and white, that attainment would be an unimaginable, unexpected and totally unlikely quick fire success and provide the perfect start to the Saudi take over.
The Carabao Cup success however would be the icing on the cake and be madly celebrated by Newcastle's fabulously fanatical but famished fans who have waited sixty eight years for domestic success.
Manager Eddie Howe would be feted, the players would be immortalized and eulogized while Prince Salman would replace Charles as the King in Geordie eyes!
Suffice to say, Manchester United are anything but assured of victory on Sunday against opponents who will play like their lives depend on it.
Newcastle will, however, be without their first choice keeper Nick Pope who is suspended for the final and they will be counting on ex-Liverpool Champions League final goal minder Loris Karius to bale them out!(At the very least, Liverpool fans can say that were represented in a final this year!). It's a tough one to call-my heart wants Newcastle to triumph, but my head says Manchester United are on fire and unstoppable.
While Manchester United, Newcastle and Barcelona can be immensely satisfied with their progress this season, one team headed in the opposite direction, in one direction and in free fall, is Liverpool.
This season has been an unmitigated disaster, unprecedented in footballing history and their fall from grace will not ever be matched or emulated.
The 5-2 catastrophe in midweek against Real Madrid, which was their worst ever humbling at home in the Champions League proved that despite a couple of above average EPL victories, Liverpool are a lifetime away from a fast track return to the lofty heights they scaled last year.
Their fans are only now finally realizing that this version of Liverpool is in major need of a seismic overhaul.
The writing was on the wall long before their real fall from European shame this past week, but the ease with which they were dismantled by Real Madrid was quite honestly torturous and sad to see, even for ardent haters of the club.
The painful truth is that Jurgen Klopp's time has come to an end.
This is a man I consider perhaps the finest motivator on a football pitch anywhere, a man who has over achieved with the players at his disposal, a man who made Liverpool greater than the sum of their parts, a man who is in my humble opinion the finest Liverpool manager of all time.
However, even great leaders have a shelf life and an expiry date.
Sometimes it's truly the end of the long and winding road while in others, it's the beginning of new exciting ventures and opportunities(In Klopp's case, he'd be snapped up in a heartbeat and I'm certain he'd do wonders at an underachieving club like Spurs!)Unfortunately for Liverpool, while they waited patiently for Darwin to evolve into the world class striker he will actually eventually become, instead it's Klopp their boss who has evolved in the last year into an unrecognizable figure now demonstrably showing the strain of the pressures of his seven year stay at Liverpool.
I believe that the time has come to pass for Klopp who looks physically drained, mentally exhausted and now unable to cope with the task on hand at Liverpool.
For the sake of Klopp and the club, he must stand down and move on elsewhere.
Meanwhile, in the red half of Manchester, it couldn't be any sweeter.
The Red Devils have met their Moses and he's taking them buoyed by a sea of red, to the promised land!
Feedback: Twitter @thesoccerwhiz
Related Topics