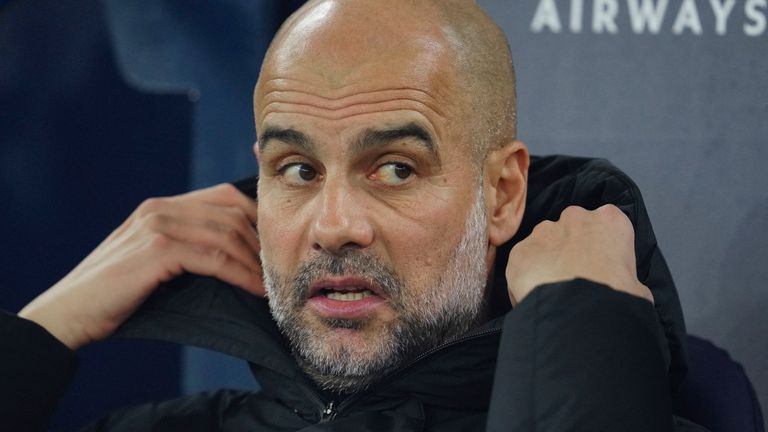 IT has been an absolutely wretched week for the sky blue half of Manchester.
It's a week which has seen them fall under the scrutiny of the football world for their horrendous performances, both on and off the field.
Judged by their on-field performance, Pep Guardiola stands alone in the dock as he is going to be solely responsible for City's failure to win silverware this year.
I have come to the conclusion that Guardiola must be the luckiest man alive.
His initial coaching breakthrough was with a team comprising three of the top five midfielders of an entire generation in Xavi, Iniesta and Busquets.
If you then add to the mix, the greatest footballer of all time Lionel Messi and a supporting cast of Thierry Henry, Samuel Eto'o and David Villa, is it any wonder that Barcelona with Guardiola at the helm destroyed all in their wake and were ranked by many observers as the greatest club side of all time.
I support this observation, but would then add that despite the meteoric success, I maintain that Guardiola still failed!
That team with Messi pulling the strings should have won everything in sight.
Guardiola surely ought to have been able to mastermind a method of defeating both Inter Milan in the 2010 semi-finals as well as dicey, dodgy and definitely fortunate Chelsea in the 2012 semi-finals.
For the record, it was in 2012 that the best ever version Messi scored an outlandish, impossible, never to be repeated total of 91 goals.
When the chips were down, Guardiola seemed unable to respond, unwilling to adjust his tactics or to come up with an alternative plan.
In both these encounters when his players desperately needed him to be their adviser, to be their instructor, to be their saviour, Guardiola disappeared like David Copperfield in one of his magic show routines.
Instead of Guardiola coming up with a winning solution, he simply stood motionless on the touch lines, waved his hands in exasperation, looked to the skies and waited expectantly for his stars to conjure up the magic.
It's never been raised as a criticism of Guardiola, but the truth is that he then abandoned Barcelona with a core of players that should have had the longest-standing winning legacy in the history of European football.
It's always baffled me as to why Pep chose to quit at that precise moment, at the height of what was unprecedented, unparalleled footballing utopia.
The answer I suspect was the real presence and threat of Jose Mourinho at Real Madrid.
Jose astonishingly somehow managed to keep an admittedly inferior Real Madrid side really relevant, while concurrently getting under Guardiola's skin and actually tormenting him.
When I reflect, I now realise and admit that not enough credit was given to the "Special one" who combatted and navigated his Real side against a Barcelona which had possibly the best collection of players in their prime in the history of football.
Mourinho was so adept, so calculating, so superior in mind that Guardiola, who didn't have the stomach or penchant for such a fight, chose to leave Barcelona for a sabbatical in the United States citing the pressures of being a Barcelona coach etc.
After flirting at Bayern, where it remains almost impossible not to win the Bundesliga (NB, he succeeded domestically but failed in the Champions League,) he arrived in the city of Manchester in 2016.
City wasted no time in affording him the luxury to spend lavishly and assemble the most complete squad in Europe.
Guardiola, meanwhile, has since ingeniously contrived somehow to lose every key European match thereafter, including the 2021 final against Chelsea.
He is guilty as charged of over-elaboration and over-tinkering both with match strategies and with a bunch of players who by now should have tasted Champions League glory.
Where once with Barcelona he failed to react and respond in time to matchday situations, he's been inexplicably culpable at Manchester City to this day of criminal over-reaction prior and during critical clashes!
The starting line-up against Spurs on the weekend was fatally flawed and it's evident that in trying to accommodate Erling Haaland, Guardiola is at a loss as to how his team should line-up.
Pep now manages a side in disarray, at odds and conflicted.
Which coach in their right mind would let João Cancelo go to Bayern Munich and then leave Kevin de Bruyne, Aymeric Laporte and Ruben Dias on the bench for a tussle that might ultimately cost them the league?
What really got to me was after the loss, Guardiola went on to whinge about the slowness of the train in getting to London from Manchester when we all know that the real problem for City on the day was that they couldn't control the match conductor, Harry Kane.
Anyone who is sane can see that City clearly looked like a side on the wane and in obvious pain!
Manchester City's miserly performance on the field has, however, in the past week been overshadowed by the not-so-miserly spending of their owners and their apparent methods to conceal their breaches of financial fair play (FFP).
The Football Association has accused them of multiple violations dating back to 2009.
City consequently face the possibility of various sanctions, including points deduction, expulsion and even retrospective title removal! (I'd like to believe that sanity prevails and that this final draconian action is not taken.)
It can only lead to an avalanche of submissions, legal disputes and untold chaos!
I can't believe that even die-hard Liverpool fans facing their worst spell in recent years would want to win last year's English Premier League title by default!
Mind you, when you factor in that Liverpool might not win another title until Darwin Núñez finally evolves, they might just eagerly grab what comes their way now! (Lol!)
Understandably, all of the current FFP attention on Manchester City has like a magic wand shifted the negative spotlight away from Pep just as he was beginning to be questioned on his abilities for the very first time in his managerial career.
At this juncture, I'd like to throw in the Guardiola luck factor that has always served him well.
He not only has had these breaches of FFP divert the attention solely away from his abject poor performance, but these allegations have presented him with an ideal opportunity to terminate his contact because of a clause in his contract allowing him to walk away in the event of such irregularities.
He is, therefore, in a position to leave on his terms (full payment and benefits, of course!) with his reputation intact, as a proud enforcer of moral values and principles.
We, in turn, will, of course, have to assume that he was totally innocent and naively unaware of what was happening around him!
He has, however, made a recent statement on the matter proclaiming the club's innocence and insisting that he is now more than ever committed 100 % to the club.
I have my doubts!
The reality is that if these FFP breaches had not been revealed, Guardiola would, on the back of an expected EPL title loss to Arsenal and another customary Champions League failure, be asked politely to leave.
Now, however, Pep the golden poster boy of the world, armed with his multitude of get-out-of-jail cards, will walk smiling into the sunset to a new destination.
As someone who seems to have a monopoly of the biggest and best clubs in the world, watch Guardiola get offered the next ultimate job in world football at mega rich free-spending PSG!!
Or what if, and this is a very big IF, ... what if Manchester United are actually bought over by the currently interested Qataris?
Gosh! Guardiola would make a posh opening day Qatari statement, indeed!
Feedback: Twitter @thesoccerwhiz
Related Topics