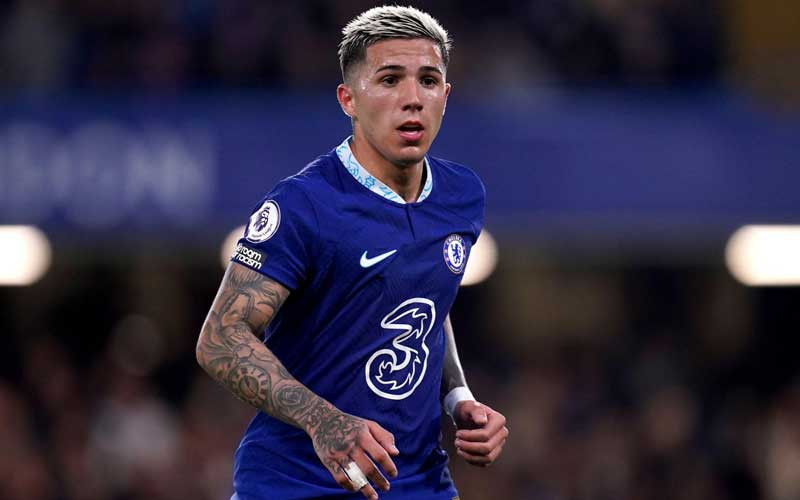 THE January transfer window was characterized by a record spending spree in the English Premier League.
A whopping GBP 815 million equated to four times more spent in the EPL than all the other big European Leagues combined!
Unsurprisingly the biggest spender was Chelsea who under new ownership continue to behave like there's no tomorrow.
The last minute capture of Argentina's classy World Cup winner Enzo Fernandez for a record British transfer fee of GBP 107 million was not entirely unexpected given the crazy January at Stamford Bridge.
They have been further bolstered by the arrivals of Joao Felix from Atletico Madrid and the new Ukrainian dynamo Mykhailo Mudryk amongst a host of others.
It's still not going to be enough to propel the Chelsea circus to the top four of the EPL this season but by next season I expect them to be amongst the front runners.
The pottiest thing is that after spending an obscene GBP600 million in the short time since The Pied Piper Todd Boehly took over the reigns, they bizarrely still don't have a proven world class striker in their abnormally large squad of thirty nine players!
I honestly wouldn't want to be in Potter's shoes tasked with choosing the best match day squad from this lot!
Meanwhile amongst the other big boys, necessary squad additions were made by Arsenal, Manchester United and even Spurs.
Manchester United were effective and snappy in their purchase of Bayern Munich's technically gifted Austrian midfielder, Marcel Sabitzer.
Once highly rated and tipped for a brilliant Bayern career, it had all gone rather pear-shaped as he had fallen behind a seriously stellar Bayern midfield pecking order and never really got a proper look in at the Munich giants.
With Christian Eriksen succumbing to a lengthy injury which will rule him out for much of the remainder of the season and with the injury occurring right as the transfer window was coming to an end, Manchester United were for once ruthless, instinctive and clinical in their response.
Ten Hag again demonstrated that he has helped the club change tenfold since his arrival as the entire deal including the medical etc was done with the kind of aplomb, stealth and speed, normally associated with Manchester City!
Sabitzer does have a long-time admirer in Ten Hag and the Dutchman will ensure he gets good game time at United and becomes an important part of the United juggernaut for the remainder of the season.
Spurs meanwhile welcomed Pedro Porro and Arnaut Danjuma to their ranks.
Danjuma will be a refreshing alternative to a misfiring Son Heung-min in attack while Pedro Porro arriving from Sporting Lisbon is potentially one of the best right backs in the EPL.
However, this deal strikes me as a kind of self-imposed Spurs levy designed to appease their boss Antonio Conte in the hope that he doesn't toss Spurs aside after another loss, come the end of the season.
Of the smaller EPL sides, Liverpool (Lol!I'm going to get into big trouble here!!) were certainly in dire desperate need of key recruitments in midfield which unfortunately never materialized this transfer window.
Their amazingly sad fall from grace is universally unparalleled in the history of the game.
How is it possible that a side who just last year were on the verge of a record breaking historic quadruple now find themselves in free fall and unable to stem the tide?
They are bereft of ideas, blunt in attack, easily carved open in defence and Klopp seems unable to stop the decline.
Liverpool fans are starting to make biblical comparisons of their form and history.
Is it possible that seven years of fame and fortune will now be followed by seven years of famine or will it be more like the last time where awesome absolute domination by a supreme Liverpool in the 80's was followed by twenty five years of devilish pain and anguish?
Nottingham Forest continued the shopping spree they had displayed prior to the season with five more additions to their squad taking their new arrivals for the year to twenty eight.
They will be praying that it's sufficient to ensure survival in the EPL which to be honest is not a given with the teams below them understandably uncomfortable and unwilling to simply put up the red flag and surrender meekly.
Southampton, Wolves and Bournemouth have themselves therefore gone on frantic spending sprees in the hope of being reborn, revitalised and resuscitated for the monumental task ahead.
I do however pity new Everton boss Sean Dyche who has inherited a dire dysfunctional side without any absolutely essential new additions and who has a monumental task ahead to stave off relegation.
Manchester City don't have relegation concerns themselves of course, but had enough concerns about Cancelo to effectively cancel his time for this season at the club by promptly dispatching him off to Bayern Munich on loan.
Incidentally, he has already provided in his first outing, more than a glimpse of his remarkable talents.
However when watching City this season, I must admit that I have often found myself less than impressed by their performances.
I get the distinct feeling that in trying to tactically accommodate their new whirlwind world class wonder Haaland, City have definitely lost that extra something that set them apart in previous years.
If any side needed an injection during this transfer window, I believed it to be Manchester City.
By not bringing in anyone to freshen a title bid that they are currently lagging behind in, and in then allowing Cancelo to depart for the season, City have blindly blundered and not given enough respect to the men in form above them, Arsenal.
What can I say about an Arsenal who seemingly can do no wrong, (Lol! Writer's curse. Watch them have an absolute shocker against Everton) an Arsenal managed by a disciple of Guardiola but who according to this writer now play the game at a higher standard than Manchester City, an Arsenal who will not meekly surrender as in previous years as every respected professional scribe on this planet has expected them to do since October and especially, an Arsenal who handled their transfer window with the tactical acumen, foresight and astuteness of veteran serial title winners.
In came sensibly priced Trossard, Jorginho and Polish centre back Jakob Kiwior as they bolstered every department in the side.
There's so much to say about this version of Arsenal who fought with all their armoury but were still unable to prize Ecuadorian starlet Moises Caicedo away from Brighton.
After failing to gun their man Caicedo down, Arsenal sensibly abandoned their pursuit giving them just enough time to successfully jostle for Jorginho who was now deemed surplus to requirements at overloaded Chelsea.
Arsenal must be cock a hoop for at GBP 12 million, it's an absolute steal for someone who not so long ago was one of the star performers in a winning Italian team at the Euros.
Whether it's simply destiny or luck, Jorginho is just so Wright for Arsenal and I believe that Arsenal have made the most significant transfer capture for any side in many a year.
Jorginho is exactly what a youthful, fearless Arsenal side are going to need when the chips are down and they need to recover and reorganise.
He's going to provide the control the side needs, whether he plays from the start or whether he comes on as a decisive substitute to hold onto a crucial lead.
He will provide the control, be the cement that holds it all together, the PPC(power, poise and control)that will guide Arsenal, I believe more comfortably than we realise, to their 14th EPL title!
Feedback: Twitter @thesoccerwhiz
Related Topics