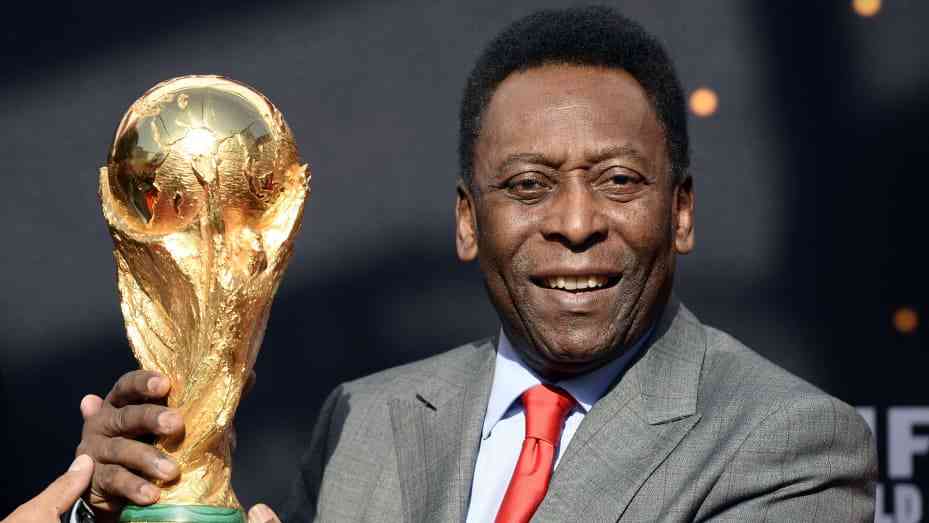 I'm travelling through these ancient beautiful lands of Egypt.
It's a country famous for its pyramids and pharaohs, Queen Cleopatra and the endless river Nile.
However, right now you could sum up Egypt in just one word, SALAH!
Yes in Egypt, it's really all about him, with his face adorned on every free space, his images viewed on every available platform and his name even known by the long gone occupants of the tombs in Giza!
I had, therefore, planned to tell you of my football chats with the soccer mad Egyptian folk including some insight into what Salah really means for them.
However, with the tragic news of the passing of PELE, there realistically can only be one conversation point and that has to be about the most important man our beautiful game has ever had, PELE!
Global icon Edson Arantes do Nascimento otherwise known as Pele died on Thursday in his home country Brazil.
He was 82 years old at the time of his passing and his death is being profoundly felt throughout the world.
His exploits on the field will for the foreseeable future be vividly, explicitly recalled, remembered and described.
We will all be fed with a healthy dose of his greatest goal compilations, his extraordinary ability and stories and accounts of his incredible strength and physique.
We will be treated to previously unseen archive footage chronicling his vision, his awareness etc all stamping and singling him out as a pioneer, as a leader, as a footballing prophet way ahead of his time.
We will fortunately also be recipients of generous accounts of his humanitarian nature, his loving and caring side, his sportsmanship and his role as a team player and leader.
We will in short due to the technological benefits of the digital age, be fed all we ever needed and need to know about a man who will never be forgotten and who was everything everyone ever said about him and then some.
Players who played with or against him, sports commentators at the time, referees and soccer officials in general have been keen and quick to heap deserving praise on a man who seems to have transcended racial, national and social barriers.
It's no surprise to hear that not only was he a star athlete, but he was a model team player too as well as having the gift and ability to realise his own flaws and shortcomings while highlighting and acknowledging the strengths and winning traits of his opposition.
He played the game fairly with graciousness and modesty and was hugely respected by teammates and rivals alike.
In fact it's remarkable just how popular he was with the very opposition he terrorised.
None other than ex- German captain, coach and legend Franz Beckenbauer, emphatically pronounced Pele as the greatest of all time while it makes you sit up and notice when the late Johann Cruyff, the Dutch and Barca master says that Pele was the only footballer who surpassed the boundaries of logic.
At the 1958 World Cup in Sweden during which a fresh faced seventeen year old Pele announced himself to the world with two quite astonishing goals, the Swedish captain Kurt Hamrin could not get over the humbleness and the kindness of the new Brazilian superstar who had sat in the stands with the Swedish public in matches he, Pele had not participated in.
I'm certainly in no position to argue with the testimony of so many on the ground learned players and authorities and cannot ever question their legitimacy or opinion.
However, unlike most soccer players or top sportspersons in general, I can't help feeling that the discussion of Pele is not a simple soccer related perspective on his ability.
It's crystal clear that Pele was always streets ahead of his teammates, of his opposition and was unanimously agreed as the best player people had ever seen.
I believe through that the discussion of Pele takes on a different realm, taking on the notion of his role as the man who through his performance first and foremost, but also through his conduct, his image and his grace, became the face of football, the force of football, the spirit of football and in the process, instilled all our love for football.
Pele was the first footballing name I ever heard, learnt or grew to idolise.
I like so many others, had never ever seen him play live or even on television for that matter!
When I grew up, his name was synonymous with the game I loved.
I began to watch him in the popular soft drink advert which blared on our home television screens and I identified with him as Mister Football.
I can only surmise that my experience has been no different to millions of others.
It's crazy that we hold so much love and adoration for a man that in all honesty, we have only seen glimpses of.
I suspect that a large part of the reason for this is the dignified manner Pele conducted himself both during his magnificent playing career as well as or perhaps more importantly, after his playing days had ended.
Not for Pele, the ranting and raving of a CR7,not for Pele, the diving theatrics and circus of a Neymar, not for Pele, the brash arrogance and attitude of a Zlatan.
Pele let his feet do the talking on the pitch.
Through a stroke of genius or just good fortune, Pele made the important career move to the New York Cosmos in 1975.
Not only did it revive his flailing economic fortunes at the time, but it also helped to propel the Pele brand like no other.
He retired in 1977,and had by now firmly established both his own name as well as the game of soccer in the USA.
By this time he had also positioned himself to live very handsomely off endorsements and promotional appearances and he did so until his death in a manner befitting a King.
Pele was in essence to football what Mohammed Ali was to boxing or Sir Donald Bradman to cricket.
They formed our first impressions of the game and because they did so, with such aplomb, honour and dignity, they will always somehow remain etched in our minds as the greatest.
We love this game called football and we love it with the feeling and passion we do because of Pele.
He made the game beautiful, he gave us the beautiful game because he himself had a beautiful soul.
Here was a poor boy from the most impoverished background who was uniquely gifted and learnt to play the game like no other had ever managed to.
When he had mastered it, he became the ambassador of the game portraying it beautifully like no other has ever managed to or quite possibly ever will.
Many will follow in his footsteps and arguably some may eventually or actually already have surpassed his achievements, but no one will ever attain the mystique, the allure, the worldwide adulation, acclaim, respect and love as Pele.
He is Mister Football.
He might not have invented football, he just perfected it! May His Dear Soul Rest In Peace.
Till the next time folks, I leave you with this….my young and keen soccer fundi son looked at me on hearing of Pele's passing and said to me with real sadness in his eyes,
"That's the three greats of your era; Pele, Diego Maradona and Johan Cruyff all gone to rest Dad. Our world is now poorer for it.
"In a flash I could tell that even young kids fully understand the legacy of Pele.
Edson Arantes do Nascimento has passed away, Pele though definitely lives on…
Till the next time folks….
Feedback: @thesoccerwhiz
Related Topics