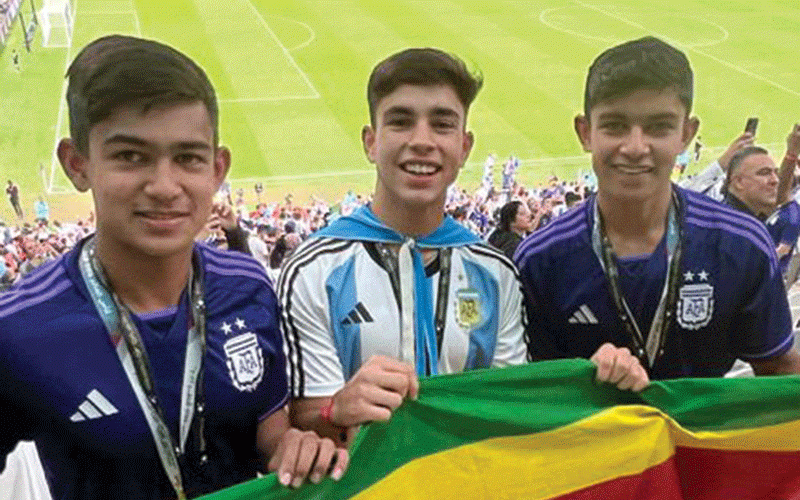 WE watch in utter disbelief and absolute bewilderment, we look again and again to confirm that it's real and not fake social media.
And then we shake our heads again and nod in agreement and understanding at the magnificence of the largest homecoming celebration the world has ever seen.
Forget Liverpool's Champions League parade in 2019, forget Manchester United's Europa League parade in 2017, totally forget Manchester City's imagined Champions League parade that they have been dreaming about since World War 2!!
One thing be assured that you will not be able to forget and will definitely remember is Argentina's arrival home in Buenos Aires on Tuesday December 20, 2022 after lifting the football World Cup for a third time in Qatar.
The joy, the outpouring of emotion, the relief and the gratitude of the four million people who thronged the streets of Buenos Aires for a parade that will never be equalled in our lifetime, sends a clear message.
It tells the story of a nation that yearned, begged and pleaded for its national team, the Albiceleste, to bring back the trophy that had eluded them for 36 years since the heyday of the legendary late lynchpin and leader, Diego Armando Maradona.
The Albiceleste heeded the call eventually in the most dramatic of circumstances to get the celebrations underway.
The backdrop was the stunningly exquisite Lusail Stadium in Doha, which had the privilege of playing host to a final like no other in the history of the beautiful game.
In fact I don't believe I will ever see a better game of football for as long as I am alive.
I thought I'd seen it all during Argentina's jaw-dropping quarter final penalty shoot-out win over The Netherlands a week earlier, but what played out in front of the eyes of the entire world defied logic, defied any rational thinking, defied belief and could not have been scripted.
As Argentina surged into an unusually comfortable 2-0 halftime lead, one could be forgiven for thinking that it was all over bar the shouting, that France were dead and buried, that Argentina were cruising and, on course for the most one sided World Cup final victory ever.
And then seemingly out of nowhere, France were revitalised and sprung to life as Kylian Mbappe awoke from his slumber with two lightning fast goals to take the game to extra time as a shell-shocked Argentina held on for dear life.
An extraordinary extra time tellingly could not separate the sides with the game ending all square at three goals apiece after further goals from Lionel Messi and hat-trick boy wonder Mbappe.
It was down the familiar trodden path of penalties yet again for Argentina and if there was a certain inevitability creeping in that it was going to be Argentina's night, then it was also because in Dibu Martinez the magnificent mad maverick (Liverpool and Zimbabwe followers, think Bruce Grobelaar!), Argentina had the greatest penalty stopper on the planet.
He would ultimately prove his worth yet again as Argentina gift wrapped things up and were crowned champions.
France sadly paid the penalty for their poor proficiency in penalty taking as well as for their insistence in retaining their goalkeeping captain Hugo Lloris for the penalty shoot-out. (He had apparently never previously saved a single penalty in penalty shoot-out competition!)
This unbelievable final provided the much maligned and criticized Fifa and the Qatari hosts with a conclusion befitting of a truly splendid tournament that stands proudly as the best in history.
A Messi-led Argentina versus a Mbappe-fired French side was the ultimate dream final for the hosts but there were many other positives from a thrilling five weeks of football.
Not least of these was the emergence of marvellous Morocco and other smaller football nations including Australia and the USA.
The icing on the cake of course was the final and the Argentina Messi inspired victory that seemed to enthrall the entire world.
Argentina is a soccer mad nation that has consistently produced players and teams of exceptional ability.
Argentines dote on, pay homage to, and treat their star players with lifelong respect and love.
In Alfredo Di Stefano, they had a player years ahead of his time who was acknowledged by many footballing authorities, including Sir Alex Ferguson as being the best in the world having led Real Madrid to five consecutive Champions League finals and scoring in every single one of them!.
In Diego Armando Maradona, they had the best player that had ever lived and even though he died a few years ago, his memory still burns brightly.
Diego love is so huge in Argentina that they even have the Church of Maradona in his honour.
Lionel Messi was always going to face an uphill battle in his own country to lift himself onto the same pedestal as Maradona.
Messi was the protege who had left his country as a young kid and who would have to prove his worth for his country where it mattered, at the World Cup.
His own countrymen were not interested in his record triumphs for Barcelona and he was often accused of being more Catalan than Argentinian.
The little boy Leo from Rosario, who wanted nothing more than to be loved by his own countrymen, had initially quit the national team in 2016 after yet another Copa America second place finish, but decided to give it one more go while vowing to set things right.
This is the image that the people of Argentina grew to admire and honour.
It is of a young boy who became a man, who refused to give up when the chips were down, who proved to the world that he is made of sterner stuff and who became the inspirational team leader.
This is the image of a Messi who took on a greater challenge than simply winning a World Cup, a challenge of breaking people's perceptions of him as a national team loser, as a disinterested unpatriotic materialistic money motivated club player.
And then as if by divine intervention, it all started to change.
Victory against all the odds in the 2021 Copa America final against arch rivals Brazil in Brazil was the defining moment in the love for Lionel Messi that was now being felt across the length and breadth of Argentina.
He was no longer being seen as the outsider, no longer being seen as the Catalan kid who couldn't care less,no longer viewed with suspicion and irritation.
Instead he was now finally being seen as one of them, as an Argentine with true soul and love for his country.
He was also now increasingly being touted as the leader who could emulate their late hero Diego and bring back some much needed pride and honour for the motherland.
Against the background of a nation where the economy had spiraled out of control and a political system in total turmoil, enter Lionel Messi now proudly proclaimed as a son of Argentinian soil and he was going to take them out of their misery and pain.
He would do so by leading them to the pinnacle, to the holy grail and the successful conquest of the World Cup.
In Qatar, Leo shone leading from the front with seven goals and universal recognition as the best player in the tournament while leading his side to a deserved victory over France.
Leo now returns to Argentina, he comes home as the nation's messiah having brought the World Cup back home too and he now proudly sits with Maradona on the same table. Diego might be gone but long live King Leo!
Till the next time folks….
Feedback: @thesoccerwhiz
Related Topics