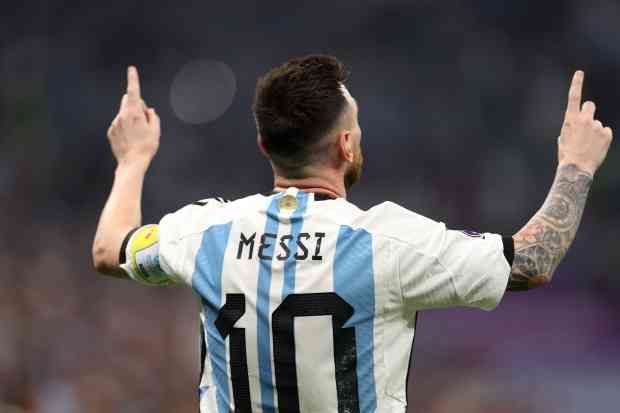 Tonight the entire world will focus its full attention on a football match that will bring the curtain down on a World Cup tournament that has exceeded all expectations bar none.
It's a dream final between the two standout teams, Argentina and France and it promises to be a match for the ages.
After finally navigating their way out of the group and an unnecessarily tense but thrilling win over Australia in the round of 16, Argentina prepared for a potentially bruising quarter final clash with long term arch World Cup rivals The Netherlands.
It turned out to be engrossing, compelling, riveting and ultimately one of the most rewarding experiences of my life.
I deliberately arrived a few hours before kick-off in order to suck it all in,to savour every moment and feel the full force, flavour and fury of a filled to the capacity Argentina home match.
I say that because we might as well have been in Buenos Aires such was the vibe, verve and velocity created by a 90% plus Argentinian support base.
The atmosphere was electric, the sound generated was mind blowing and the soccer played by the Argentines was sensational including a Leona (a new term I've coined to describe an assist that could only have been created by the supreme artiste, Leonardo Lionel Messi.)
When Argentina went 2-0 up, it seemed like there was no way back for the Dutch who to their credit, just refused to buckle in and somehow they miraculously clawed back to level the scores courtesy of a perfectly executed free kick routine in last minute orange time.
At that precise moment, it was as if the world had come to an end with Argentines around us inconsolable, distraught and in despair.
They feared the worst believing that with the winds up their sails, the Dutch would pray on the Argentine insecurities and render their team hopeless, helpless and unable to stem the tide.
Extra time though failed to separate the two sides and another epic Argentina/Netherlands penalty shoot reminiscent of their 2014 semi-final clash ensued the space of under three hours, these two footballing superpowers had dared to play with our full range of emotions as we went from delight to despondency, blue chip to bust and triumph to cold turkey and vice versa.
Watching a penalty shoot-out as a fan is an excruciating affair(how on earth the players deal with it, only God knows!) and many around me dared not look.
When Lautaro Martinez nonchalantly blasted his kick into the roof of the net to win the shoot out for Argentina, what unfolded was scenes that I have never experienced in my life.
The euphoria and elation and outpouring of emotion was indescribable as strangers high-fived, kissed and leapt into each other's arms.
Two rows directly above me, a healthy contingent of Argentine legends including Sergio Aguero, Esteban Cambiasso, Javier Zanetti and Hernan Crespo were leaping up and down in a display of infectious excitement and elation.
My own outlandish behaviour saw me attempt to mimic the legendary Argentine commentator Andres Cantor, (famous for his unique shouting out of Goooooooooooool after a goal is scored,) and resulted in my losing my voice and rendering myself pretty useless thereafter!
It was all worth it though and those of us privileged to be present will never forget that magical night in Lusail, Argentina!
Messi the master's masterclass and Alvarez the understudy's understated class ensured that the semi-final against Croatia was calmer,controlled,less chaotic and comfortable.
A 3-0 Argentina win was not flattering although it was sad to see Luca Modric, arguably the greatest midfielder of his generation bow out in such fashion.
I must add that on the day as I watched Luca live, I fully appreciated the skill set of the immensely gifted Croatian as well as his wholesome heart and fight, and I fully understood why Real Madrid continue to believe and trust in him.
France's road to the final meanwhile was always likely to have less fuss, be less fraught with danger, be less frantic, and for this tourney anyway, certainly to be less French!
They have at all stages of the competition been assured, confident and at times unstoppable.
It was with that image that I descended on the Al Bayt stadium to watch their clash against an England outfit that I genuinely felt had as good a chance as anyone of lifting the coveted cup.
That belief was only enhanced at the end of a pulsating encounter won somewhat fortuitously by France.
England barely gave France and in particular Mbappe a sniff, but paid the price ultimately I believe for negative tactics and poor substitutions.
And of course a missed Harry Kane penalty!
France though will take courage and draw confidence from the clinical execution of a tough assignment but also from the slick grease like performance of Antoine Griezmann who was not only instrumental in the victory over England but who was also positively outstanding in the semifinal triumph over Morocco.
Once again France entered the match as favourites but once again they were given a thorough examination of their credentials by the hardworking, skillful and passionate Moroccans.
It was a match which we all envisaged would see the French constantly on the attack but instead, what transpired was a French Napoleonic rearguard which held on against the magnificent marauding Moroccans.
France, albeit with battle scars, ultimately prevailed 2-0 against a Moroccan side that captured the hearts and souls of the world.
France meanwhile created some history of their own by becoming the first side to reach consecutive World Cup finals since Brazil in 1958 and 1962.
And so to the final itself.
I will call it the greatest final in history even before a ball has been kicked in earnest simply because of the presence in the final of the greatest player that has ever played the game.
Messi as proven at this World Cup aged 35 is still the best dribbler, the best creator and the best brain in the game.
He is now also a prized hunter with an incredible spatial awareness needing just a moment to launch into attack and transform the match.
With the weight of a nation and I believe the world on his back, he has added an unyielding spirit, fight and inspiring leadership to his repertoire.
He is the captain of a team who will die for him to succeed.
I believe the world is dying and praying for Messi as our leader, our Messiah of football, to succeed too!
This entire World Cup has felt like it's Messi's.
It's as if the world has finally come around, conceded and accepted his status as the GOAT!
It's almost like there's been a sudden realisation of the greatness of the man, a new found appreciation for his contribution to the game, an understanding that we are never going to have the privilege of seeing him again at this highest level and a desperation, clamour and need to thank him and laud him for his excellence and dedication to his craft and country.
Victory on Sunday won't grant him footballing immortality because that was achieved ages ago.
It will, however, crown his career and his legacy and will be a platform for the world to finally fully appreciate what we have had beautifully plying his trade for close to two decades of incomparable skill and service for club and country.
I do believe that the world wants Messi to win, that the stars are aligning with the feel good factor that a victory for Messi and Argentina will in reality, be a victory for the world!
Till the next time folks…spare a thought for marvellous Mbappe.
What a talent, what a freak of nature and someone who's going to be number one.
For now though, like so many others and regardless of the match outcome, he's forced to take a bow to Messi!
Feedback: [email protected]
Related Topics