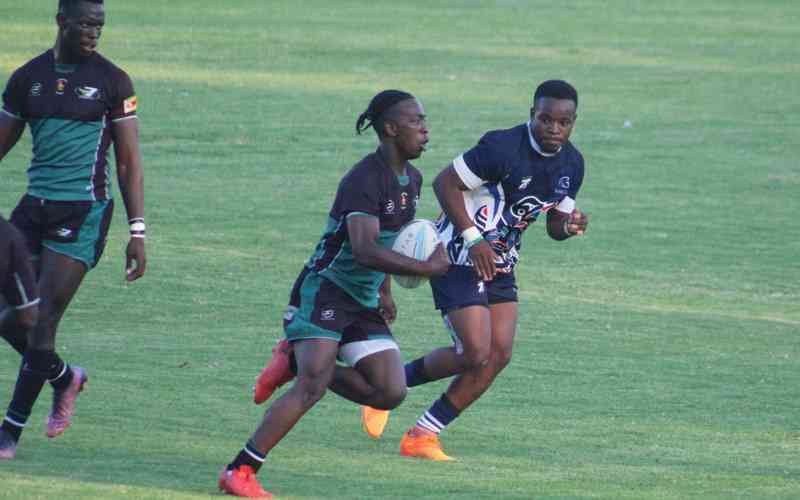 ZIMBABWE made it two from two as they dismissed defending champions Spartans 36-17 in an entertaining Pool encounter at Harare Sports Club yesterday to end day one of the Zambezi Challenge unbeaten.
The national rugby sevens side which is popularly known as the Cheetahs, stole the show in the final match of the day as they ran in five tries in addition to being awarded a penalty try in a fast-paced encounter which had the home fans on the edges of their seats.
Ryan Musumhi scored twice, and was followed onto the scoreboard by Carlos Matematema, Alex Nyamunda and Edward Sigauke as the Cheetahs got their revenge against a tricky Spartans side which knocked them out at the semifinal stage of the same competition in April.
Zimbabwe international Pride Nyameni also crossed the Cheetahs try-line twice as Botswana-based Spartans side whose starting line-up was made up of locally-bred players also showed flashes of brilliance.
Crucially for the Cheetahs, they were able to overcome a potentially tricky first hurdle in the tournament.
The Cheetahs, who beat the High Perfomance Under-20 side 38-10 in an earlier match, will now play their final pool match this morning against a local select side following the last minute withdrawal by neighbours Zambia.
The biggest challenge for the home side will be posed by Germany after the European side also finished the opening day of the competition unscathed.
The German team, known as the "Wolfpack," capped off a successful opening day with a 24-10 victory against the Cheetahs Academy having survived an upset in their opening match when they scrapped through 15-12 against Zambian side Red Arrows Rugby Club.
A potential clash between Zimbabwe and Germany is on the cards in the final, but Cheetahs assistant coach Ricky Chirengende said they will be keeping their feet firmly on the ground despite their success on the opening day.
"I think it's important that we know the role of both teams, obviously the Cheetahs Academy is one of our feeder teams where we have guys who are still learning the system so there's bound to be some mistakes, but we saw some encouraging signs," Chirengende said.
"The Cheetahs are obviously our flagship side and I think today we started a bit slow against the HPC, but once we got into our races things started to jell.
"Our philosophy is obviously to move the ball in the air and express ourselves and we saw it in the last game. The guys were really enjoying their rugby.
"Ultimately it's about keeping our feet on the ground, but tomorrow we plan to go all the way and clinch the Zambezi Challenge obviously as preparation for next month's Dubai Sevens," he added.
Action will continue in the Zambezi Challenge this morning with a packed schedule in both the men and women's categories.
Related Topics