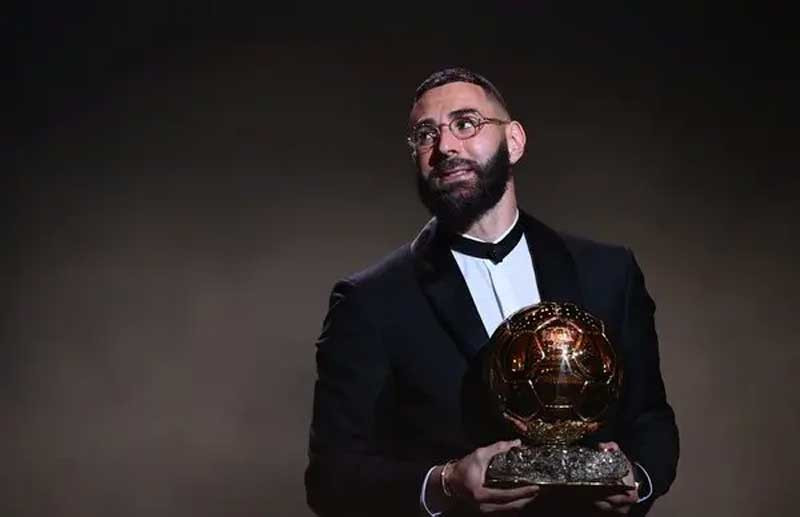 Karim Benzema has finally won the Ballon d'Or at the age of 34 years and 302 days making him the oldest winner since the inaugural winner Sir Stanley Matthews in 1953.
It was a no contest as he wiped the floor before him and was the unanimous choice amongst sports pundits, writers, The Soccer Whiz's and fans alike.
The Benz was streets ahead in a year where his performances for Real Madrid ensured that no one else stood any realistic chance of winning the coveted prize.
All the decorated invited guests including Sadio Mane and Kevin De Bruyne were in no doubt that this year's maney was on Karim and that the outcome was a no brainer!
He was the 16th Ballon d'Or winner to emerge from La Liga since 2000 and their 24th winner in total since the competition began in 1953.
This is in stark contrast to the eight in total won by the EPL with Cristiano Ronaldo being the last winner from the EPL in 2008 prior to his move to Real Madrid from Manchester United.
What is important to stress is that the Ballon d'Or was for many years exclusively a competition for European players and only opened up in 1995 to allow for the eligibility of all players plying their trade in Europe irrespective of their nationality.
It coincidentally happened to be the year that George Weah of Milan and Liberia deservedly won the award although to dat he remains the only African winner.
The European nature of the award until 1995 also meant that true South American legends of the game such as Diego Maradona,Pele and Zico were all denied a legitimate right to be honoured as the best player in the world.
The craziest example of this is when Igor Belanov of the USSR won the award in 1986 not long after a World Cup where Diego Maradona was divinely hands and legs above everyone else!
While Benzema's win was applauded and universally acclaimed, some Ballon d'Or winners in the past have had people scratching their heads in disbelief.
When Michael Owen won the award in 2001 ahead of Spanish striker Raul, Liverpool fans thought there was a foul up as most didn't even consider him the best striker at Liverpool(where Robbie Fowler was generally regarded as being superior and more popular of the two,)never mind Europe!
Another man who really ought to have made the podium in first place was Thierry Henry who was part of an Arsenal side who despite being dominant in the EPL ,usually fell short in the competition that mattered, the Champions League.
pHad he himself though had his shooting boots on in the 2006 Champions League final against Barcelona where he was guilty of missing a couple of gilt edged opportunities to swing the final in favour of Arsenal, it might have been his name on the trophy instead of Fabio Cannavaro, the intelligent but tough as nails central defender for World Cup winners Italy.
Cannavaro's award was universally welcomed, but no defender has won the award since and it will take something truly remarkable for another defender to win the trophy (although Virgil van Dijk did run Lionel Messi mighty close in 2019!).
By the time Henry did manage to finally get his hands on the Champions League title with Barcelona in 2009, he was well past his prime, the weakest of Barcelona's terrific trident which included Messi and Samuel Eto'o,and by then of course, the Messi/Cristiano duopoly which shaped world football for over a decade was now well entrenched.
Of course during this period of overwhelming dominance by two of the greatest ever players, there were a couple of times when the award might have gone to someone else.In 2010,many had pencilled in a Spanish World Cup star such as Xavi or Iniesta or Wesley Schneider of Inter Milan who was a Champions League winner with Inter Milan as well as being a world cup losing finalist with the Dutch.
In 2013, Ribery had a monumental season with Bayern Munich winning a Bundesliga and Champions League double but the title went instead to Cristiano Ronaldo.
Personally I have no such leanings as I cannot during this entire period find anyone who came even remotely close to Messi or Cristiano Ronaldo
As this era is now over,it does beg the question.What indeed are the requirements for success?
We're always told that it's a team game, that the success of the team is what matters most and is the overriding ambition and goal.
However when I watched the awards on Monday night I was left in no doubt that the players desire these awards perhaps even more so than team success.
Benzema was unapologetic and stated that his dream had always been to win this accolade since he was a child.
I am not singling him out because Benzema is the consummate professional and the true total team man.
After all, one can argue that he has sacrificed a couple of Ballon d'Or triumphs of his own by playing servant to the great Cristiano for much of his career.
If these awards are individual awards, then can someone please explain to me why we are so insistent on a Ballon d'Or nominated player being part of a successful winning side to stamp his claim.
Are we saying then that had Real Madrid not won Europe's big prize last season, then all of Benzema's 44 goals and 15 assists would count for nought and that De Bruyne would instead be lifting the award?
Erling Haaland, meanwhile, who leads the line for Manchester City in what is arguably the best side in the world right now, will in all likelihood finish with a record haul of goals as City win the EPL and go predictably far in the Champions League.
Strange how he is already a shoe in for the next award whereas his prolific performance last season for an underperforming Dortmund side was only able to secure him a tenth place finish! I'm baffled, puzzled and a little irritated.
Are we awarding the actual best player for the season or for the best player in a winning side?
The fact is that as long as Kevin De Bruyne remains at Manchester City as long as he continues to be one of Guardiola's pawns and sadly therefore a victim of Guardiola's over tinkering and over thinking, the chances are that he may never win the Champions League with City.
Imagine if you will now that the finest EPL player of this past decade will according to what appear to be Ballon d'Or precedent, have zero chance of being acknowledged as the best player in the world no matter how spellbindingly brilliant he might have been that season!
Let's go one step further and assume that Guardiola has learnt from the lessons of the past and his City side do actually win the Champions League this season.
Will it be a straightforward win for Haaland on the strength of his goal tally or does De Bruyne genuinely have a chance?
Sadly it's very apparent that the criteria for success are very heavily weighed in favour of goal scorers of dominant winning sides.Based on this,expect the next decade to be dominated by Haaland,and Mbappe!
Unless of course the old war horse Lionel Messi preparing for retirement, takes his Argentina side to victory at the Qatar World Cup and then doubles up with a first Champions League victory for Qatari owned PSG.
If that were to happen, I reckon that Messi would succeed Benzema as the oldest victor in a title aptly named the Ballon d'Oha!
Over the past weekend Real brushed aside Barcelona and reminded us all why they continue to win all they play for.
Barcelona, meanwhile, were disappointing and continued to show us why they have so little to play for.
At Anfield Guardiola once more proved to the world that he suffers from big game temperament and anxiety.
Only Pep knows what goes on inside his head, but yet again he opted to cancelo a winning formula.
Klopp, meanwhile, must be thanking his lucky stars that Trent Alexander Arnold was injured, for it allowed him to play with a defence comprising players who were picked to actually defend!!
Jurgen please take heed, it's not a bad idea to play defensive minded players in defense! Congratulations!
On the other hand why not give Trent a go in midfield. If there's a better crosser or better striker of the ball in the EPL then I have yet to see him.
Let the Trent spill into the midfield and let him flow freely because ability wise ,he has everything David Beckham had in his prime and more. Ok,minus Posh! Lol! I guess that means he actually has more!
Till the next time folks, but before I go, kudos to Erik ten Hag of Manchester United for doing what no other manager in history has been able to do and that is to drop Cristiano Ronaldo from this weekend's match day squad and put him firmly in place.
It's unfortunate that it has reached this juncture and sad too for one of the all-time greats but it was absolutely necessary and it needed a man firm in his convictions and beliefs to carry it out.
Feedback: [email protected]
Related Topics