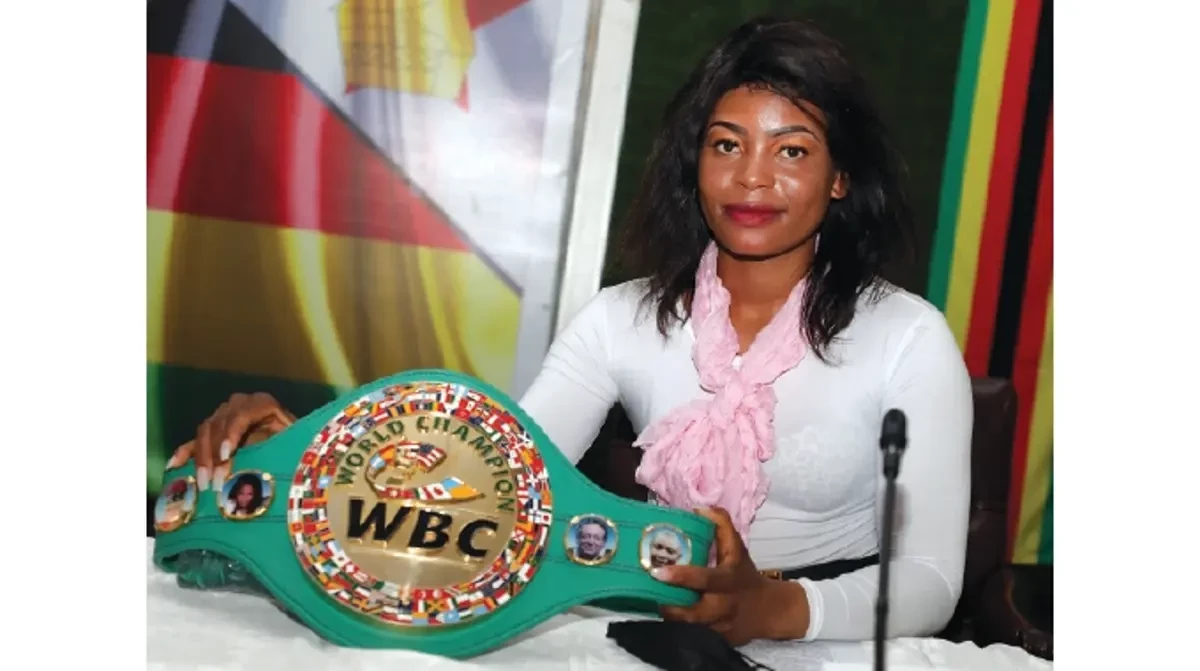 ONLY two weeks ago, it seemed fanciful that Kudakwashe "Take Money" Chiwandire would get to live her dream of defending her World Boxing Council (WBC) Interim Super Bantamweight title on home soil as financial constraints threatened her fight against Mexican Zulina Munoz.
All hope seemed lost until government recently chipped in with logistical and financial support.
And tonight, the 26-year-old pugilist will swagger her way into the Harare International Conference Centre arena brandishing the World Boxing Council (WBC) Interim Super Bantamweight glitters with the spotlight firmly on her as she takes aim at history.
By the time she leaves the arena, she expects to be holding on to the same belt, but this time with a bright sparkle in her eyes and a much fatter purse of US$20 000.
Chiwandire could be the straw that will stir boxing back to life after it had slipped to irrelevance since Charles Manyuchi stepped out of the ring.
Most of the pre-bout rituals had been dispensed of by noon yesterday with Take Money weighing 54,40kg, which is within the required range for this fight, while Munoz was at tad heavier on 55,30kg.
Munoz (35) has got a proud record of 53 wins, four defeats and two draws in her professional career and Take Money will be hoping she adds to her four wins in her eight bout career.
For Chiwandire, the biggest thing is about getting into the ring and retaining her belt.
She has always been like that, a boxer full of confidence in her abilities and in the drills she goes through.
So far she has been delivering on her promises and yesterday she delivered a victory pledge to anyone who cared to listen.
"I'm only left with a few hours to go into the ring. I'm not feeling any pressure and everything is under control. What was only stressing me was when my opponent was not yet in the country and also the financial constraints which delayed this fight because if we would have failed to make it, I was going to be stripped of my title without defending it. This is the time to celebrate because I believe that we have won the belt already," said Chiwandire.
"The journey wasn't an easy one because I wasn't expecting all the challenges we faced. It really affected me because I wanted to represent my country, but even so, I continued working hard hoping that any day, any time the fight would take place.
"I got confidence when I had my face-off against Munoz. I was watching her previous fights and that motivated me to put my all in order to make it. But when I saw her face to face, I got the confidence that we can have a thrilling and entertaining fight. I call upon all my supporters and the nation at large to come and support this fight. I promise you that I will win and clinch the title come tomorrow (today)."
The winner of this fight will become the mandatory challenger for the emerging champion between Yamileth Mercado and Mariana Juarez who will be facing each other for the WBC Super Bantamweight World Championship in Mexico on Saturday.
Bout Card
WBC Interim Super Bantamweight World title (12 rounds)
Kudakwashe Chiwandire vs Zulina Munoz
Co-Main Lightweight (8 rounds)
Jeremiah Mhere vs Tinashe Madziwana
Featherweight (8 rounds)
Tatenda Biningu vs Bernard Mwango
International Heavy weight (6 rounds)
Simon Madhanire Brighton Mcheni
Welterweight (6 rounds)
Evans Husayihwevhu vs Adonia Abraham
Middleweight (4 rounds)
Farai Makombe vs Mike Masodzi
Female Bantamweight (6 rounds)
Revai Madondo and Chimwemwe Banda
Exhibition (3 rounds)
Alfonso Zvenyika vs Spencer Matsangura.
Related Topics