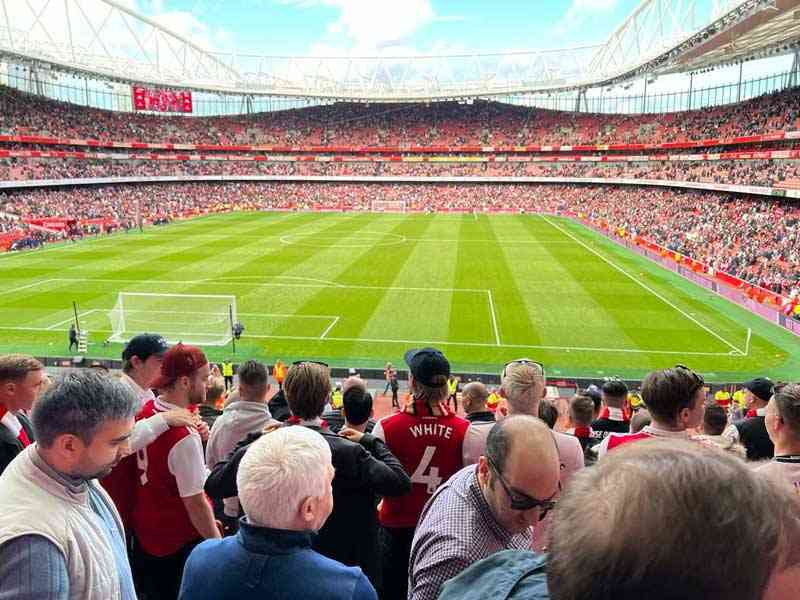 LAST Saturday I had the opportunity and privilege to be present live on match day at the Emirates to witness the table topping derby clash between Arsenal and Tottenham Hotspurs.
To put things into context, this was no ordinary run of the mill match day, not any arbitrary Arsenal fixture and certainly no average derby match either.
It would not be an exaggeration, would not be an embellishment and would certainly not be viewed as any overexcitement on my part if I categorised this particular contest as perhaps the most significant derby duel for over a decade.
I for one honestly can't recall a North London derby so eagerly anticipated by both sets of fans with Arsenal perched in the prized position of first place in the EPL and fierce rivals, cock a hoop Spurs breathing down their necks in third place.
I deliberately arrived at the Emirates a full two hours before the kick-off time so that I could take it all in, so I could savour every moment and so I could feel the full force and flavour of a filled to the capacity Emirates (the actual attendance was later announced on the PA as 60 278) in full voice and enjoying their ride at the top of the table.
The Emirates, let it be known, is one of the leading luxury stadiums in world football.
It's the fifth largest in English football and is a major upgrade on Arsenal's famous previous stadium,Highbury.
Already in existence since 2006, it nevertheless makes other current landmark stadiums such as Old Trafford, Anfield and the Spotify Camp Nou look outdated and decidedly second rate.
I marvelled at the pristine pitch, feasted on the fantastic food options, and thoroughly appreciated the comfortable spectator experience both pitch side and in the stadium concourse.
As its brand name Emirates suggests, we're talking modern, technologically advanced and setting the standard.
The irony of course is that since the move to the Emirates, while Arsenal have been cosseted in these luxurious surroundings, they have ultimately failed to deliver where it matters on the pitch.
Their fans have had to watch in despair as Chelsea, Liverpool, Manchester City and even their dreaded neighbourhood rivals, Spurs upstaged them.
This I assure you has not been lost on the fans.
My early arrival at the ground gave me the chance to chat and converse with a number of die-hard local passionate Arsenal fans who devotedly attend each and every match.
These days there's a spring in their step and a genuine upbeat feeling about how things are going to pan out this season.
Most fans I spoke to were extremely confident of a victory on the day against Spurs, which would have been par for the course anyway as Spurs have only beaten Arsenal away once in 29 attempts and that solitary success was way back in 2010.
Others were already beginning to have delusions of grandeur and starting to dream of a title success. Lol!
I'm sure a young Norwegian now living in Manchester by the name of Haaland probably brought them back to earth and reality.
He ushered in some proper perspective on the task on hand for every other club I suggest, the very next day after his hat trick in Manchester City's demolition of Manchester United by six goals to three.
In addition to the expected local Emirates regulars there were also hordes of fans from all over the globe.
They included a young couple from San Diego in the USA, some big strapping Thomas look-alikes from Ghana who had come for the Partey and a young very interesting guy named Paul from the Netherlands who had flown in from Eindhoven especially for the match.
Paul had Arsenal stats in his memory bank, which astounded me but I think he was more shocked when I reminded him of our old African Zambian legend Kalusha Bwalya who is still revered to this day in the city of Eindhoven as one of PSV's all-time favourite sons.
I must admit that the pre-match preamble was almost as exhilarating as the match itself, which as many of you witnessed, was an absolute cracker!
Or crocker if you're a Spurs fan! As I tweeted at halftime, Spurs were more than a tad fortunate to be level at that stage especially after being totally outclassed in the early stages and then falling behind to a Thomas Partey special.
Arsenal, however, got sloppy conceding a penalty very much against the run of play which Harry Kane dispatched home with consummate ease.
Yes one can proffer the argument that it's typical Conte, but I put forward that it's also historically so very untypical Spurs who play every match these days as if they are the underdogs, supposedly pragmatically soaking up everything one throws at them and then hoping that their dynamic often brilliant and lively front men can do the necessary.
I'm a mere scribe with zero managerial know how, but I can't understand how the Spurs side with their superior attacking trident were left to scramble for breadcrumbs while the infinitely less gifted Arsenal front trio were given every opportunity to shine by a system, which forced their opponents to play on the back foot.
Conte will point to the points counted and in the bag. I beg to differ and believe that his system is fine and obviously can work when you're playing relegation fodder Nottingham Forest, who incidentally remain at the time of writing,
Spurs only success on the road in the EPL this season!
Spurs and Conte should have known better and tactically they got it royally wrong on the day which was exacerbated when Emerson's careless challenge resulted in him getting his marching orders and effectively handing back the initiative to Arsenal.
It was just the extra tonic they desired and probably deserved too.
This year's Arsenal don't sit back, they mean business and if you let them persistently gnaw at you, they will eventually saka their way in!
Indeed they promptly retook the lead through Jesus following a goalmouth scramble and from then on, it was a procession as Arsenal scored an excellent third by the remodelled Xhaka, with numerous other chances to add to Spurs misery not being seized.
Conte himself then sent in the cavalry to shore up his defence and minimise the humiliation.
It showed that he is too one dimensional, a single trick pony with few alternative ideas in his armoury and if he continues with such abject dire performances, I highly doubt that the Spurs hierarchy and for that matter, the fans too, are going to tolerate Conte's tactics for much longer.
Talking of armoury, is there a better way to aptly and appropriately describe Mikel Arteta's Arsenal?
Arsenal Football Club was founded by the munitions workers of a company called Arsenal Woolwich and it's how they came to be known colloquially as the Gunners.
When you walk around the stadium, images of cannons, of marksmen, of hotshot shooters look back at you.
The Arsenal merchandise shop which was the most incredible hub of activity following the win on Saturday is in fact called the Armoury.
It points to a rich history of traditional proud values embedded in the old Arsenal, which are being rekindled and reaffirmed under Arteta.
It's important to remember that Arteta is only into his third year at Arsenal and up to now has never had the full backing of the board and the players.
The transformation required to turn Arsenal around could not and in fact never does happen overnight.
Arteta has skilfully negotiated a tough transition where he was forced to handle a tricky and testy old experienced guard of Ozil, Aubameyang and even Lacazette who deliberately set out to make his task more difficult as they attempted to malign Arteta all the while cementing their own positions and contracts.
That he has survived these internal wrangles despite not having the full backing of the board or dressing room is a testament to his in-built strength of character and resolve.
It's a trait which is now very much in evidence in the side he is creating. This Arsenal side are not like the Arsenal of a few seasons ago.
They have evolved into a steely tough outfit who don't give up at the first sign of trouble, who don't cave in when things aren't going right and according to plan.
Arteta it must be acknowledged has managed magically to recapture the armour, the strength, the fighting spirit of the old legends T Adamonys, Lee Dixon, Patrick Viera and Ian Wright.
Now in their place he has merged the likes of perfection in process Partey and an experienced tough as nails Xhaka who together provide both technical astuteness and steely resolve.
He has given Jesus the licence to roam and create havoc.
In the process Arsenal are religiously winning converts with their brand of an expansive but gutsy game.
Young firebrands, Saka and Martinelli have in just a season become instrumental and undroppable in a front line that continuously passes, probes, and eventually picks you off.
In defence, Arteta is responsible for the signing of the summer in bringing Saliba home who has gelled to perfection with Gabriel and Zinchenko, who was yet another coup from Manchester City.
One also needs to bear in mind that it's not like Arteta broke the bank in creating what now resembles a pretty sensational side.
Arsenal's finances have not allowed them to covet the biggest hits and they have been forced to bring in players such as Jesus and Zinchenko who both were surplus to requirements at Manchester City.
A successful season though will have a massive bearing on who they can attempt to bring over to the Emirates next season.Next season,who knows…. Mbappe?!!
In conclusion I am constantly asked if Arsenal can win the league this season.
I must admit that at this stage my answer is that it appears highly unlikely.
Manchester City are the current champions and they are playing with an authority and swagger that's beautiful to watch as a spectator, but surely frightening and intimidating as an opponent.
They were already far ahead of the chasing pack and then they went out and bought the most exciting prospect in world football in Erling Haaland.
It should result in them being just way too powerful for the competition.
Arsenal though are definitely going to be leading the chasing pack and will push them all the way.
This year's confidence boosting experience, however, will place them in good stead for next year.
In Arteta, Arsenal have found their new Arsene!
He's supremely confident and savvy, he's tough, he's very astute, seriously shrewd in the transfer market and already a master tactician, privileged to have been schooled by both Wenger and Guardiola.
He's going to be the one who leads Arsenal back to the top of the pile.
He will return the glory days back to Arsenal and I for one, will always fondly remember the day I was present at a bustling jovial Emirates when the Arsenal fans finally started believing again hoping the silver bullet was with the Gunners!
Till the next time folks….
The Sports Hub covered the North London derby live from the Emirates for the first time
Feedback: [email protected]
Related Topics