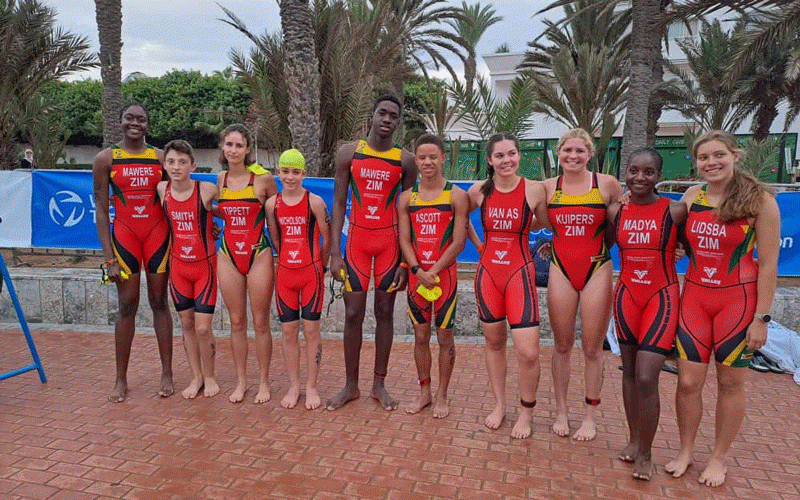 THE Zimbabwe Triathlon team scooped three medals at the Africa Championships that were held in Morocco at the weekend.
From a total of 11 athletes who represented the country, the trio of Anje Van As, Nicole Madya and Tayleigh Taylor all made it to the podium.
Van As finished her race in 36 minutes 19 seconds scooping gold, while Madya, who made her debut appearance, came second in 38 minutes 30 seconds, with Taylor finishing third in 39 minutes 21 seconds.
The duo of Callum Smith and Rohnan Nicholson, who were also making their maiden appearance, finished on positions five and six, respectively, in the Under-15 boys' event.
Matipa Mawere and George Ascott, who competed in the men's Under-19 sprint, also failed to make the cut when they finished on positions nine and 10, respectively, while Makanaka Mawere, Emma Lidsba and Brooklyn Tippet finished fifth, seventh and eighth, respectively in the women's similar event.
Team coach Pamela Fulton was impressed by the performance of the team and highlighted that this was a great platform for the athletes since most of them displayed a commendable performance.
"We had a really busy couple of days of racing and the athletes performed exceptionally well. As for the individual races, everyone raced well and put maximum effort. A couple of athletes were disappointed, but the majority of the athletes were really happy with their performance. As a coach, I'm very proud of the team and for all the achievements," Fulton said.
"The youth event was really exciting to watch because the Under-13, Under-15 and Under-17 all raced together and Anje Van As led out the whole race until about the last kilometre when she was overtaken by a 17-year-old. So overall, Van As came second in the youth category, but in her category, she won gold. It was a really proud moment for Zimbabwe."
Fulton also commended United States-based Andie Kuipers, who, however, missed a podium finish when she finished fourth in 2 hours 28 minutes 56 seconds in the 1 500m swim, 40km ride and 10km run.
"Andie raced really well in her first ever standard event in the Under-23 elite category. She is very happy with her performance and as a coach watching her, she looked really strong right up to the end. She did say she battled a little bit on the last two laps on the bike and the last two laps on the run, but watching her right up to the end, she looked very strong and confident," she said.
An official mixed relay team of Van As, Matipa Mawere, Ascott and Kuipers was also fielded on Sunday and finished ninth overall.
The coach also thanked Zimbabwe Triathlon for supporting the athletes throughout the competition.
Follow Magreth - @MagrethRuzvidzo
Related Topics